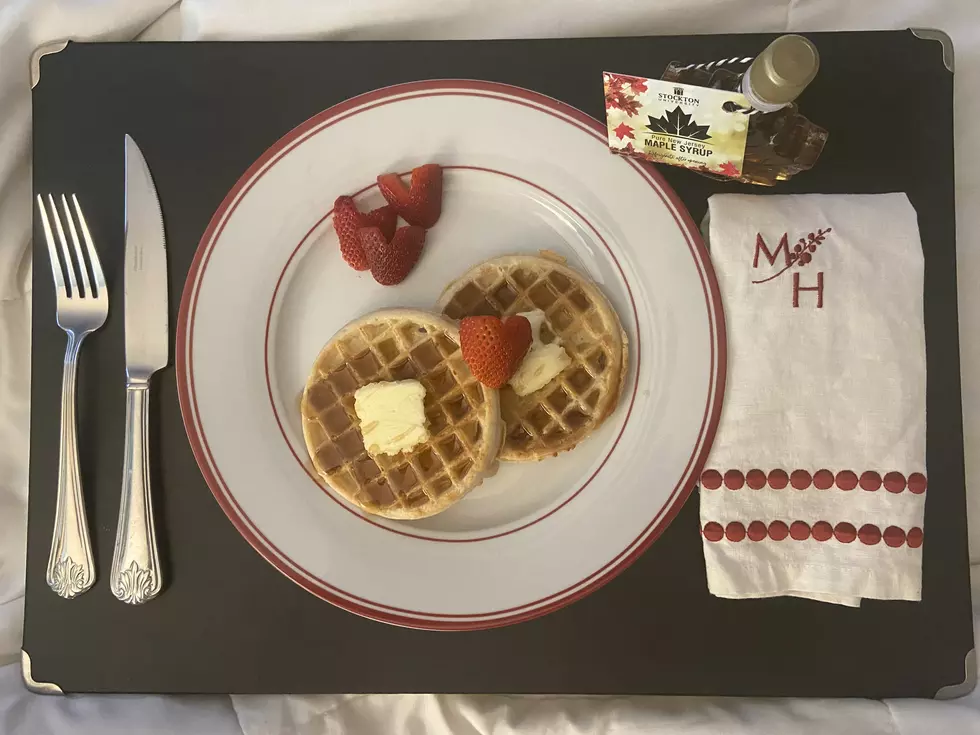 Hurley Taste Test: Stockton University Maple Syrup Is Delicious
Harry Hurley Photo - Taste Testing Stockton University Maple Syrup
STOCKTON UNIVERSITY MAPLE GRANT TEAM ACHIEVES THE SWEET TASTE OF SUCCESS
Last week, we wrote about the Stockton University Maple Grant Team achieving the sweet taste of success.
I wrote it with confidence, from a wide spectrum of observation knowing that everything that Dr. Harvey Kesselman and Stockton University does ... they do in a first class manner.

Read More: Stockton University Students Achieve The Sweet Taste Of Success |
However, that was before I received my own precious few ounces of this sweet nectar of The Gods.
It took more than 1,000 gallons of maple sap to make 11 gallons of official Stockton University Maple Syrup.
For breakfast this morning, I tasted this wonderful maple syrup, derived from Red Maple trees on the sprawling Stockton University 1600 acre campus.
I chose to taste test the Stockton maple syrup on waffles, as opposed to pancakes ... because I wanted the homemade Osprey syrup to be able to find it's way into every nook, crevice and cranny.
It's a perfect golden amber color. The color looks like the same color that's in the knob in the cane of "John Hammond" (Sir Richard Attenborough) in the iconic movie Jurassic Park.
The taste and texture of the Stockton University Maple Syrup is just wonderful. It's sweet, but not overpowering.
Many times, local, fresh maple syrup has a heavy molasses flavor ... almost like they're trying to hide something from you.
The Stockton University Maple Syrup is light and naturally flavorful. It's smooth and silky in texture. A very distinctive flavor, which seemed to my palate to present just a hint of caramel.
If you're fortunate enough to get your hands on a few ounces ... savor it ... it's fantastic. A real special treat.