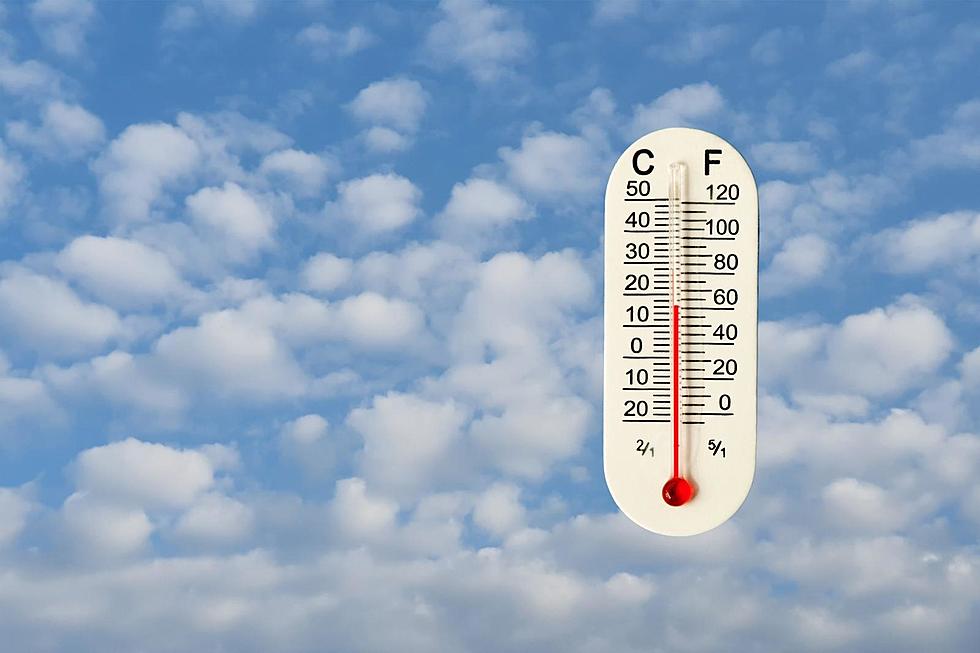 Monday NJ Weather: Sun and Clouds, Cool Temps, Maybe a Shower
(Canva)
The Bottom Line
Back to the workweek, back to pleasant weather. (At least that's how this fall seems to be working, right?) We are slowly trending toward clearer, drier, warmer weather through midweek. Honestly, we have several pleasant October days ahead.
One little wrinkle though. The coastal storm system that soaked New Jersey on Saturday is still in the vicinity. And it will "wobble" back toward NJ on Monday, potentially driving in a resurgence of clouds and showers. A sprinkle is possible on Tuesday too.
Then Wednesday and Thursday look great. Our next substantial chance of widespread rain looks to arrive late-week, in the Friday-Saturday time frame. Yes, this could be New Jersey's 7th weekend in a row with measurable rain. However, this time around, weekend washout weather is not a slam dunk.
Monday
The week begins with temperatures deep in the 40s across most of New Jersey, a chilly start to a cool day.
We should see a good period of sunshine through Monday morning, before clouds filter in through the afternoon. High temperatures will be similar to Sunday, a few degrees below normal, reaching about 60 degrees.
Some spotty showers may develop from mid-afternoon through early afternoon. They will be widely scattered and generally light, and will move from north to south through the state. You may have to flip on the windshield wipers for a bit during your PM commute home, but that's about it. Rainfall totals should stay below a tenth of an inch.
Also not a huge deal: A Coastal Flood Advisory is in effect for the Jersey Shore once again, with minor flooding expected during the morning high tide cycle. Water levels are expected to reach a couple inches above flood stage, which may cause puddles along "the usual" vulnerable spots.
Monday night, thermometers will once again dip into the 40s. That is par for the course for this time of year. Skies should stay partly cloudy.
Tuesday
Still on the cool side, with scattered clouds. But not a terrible day. I think high temperatures will improve slightly, to the lower 60s. A sprinkle is possible at some point, mainly to the north. But rainfall is so limited, I've left the "rain" icon off my official 5 Day Forecast.
Wednesday
With dry weather, light winds, partly sunny skies, and seasonable high temperatures in the mid 60s, I am perfectly comfortable calling Wednesday a nice October day.
Thursday
And Thursday looks even better, with mostly sunny skies in the forecast. High temperatures should spike to around 70 degrees.
Friday & Beyond
Our weather will go downhill again at the end of the week, with yet another coastal storm setup in the cards for the Friday-Saturday time frame. A very familiar story over weekends this fall.
However, forecast models are not in lockstep this time around. In fact, it's wholly possible most rain falls Friday into Friday night, sparing the weekend proper from the wettest weather. Some parts of the state may even stay completely dry.
It's still pretty early to be talking about the weekend. Just know that raindrops are potentially on our radar here. We will fill in more confident details as the week goes forward. Stay tuned. And keep fingers crossed we can squeeze out a decent fall weekend for a chance.
LOOK: Which movies were filmed in New Jersey?
Stacker
compiled a list of movies filmed in New Jersey using data from
Movie Locations
, with additional information about each film collected from
IMDb
.
Gallery Credit: Stacker
LOOK: Most common jobs 150 years ago in New Jersey
Stacker
compiled a list of the most common jobs in New Jersey 150 years ago using data transcribed from the 1870 U.S. Census.
Gallery Credit: Stacker
More From WPG Talk Radio 95.5 FM