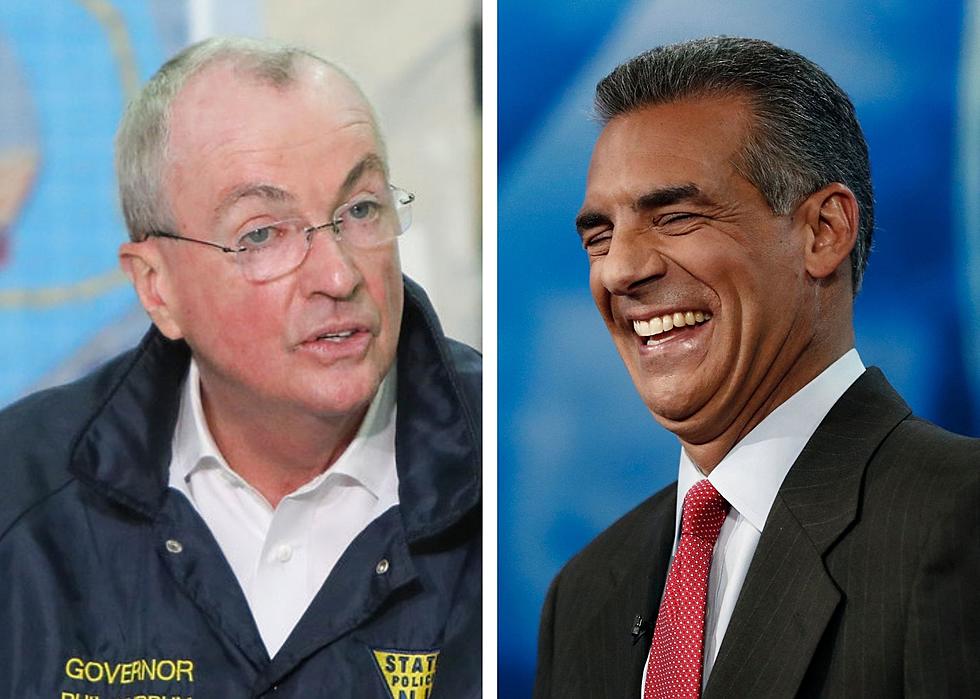 Murphy & Ciatterelli Face Off In Raucous Gubernatorial Debate
Gov. Phil Murphy (Office of the Governor) and his Republican opponent Jack Ciattarelli
HARRY HURLEY ANALYSIS OF THE PHIL MURPHY VERSUS JACK CIATTERELLI FIRST DEBATE
New Jersey Governor Phil Murphy and his Republican challenger Jack Ciaterrelli squared off last night in a very hard-hitting, raucous first debate.
The Moderators were from ABC New York and Philadelphia and Univision. Early on, the moderators lost complete control of the audience, who aggressively made their will known throughout the debate.
The crowd atmosphere was very rowdy. It felt like a sporting competition, perhaps a boxing match. The crowd went wild with each and every applause line from Murphy and Ciatterelli.
Both candidates performed well. It's always harder to be the Incumbent, the one with a current record to defend.
Ciatterelli threw political haymakers throughout the debate. The obligatory Murphy slam, "If taxes are your main issue, then New Jersey probably isn't for you," said Ciatterelli every chance he got … a total of at least 4 times, maybe more.
Murphy painted Ciatterelli as a COVID-19 vaccine hypocrite.
Both worked feverishly to try and tag the other as an extremist.
Murphy blasted Ciatterelli for his speaking role at the "Stop The Steal" rally, attaching Ciatterelli to January 6, 2021, Capitol Hill citizen uprising.
Murphy and Ciatterelli demonstrated that they are both in New Jersey tough.
Murphy also demonstrated that his first instinct is to be a consummate gentleman. However, his kindness is not a form of weakness. When you hit him. He hits you back just as hard.
Ciatterelli showed that he has a firm command of the issues and he was well-spoken and poised throughout the debate.
I enjoyed their no holds barred approach, but, I didn't care for how the moderators lost control of the audience.
Just like referees should not be the show at a sporting competition … the audience should have been instructed to offer their applause for both candidates at the beginning and at the end of the debate.
However, the audience weighed in loudly after each and every comment by Murphy and Ciatterelli. I think it took away from the debate and served as an unwanted distraction and took considerable time away from the candidates.
Also, the typically liberal moderators always focus their questions on race, sexual orientation, etc.
These are not unimportant issues, but, we have many other significant problems in the state of New Jersey that should also be addressed.
Murphy reaffirmed an earlier pledge that in a second term, he will "not raise taxes of any kind."
Ciatterelli pledged to lower taxes by changing the way that public education is funded in New Jersey.
Currently, public education is funded through property taxes; a regressive approach. Many states utilize a more progressive approach … a sales tax, which would mean everyone who makes a purchase will contribute towards public education … versus the sole reliance on the property taxpayers.
Ciatterelli received a louder and more sustained applause during the debate.
Murphy was not a potted plant and he gave back as good as he got throughout.
Ciatterelli went hard after Murphy for his handling of the COVID-19 pandemic, with an emphasis placed upon the 8000 nursing home deaths, which are 1/3 of all COVID-19 deaths in New Jersey.
Murphy took vehement exception to Ciatterelli's past comments about children not being vulnerable to the COVID-19 disease.
Ciatterelli stumbled a bit when talking about this topic and attempted to clarify that the Delta variant is different from COVID-19 in general.
Murphy also hit Ciatterelli hard by saying one thing and doing another during the pandemic, with respect to campaigning without a mask at election events.
Ciatterelli struck back and brought up the Katie Brennan scandal and tried to tag Murphy as an anti-woman Governor. Murphy said that he had apologized to Brennan and took the opportunity to apologize to her again during the debate.
Murphy fired back at Ciatterelli for his votes and the New Jersey assembly and his opposition to planned parenthood funding.
Ciatterelli hit Murphy right back for supporting a bill that would allow legal abortions at seven months. Ciatterelli said, "this has been the most anti-woman governor we've had."
It really did resemble a boxing match, with each throwing haymakers at the other., again and again.
The two candidates also sparred mightily on the issue of law enforcement.
Ciatterelli attempted to score points by stating that Murphy did not receive the endorsement of the New Jersey State PBA (which he did receive 4 years ago).
Murphy pushed back hard and said that he had the backing of the New Jersey State Police and one other police organization while noting that Ciatterelli has not received the backing of any law-enforcement organization.
In the end, I couldn't pick a winner. I would call it a draw, which is never bad for the challenger … and, not disastrous for the incumbent.
The two will square off one more time on Tuesday, October 12, 2021.
The 10 most-lobbied bills in Trenton in 2020 and 2021
The state Election Law Enforcement Commission ranked the most-lobbied bills in Trenton, according to the number of reported official contacts.
Census 2020: The 20 biggest places in New Jersey
A countdown of the 20 most populous municipalities in New Jersey, as measured by the 2020 Census.
Cold Cases: Unsolved Murders and Missing People in South Jersey
More From WPG Talk Radio 95.5 FM