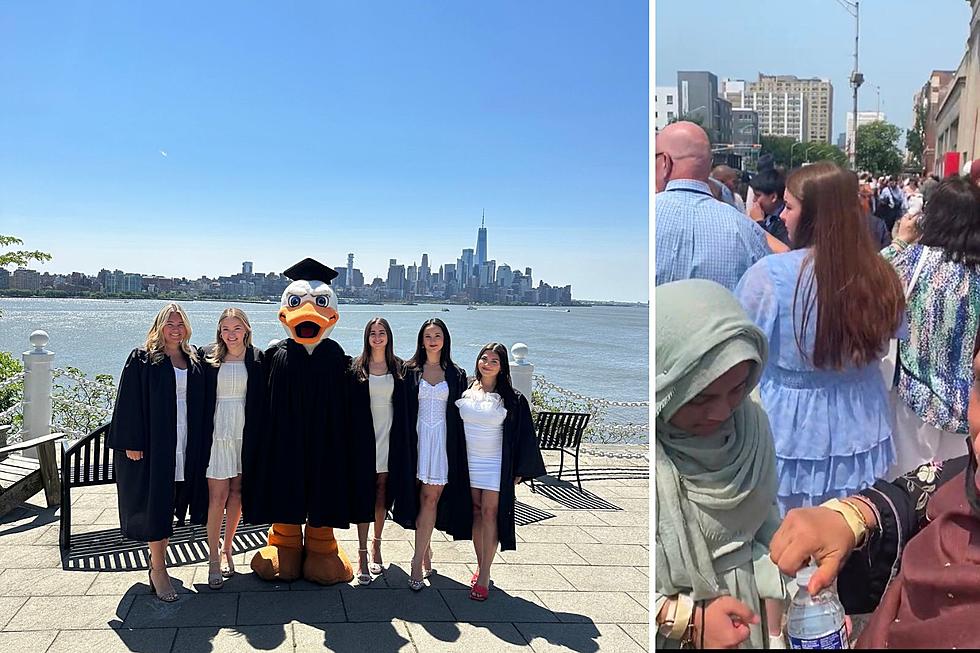 Murphy speaks at NJ university commencement that turned into disaster
Members of Delta Phi Epsilon with Attila the Stevens duck mascot (Stevens Institute of Technology), crowd outside Newark's Symphony Hall (@aubreyvioleta via Twitter)
🔴 Things went downhill after Gov. Murphy spoke at Stevens' commencement
🔴 The bizarre program involved handing out diplomas in separate venues
🔴 The school is "profoundly sorry" for the graduation glitches
---
The Stevens Institute of Technology issued an apology over its commencement ceremonies that led to some graduates not having their names read when they were handed a diploma, according to social media complaints.
The university's commencement started off Wednesday morning with a ceremony for all approximately 2,800 graduates at the Prudential Center. Gov. Phil Murphy addressed the largest class in Stevens' history and was presented with an honorary degree.
The commencement then moved onto two smaller venues, NJPAC and Newark Symphony Hall, where the university's six colleges held name-reading ceremonies for graduates and undergraduates.
That's when things began going downhill, according to many comments on Facebook.
"Stevens' preference was to hold all Commencement exercises in the Prudential Center. Due to the uncertainty of the New Jersey Devils' playoff schedule, the decision was made to use additional locations for the name-reading ceremonies," spokeswoman Thania Benios said in a statement to New Jersey 101.5.
Late running ceremonies
The ceremonies ran late and more people were allowed into the venues than allowed.
"Then the powers that be at Stevens figured the best idea was to kick the graduates out of their seats and send them outside so those seats could be taken by everyone else wanting to get in. And to make up for lost time, all of the speeches from the student speakers were cut," one father wrote on Facebook.
One speaker gave up as she could not be heard over a cavalcade of boos.
Newark police handed out water to those wait in line on the sunny and warm spring day.
There was speculation the schools were broken up into different venues because of the schedule in place had the Devils advanced in the NHL playoffs. Others said the fire marshal ordered Symphony Hall to be evacuated because of over-capacity crowds.
The Devils were out of the playoffs by May 12 with a 3-2 overtime loss to the Carolina Hurricanes.
Stevens issued two separate statements about the commencement snafus.
"We are still examining what went wrong with the ceremony. But overall, the ticketing system failed, which led to capacity issues and confusion around ticket holders. As a result, the School of Engineering and Science and School of Systems and Enterprises undergraduate naming ceremony was particularly affected and was delayed by over two hours," Benios said.
Senior Director of Public & Media Relations Sara Klein offered a "profound" apology for the issues and said the school "failed in our commitment to provide a joyous occasion for our Stevens' graduates, family and friends."
"Plans are underway to honor you and your achievements at Reunion 2024. While we can never make up for the way events unfolded today we hope you will give us an opportunity to try," Klein said.
According to the school, graduates came from 72 countries and 34 states.
Report a correction 👈 | 👉 Contact our newsroom
10 things easier to find in NJ than Taylor Swift tickets to MetLife Stadium
Tickets to Swift's Eras Tour as it stops at MetLife Stadium are a hotter commodity than any other show in recent memory.
Here's a completely off-the-cuff, non-scientific list of things you're more likely to find in New Jersey.
How to pronounce these 20 town names in NJ
How many of these New Jersey municipalities and neighborhoods have you been pronouncing wrong?
Top 20 highest average property tax bills in NJ for 2022
Based on the average residential property tax bill for each town in New Jersey in 2022, these are the 20 highest.
More From WPG Talk Radio 95.5 FM