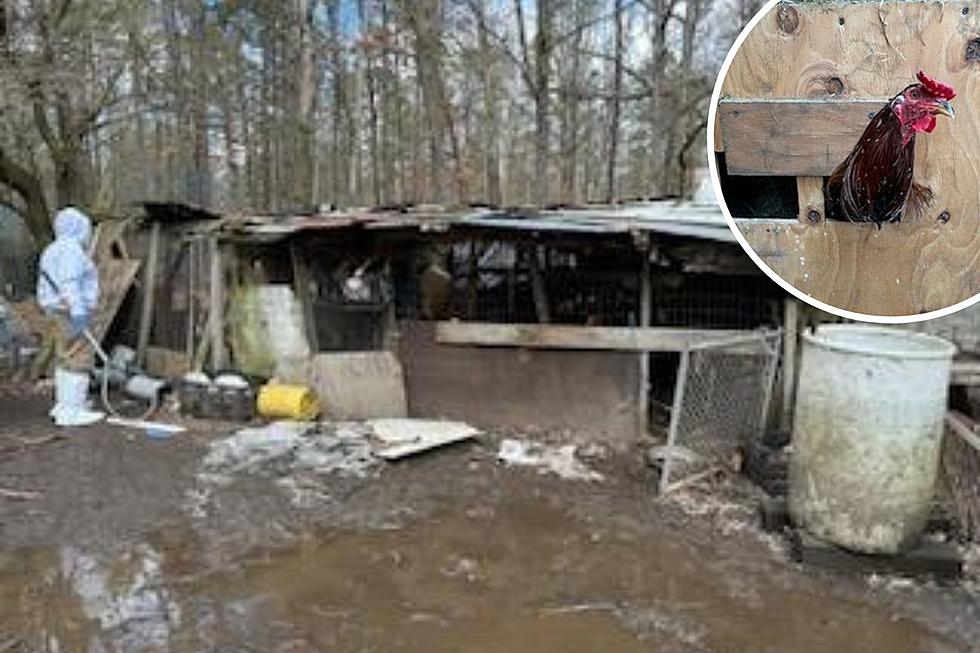 Nightmare: Photos of Buena Vista Twp., NJ, Property With 200 Dying Animals
Property where fighting roosters and other animals were found in Buena (Funny Farm Rescue)
What started as an assist to State Police to remove some roosters turned into a full-scale rescue of 200 animals from a seized property on Saturday.
Sigfredo Perez, 81, of Newtonville, and Queli Merlo, 49, of Hammonton, were charged by the Atlantic County Prosecutor's Office on Jan. 30 with owning/training live animals and training them to fight on a property in the Newtonville section of Buena Vista.
Laurie Zaleski and her Funny Farm Rescue and Sanctuary was tasked to pick up a couple dozen roosters.
"Oh my gosh. I have never seen anything like this in my entire life and I've been rescuing animals forever and it was God-awful," Zaleski told us.
The South Jersey Wildlife Aid Rehabilitation and Sanctuary Rescue was also part of the rehoming of the animals on Sunday. The group said on its Facebook page what they saw at the property was "literally what nightmares are made of."
Zaleski said she thought it would take an hour or two to remove the roosters. She wound up spending 11 hours making three trips with her horse trailer to remove the chickens, hens pigeons, turkeys, ducks, cats and dogs she also found on the property.
Breaking down during a rescue
She found enclosures with no doors that the animals were locked inside with no food or water. Carcasses of dead roosters and chickens were also inside the enclosures.
"In the middle of it, your adrenaline's going. But at one point, you break down because your heart goes out for these poor babies that they can't get their food and water and they're starving to death and some of them did," Zaleski said.
There was also a fighting ring with newer cages Zaleski described as an arena where the rooster fights happened.
"All the roosters were in these little tiny compartments like solitary confinement. Then they would bring them out, I guess, and fight them," Zaleski said.
Some of the animals needed immediate medical attention like a duck that had been hung as "bait" using twine. It's toe was nearly severed and was removed.
Before she arrived some dogs and rabbits were already found dead on the property by State Police and investigators from the prosecutor's office. The USDA also tested every bird on the property for Avian flu before releasing them to Zaleski.
"Because I have so many birds, if they came in and they had the flu, then they would have to euthanize all mine. So we didn't want that to happen. They had to stay in quarantine," Zaleski said.
The fighting roosters likely won't be adopted and don't get along with the other roosters already at the Funny Farm. Zaleski needs to quickly build more pens and shelters.
"I've never had to deal with something in such a large amount of animals that can't be together. Because all my animals, I let them loose, they all kind of live happily ever after together. And these, they just cannot because of the way that they were raised. So it's a bad situation," Zaleski said.
A need for donations and volunteers
There is an immediate need for donations as the shelter is funded completely by donations. Additional volunteers are also needed because of the nearly 100 additional animals that need care.
Donations can be made at the shelter's website.
Zaleski is also having trouble sleeping and processing that this situation existed 15 minutes away.
"We've dealt with tough situations with rescue before but nothing as horrific as this. I mean, I haven't been able to sleep because I keep having visions of that place to the fact that it's in New Jersey," Zaleski said. "I can't believe we as a society people are still treating animals like this. I just didn't think that we were capable. And we are."
2023 Seaside Heights Polar Bear Plunge
Photos from the 2023 Seaside Heights Polar Bear Plunge, which raised $2.5 million for the Special Olympics New Jersey.
More From WPG Talk Radio 95.5 FM