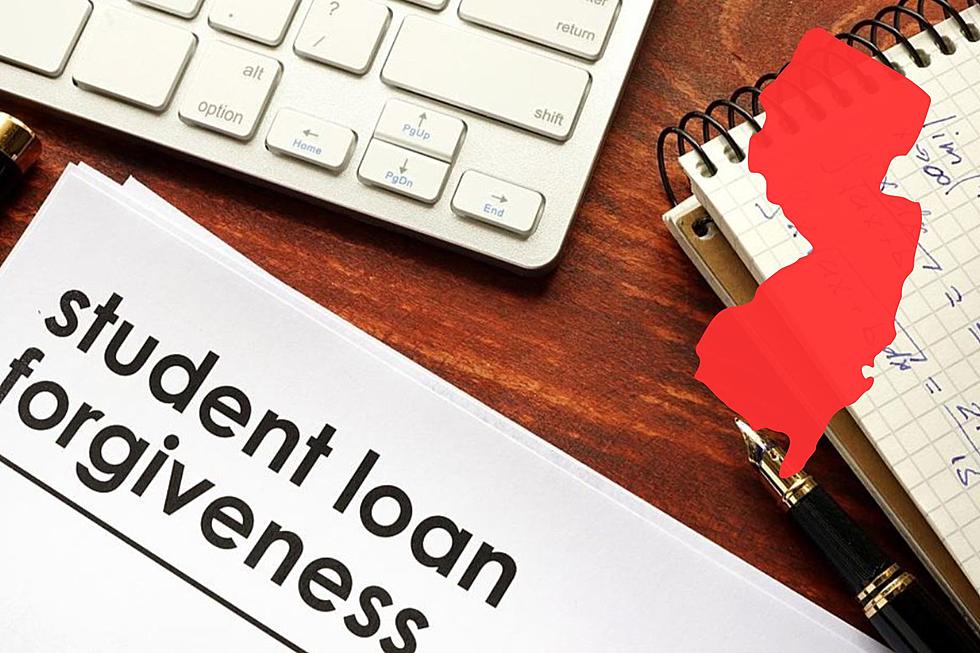 NJ Financial Expert Helps Explains Student Loan Payment Process
Getty Stock via Canva
Now that the COVID-19 pandemic pause has ended, student loan payments have started again. The first payment is due now, October 2023. But so many people are confused by the process.
Some made payments before the pandemic and now have to pick up payments again. Some never made payments and this is the first time navigating the potentially confusing process.
The good news is that there is help, said John Tillman, president of Ecliptic Financial Advisors in Sea Girt. He recommends visiting the federal student aid website. Look under the tab "Repaying Student Loans 101". He said there is a ton of information and also a video that walks families through the different options.
Not only can parents visit their personal dashboard on the federal student aid website, but they can also go directly to their loan servicer's website and they'll walk them through the repayment options.
What is the standard repayment plan?
With the standard repayment loan plan, repayment takes place over 10 years. It's like any other loan. You'll pay principal and interest as soon as it's taken out. This is typically a 10-year payback, Tillman said.
There is also the standard repayment extension. "That's if you have over $30,000 in loans, you can get it extended over 25 years," Tillman said.
A graduated repayment plan allows families to start at a lower payment which increases every two years. Tillman said this is also designed to be paid back within 10 years.
What is the average payment on the standard repayment plan?
The average monthly payment on standard repayment loans is $284 for a bachelor's degree and $584 a month for people with a master's degree, Tillman said.
What is the income-driven repayment plan?
Besides the standard repayment plan, there is also an income-driven repayment plan that will lower payments to as much as zero depending on a family's adjusted gross income.
"Under that schedule, depending on what you select, you could be paying out 20 to 25 years before the loan is forgiven," Tillman said.
What if you can't afford a payment?
Since there has been a three-year pause on student loan payments, many people may have spent that money on other immediate necessities. Now, that payments have resumed, some may not have the funds to cover the monthly payments.
So, if families can't afford a student loan payment, there are a couple of options, Tillman said.
One is to participate in one of the income-driven repayment schedules, which is the preferred option, he said.
"This will base up a borrower's payments on their adjusted gross income. It's going to be 5% of their discretionary income. For a borrower who is earning under 225% of the federal poverty level, they could wind up paying zero on it," Tillman said.
The other option is to do a student loan pause or ask for forbearance. But Tillman said the problem with the pause and forbearance is that the loan will still continue to accrue interest during that pause. So, families could wind up with a larger loan down the road.
"So, I would definitely recommend that you try the income-driven repayment schedule first," he said.
Are there new rules for student loan forgiveness in 2023?
There are many new rules. But Tillman said the most important one is the SAVE Program, which takes the payments from 10% of a person's discretionary income down to 5%. It raises the borrowing amount to 225% of the federal poverty level as far as the payment goes. So, if a family is under that 225%, they would most likely have a zero payment.
Also, if a family is on an income-driven repayment schedule, the forgiven loan balance is knocked down to 10 years from 20 years.
Qualifications are based on income and family size. Tillman said it's based on that 5% of the discretionary income of the family.
Try not to worry
"The Department of Education does realize that because people haven't paid since COVID, there is going to be some confusion over all this. So, there is a 12-month ramp-up program from October 2023 to Sept. 30, 2024, and they're calling the On-Ramp to Repayment," Tillman said.
So, if you are struggling to make payments during this period, it will not affect your credit. However, he said the Department of Education recommends that you call your loan service immediately so they can walk you through the best payment options.
If you're on the standard repayment plan and you elect to have funds automatically deducted from your checking account, you will get a 0.25% reduction on the interest rate. "So, I would always recommend that you do that," Tillman said.
Recently, the Biden administration forgave another 9 billion dollars in student loan debts. The forgiveness applies to 125,000 borrowers who have been on an income-driven repayment and Public Service Loan Forgiveness program. The White House said those on the income-driven repayment plan have been making payments for more than 20 years but never got the student debt relief they were promised. The Public Service Loan Forgiveness program includes people who have worked in a government or nonprofit job for more than 10 years.
The 30 best rated schools in New Jersey
Here are the top 30 schools statewide, based on their 2021-2022 New Jersey School Performance Reports — involving scores for language arts, math and attendance. (For an explanation of how the state calculates the "accountability indicator scores" and overall rating for each school,
see page 90 of this reference guide.
)
Gallery Credit: Erin Vogt
More From WPG Talk Radio 95.5 FM