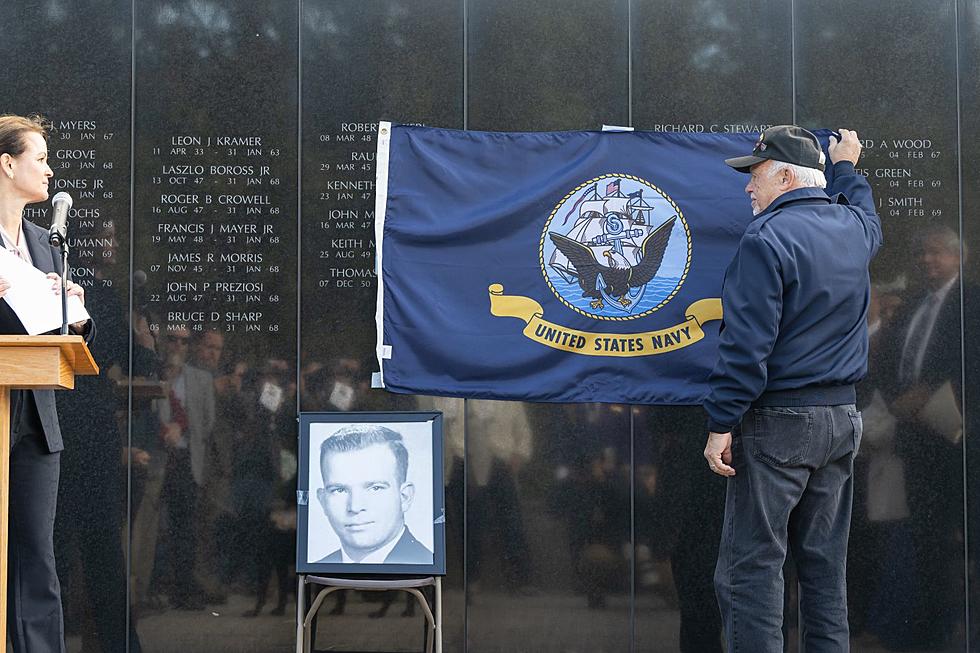 NJ Rights a Wrong That Hid Pleasantville Man's Ultimate Sacrifice For Our Nation
James E. Gosselin, name covered on the NJ Memorial Wall (Richard Ratner)
PLEASANTVILLE — A New Jersey man's name was officially added to the New Jersey Memorial Wall after a clerical error that kept the Vietnam vet who died in the line of duty off was rectified.
James Gosselin, a 1960 graduate of Pleasantville High School, became the 1,564th name on the wall 28 years after the wall was unveiled in 1995 at the Vietnam Veterans Memorial at the PNC Bank Arts Center in Holmdel.
He joined the Army out of high school and switched to the Navy where he became a corpsman, also known as a combat medic serving with the Headquarters and Service Company, 2nd Battalion, 5th Marine Regiment, 1st Marine Division.
During the Vietnam War, he was killed in action on Feb. 2, 1968. His name was already on the national Vietnam War Memorial Wall.
Where's Big Jim?
Bill Leipold, also a Pleasantville graduate and a Vietnam vet, noticed that the name of the classmate known as "Big Jim" a few years ahead of him was not on the New Jersey wall. He began the process to find out why.
"My home-town Pleasantville graduates and I set out on a mission to ensure James Gosselin was honored on the Wall for his heroic service in Vietnam, and today that goal has been achieved," Leipold said.
It didn't take long to get Osborn's attention who is from Ocean City.
"This whole ceremony was a long time in the making. And a lot of people in his hometown of Pleasantville and Jim's hometown of Pleasantville they worked hard to get someone's attention to make this happen," Amy Osborn, executive director of the New Jersey Vietnam Veterans Memorial Foundation, Education Center and Museum told New Jersey 101.5.
A clerical error showed that he was from Pleasantville, Pennsylvania, and not New Jersey. Osborn said she solved the problem just asked for a copy of his yearbook.
"I was shown a copy of the yearbook. I saw for myself his picture in the yearbook, I spoke with people who knew his family in Pleasantville, and that was enough for me and I pulled the trigger, so to speak. I made the decision to schedule a ceremony, make it meaningful, make it important and powerful," Osborn said.
A moving ceremony
Pleasantville Mayor Judy Ward helped arrange for the Pleasantville High School marching band and the school's ROTC group. One of the band's trumpeters played Taps.
"We had the Union County Fire and Police bagpipers there. They were incredible. They played Amazing Grace. Miss New Jersey 2023, Victoria Mozitis, was there. She is a Northfield girl, she was so excited to be there. And she sang Anchors Away, which was Jim's branch of the service, acapella. And all of these things together. I mean, there was just not a dry up there."
Gosselin's name was etched by Long Branch Monument Company, which donated their services,  on the February 2 panel to commemorate the date of his death. His name was covered on the wall by a Navy flag until the unveiling. Seeing the completion of the etching before the ceremony was also an emotional experience.
"He had a sandblasting machine. Things he covered his body with. It's a very interesting process to watch. But there were about 20 of us up there, watching from behind. And once the name was uncovered and unveiled and cleaned up we all just lost it. It's just it had been so long in the making, that as you can imagine the build up and the emotion," Osborn said.
Gosselin's name will soon be added to the foundation's Wall of Faces website where all the veterans can be looked up.
History of the M&M: How each amazing color came to be
Even the colors themselves have a fascinating backstory.
Gallery Credit: Mike Brant
FREE RIDE! These U.S. states have absolutely no toll roads
According to data compiled by
Uproad
, there's no charge to drive on highways in these states.
Gallery Credit: Mike Brant
More From WPG Talk Radio 95.5 FM