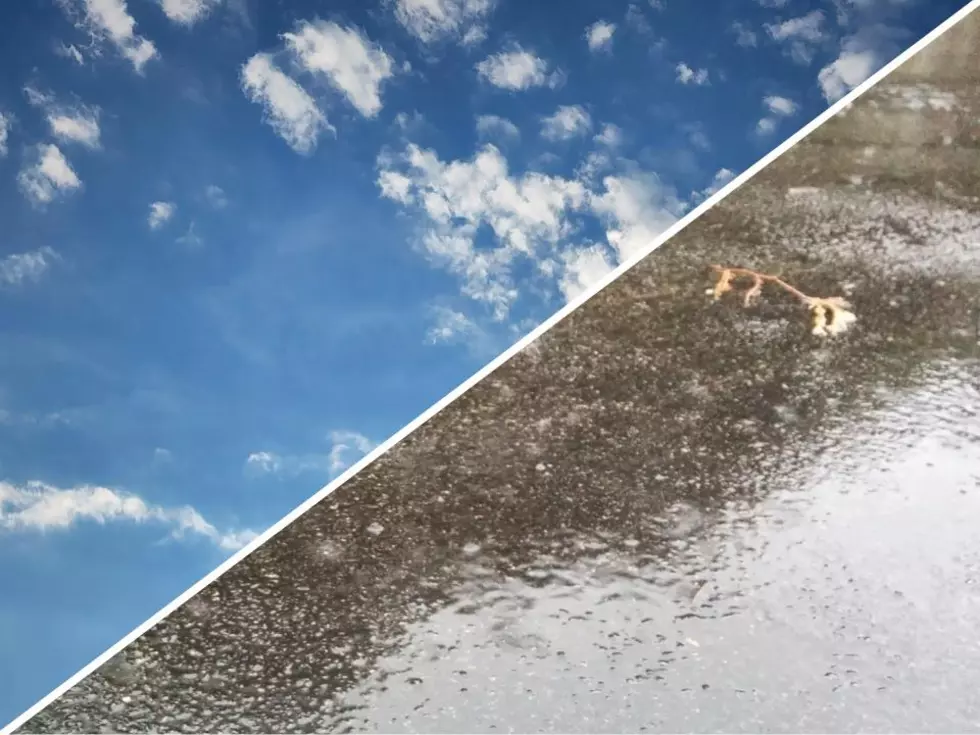 NJ Weather: One More Warm Summer-like Day, Changes This Weekend
(Dan Zarrow, Townsquare Media)
The Bottom Line
For the first time since Labor Day Weekend, parts of New Jersey hit 90+ degrees on Thursday. Records were smashed, sweats were broken, ice cream cones were eaten. Hoo boy, it was a springtime scorcher. Humidity was nice and low — while that keeps the air comfortable, it also keeps fire danger high.
Temperatures will once again reach the unseasonably warm 80s on Friday but this weekend's weather will look and feel very different.
Cloud cover will accompany two spurts of rain. The end result will be more seasonable springtime temperatures by early next week.
Friday
We begin the day with temperatures all over the place. 40s in the northwest hills, 50s for the interior of the state, 60s in urban and coastal areas. No matter where you are, I think it's fair to call it "comfortable".
By mid-morning, thermometers will start to skyrocket again. We will average mid 80s across the state Friday afternoon. 90 is a possibility in spots. Records could be achieved, but the benchmarks are higher than on Thursday — 88 at Newark, 89 at Trenton, 86 at Atlantic City.
While Friday will start with sunshine, clouds will build from midday into the afternoon. We will stay totally dry through at least sunset though. It will be a noticeable change from the brilliant blue skies of the last few days.
The breeze will be lighter. And humidity levels will creep upward, although I doubt you'll feel any additional stickiness in the air. Both of those shifts will help our wildfire situation somewhat, although fire danger remains very high overall.
For Friday night, clouds will continue to increase as temperatures dip to around 60 degrees. A sprinkle and light fog can't be ruled out.
Saturday
No more 80s — highs will only reach about 65 to 70 degrees for the Garden State. Definitely cooler. But that's still a bit above normal for mid-April.
Clouds will win the sky Saturday, with a light breeze blowing off the ocean.
In addition, a round of scattered showers is looking likely for Saturday afternoon. Possibly lingering into Saturday evening. I don't think severe weather (wind, hail, tornado) will be in play. But rumbles of thunder and localized downpours are possible.
To be clear, Saturday will not be a total washout. It's also not a guarantee that every square inch of New Jersey will get wet. However, your outdoor plans may be affected for a few hours — so plan accordingly, and keep an eye on the sky.
Sunday
Sunday's forecast is trending dry. So I am calling it the nicer day of the weekend.
We should see a mix of clouds and some sun overhead. (Leaning heavier on the clouds though, just like Saturday.) Sunday's high temperatures will be similar to Saturday's, around 65 to 70 degrees. (Leaning toward the higher edge of that range, for inland NJ.)
Monday
Once more piece of this slow "warm" to "not" transition will play out during the first half of Monday.
First of all, a widespread line of rain will push from west to east across New Jersey between Monday early morning and midday.
Then a cold front will usher in a stiff northerly breeze and cooler air. It is not going to be a big, bad, dramatic arctic blast. Just an influx of chilly air.
If all goes well, Monday afternoon should fare OK. Peeks of sun and highs around the mid 60s. (A little cooler to the north, possibly as warm as 70 to the south.)
Tuesday & Beyond
Morning frost returns to the forecast Tuesday, as Mother Nature reminds New Jersey that it is still April and still early Spring. Highs on Tuesday may get stuck in the 50s, with a chilly breeze.
Model guidance shows a warmup to near 60 on Wednesday and near 70 on Thursday. Our next chance of substantial rain holds off until late next week. Things are still looking mighty dry through the second half of April.
Up or down? Average property tax changes in NJ in 2022
Below are the average property tax bills for every municipality in New Jersey last year.
The towns are listed from the biggest cut in the average bill to the highest increase. On the county maps, the deeper red color means a higher increase above 2% whereas the darker green signifies a smaller increase or a reduction.
Each listing also shows how the average tax bill is split among the county, school and municipal governments.
Play ball NJ: These MLB pros are from New Jersey
A fair amount of New Jersey born baseball players have made it to the majors. These pros, active to start the 2023 season, all have NJ roots.
More From WPG Talk Radio 95.5 FM