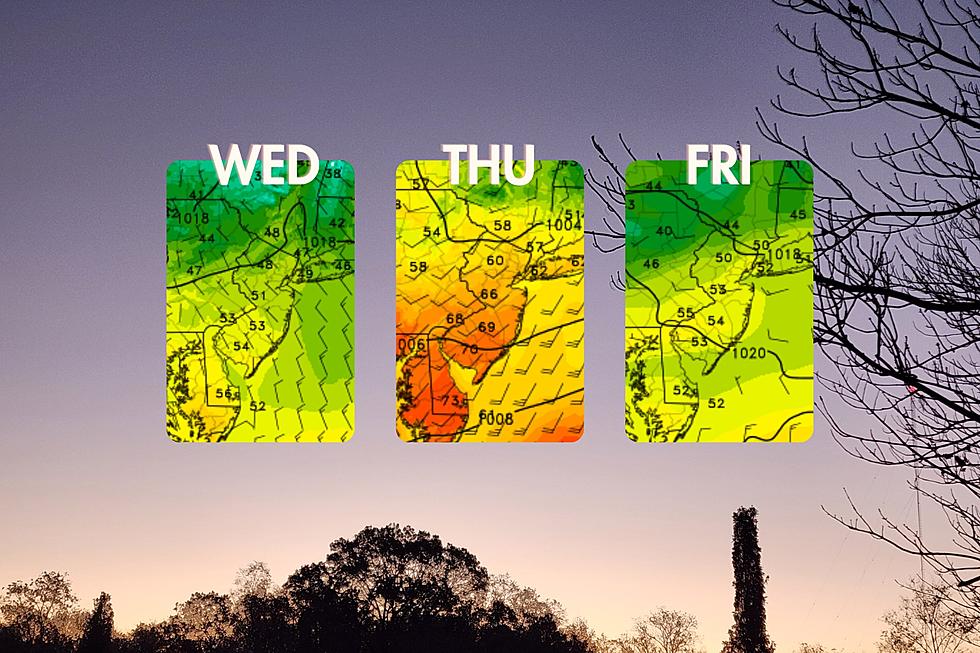 NJ Weather: Seesaw Temperatures Continue, Rain Chances Stay Low
(Maps: College of DuPage Meteorology, Photo: Dan Zarrow, Design: Canva)
The Bottom Line
This has been such a weird and wild week of weather. Not only are we riding a roller coaster of temperatures, but there's been hardly any rain — unusual, given how many cold fronts and warm front are in play.
For Wednesday, the pendulum swings back to the cool side again. For now. Temperatures will end up below normal in the 50s. But again, weather conditions will be quiet and (almost) pleasant.
One more one-day warmup is coming on Thursday. Thermometers may touch 70 degrees once again in South Jersey.
And that's it. Cool air returns to the Garden State on Friday, and this time it will be here to stay. Unseasonably chilly temperatures will carry through the second weekend of November. And beyond.
Wednesday
A new air mass arrived in New Jersey overnight. It is definitely cool, and very dry. So you will be reaching for the jacket. And possibly some moisturizer too.
Temperatures are in the 40s to start Wednesday, with some 30s in the usual chilly spots. (It is noticeably cooler than Tuesday morning.) Highs Wednesday afternoon will reach about 50 to 55 degrees. That is on the order of 5 degrees below normal for this time of year.
The good news about Wednesday: Skies will be mostly sunny and we stay completely dry. It may be breezy at times through the morning, but that should not be an "all day" thing.
Clouds will start to fill-in Wednesday late afternoon and especially into the overnight hours. Low temperatures will dip to around 40 degrees. Typical for early November.
Thursday
Warming up again, for one whole day. I'm not sure Thursday will necessarily "feel" warm everywhere. But we're looking at one final trip above-normal for most of the state.
Highs will range from the mid 50s in North Jersey, to the mid 60s in Central Jersey, to around 70 degrees in South Jersey on Thursday. We should see a mix of clouds and sun, with an occasional breeze.
The biggest potential hiccup for Thursday is a chance for sprinkles. Mainly in the morning. No big deal, but there could be some spurts of greyer, damper weather along the way. Only a trace of rainfall is expected, at the most.
Friday
Cool air returns to stay on Friday, with high pressure and unseasonably cool temperatures in the forecast through early next week.
Highs on Friday will only reach the lower to mid 50s again. Unlike Wednesday, however, sunshine will be limited. Friday looks pretty cloudy, in fact.
All week long, we have been talking about some rain chances for Friday too. And they have really fizzled. A wave of atmospheric energy will ride along a cold front just south of New Jersey on Friday. But it looks like the trajectory will be too far south and our air will be too dry to see substantial rain.
Having said that, a few showers are likely on Friday, especially to the south and west. Once again, rainfall amounts will be pitiful — no more than a few hundredths of an inch, if that.
Saturday & Sunday
The sun comes out on Saturday. But it will be the start of a chilly weekend.
Morning lows in the 30s. Afternoon highs only in the lower 50s.
Partial clouds may build in on Sunday, but the end result will be a similar "feel" to Saturday. A widespread frost/freeze is forecast in the morning. Highs may struggle to even reach the 50-degree mark.
The Extended Forecast
Unseasonably chilly weather will continue through at least Monday and Tuesday. With sunny skies too, at least.
Temperatures should moderate as next week goes along, potentially pushing toward the 60s by next weekend. Our next chance of rain would not come until late next week. (The longer we go without rain, the more alarming potential drought becomes.)
LOOK: Groceries that dropped in price in the Northeast Last Month
Gallery Credit: Stacker
More From WPG Talk Radio 95.5 FM