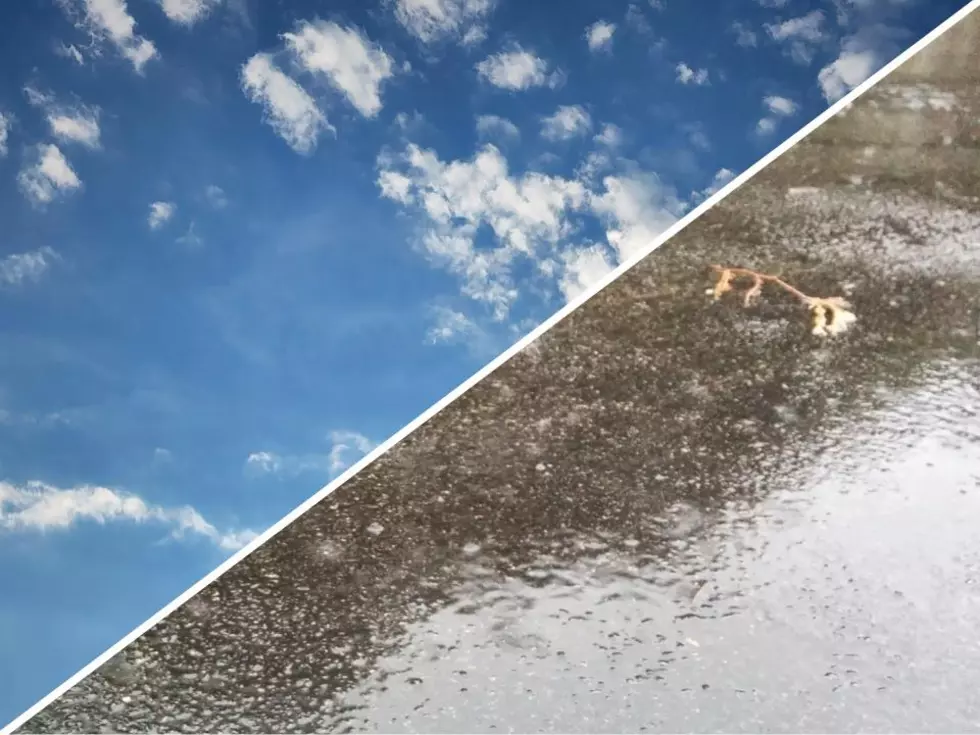 NJ Weather: 3 Storm Systems to Watch Over the Next Week
(Dan Zarrow, Townsquare Media)
The Bottom Line
We have passed the midpoint of January. The "dead of winter" — the average coldest part of the year — starts next week. Meanwhile, sunsets are starting to creep past 5 p.m. Only 156 days until the Summer Solstice.
New Jersey faces a mix of quiet and inclement weather over the next seven days. As the headline of this post suggests, there are three storm systems under close watch at this time:
1.) A quick batch of rain showers on Tuesday.
2.) More substantial rain on Thursday.
3.) A chance of wintry weather and/or heavy rain around Sunday-Monday.
That last one is an interesting piece of the puzzle here, especially given what a dormant winter season it has been so far. Let's dig into the forecast and talk about what we know. And what we don't.
Monday
As expected, the big weather nuisance this weekend was a chilly breeze, fueled by a storm system hovering just off-shore. (We had some coastal clouds and snow showers around too.) As that area of low pressure drifts away, we will see improving weather conditions Monday — lighter winds, brighter skies, and a subsiding risk of coastal flooding.
Monday is starting off cold, just like a January morning should be. Most temperatures are in the 20s.
Highs should push into the mid 40s Monday afternoon, with mostly sunny skies, dry conditions, and a calming breeze. Not bad for this time of year.
Clouds will creep in eventually Monday night. Despite that blanket overhead, tucking us in, it's still going to be cold. Low temps will likely average upper 20s by Tuesday morning.
Tuesday
A little disturbance will lead to a little burst of unsettled weather. But your entire day absolutely will not be ruined.
Rain showers will slide through New Jersey between about 10 a.m. and 4 p.m. So, right in the middle of the day. But it should be light and scattered, and wet not wintry. Rainfall totals will remain below a tenth of an inch.
Under cloudy, drizzly skies, high temperatures will basically hold steady, in the lower to mid 40s.
Wednesday
Potentially the warmest day of the week! And dry! But not without its problems.
I think we could have some dense fog problems Wednesday morning, as the temperature meets rising dew points. Once temps start to rise and the wind kicks up (into the "breezy" range), visibility should improve.
Wednesday afternoon should feature solid breaks of blue sky and high temperatures in the lower to mid 50s. Hey, if all goes perfectly, South Jersey could even hit 60 degrees. Not too shabby for the middle of winter.
Thursday
Our next next storm system will make for a gray and potentially wet day on Thursday.
Forecast models are still a little hazy on the exact start time and spread/intensity of Thursday's rainy weather. First raindrops could come as early as the pre-dawn hours, or may hold off until closer to lunchtime. Everyone in New Jersey will get wet at some point, but it's too early to tell whether the rain will be "scattered" or "steady". (That will be the difference between a half-inch and upwards of an inch of total rainfall.) I am fairly confident that the afternoon will be the wettest part of the day, and rain will exit NJ Thursday evening.
Daytime temperatures on Thursday will range from lower 40s in North Jersey to lower 50s in South Jersey. Again, no risk of snow or other flavors of wintry weather.
Friday & Beyond
Temperatures slide backward on Friday, with the return of a chilly northwest breeze. Partial clearing will keep the sky relatively bright.
Saturday looks seasonable, with sun then clouds and lower-mid 40s.
And then our weather forecast gets complicated with the arrival of another storm system Sunday into Monday. This one will have some teeth to it. And the current forecast timing and storm track would be conducive to some wintry winter into early Monday morning.
At this point — almost a full week away — we can declare it's "worth watching". And that's about it for now. I will say that "light to moderate" snow accumulations are on the table for at least part of New Jersey. If we lean toward the warmer side, we might be looking at an inch or two of rain. Keep in mind, a lot of variables can change over the next seven days. So we'll continue to watch, and will keep you posted.
First flakes: When does snow season start in NJ?
Where Are They Now? Looking Back at New York City TV's Most Famous Anchors & Reporters
From Sue Simmons and Roz Abrams to Ernie Anastos and Jim Rosenfield, New York City's media landscape has been shaped by some of the most iconic anchors (and reporters) ever. But where are they now? We take a look back:
More From WPG Talk Radio 95.5 FM