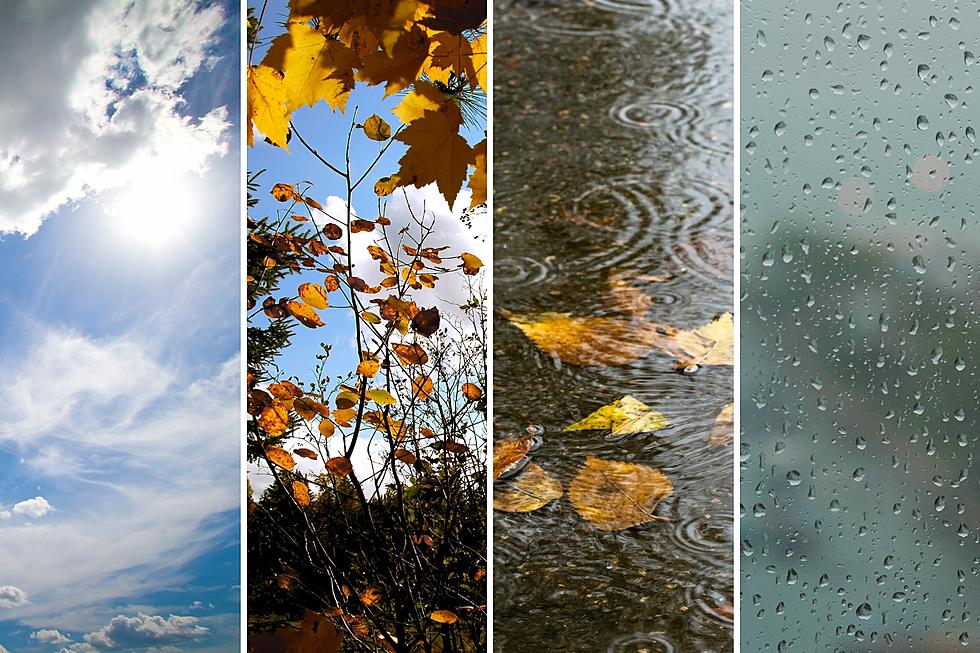 NJ Weather: 2 Nice October Days Then 2 Potentially Wet Days
(Canva)
The Bottom Line
We have reached the unabashedly pleasant part of the week, as seasonable temperatures, dry weather, light winds, and bright skies take over New Jersey's forecast. Other than deciding whether or not you need a jacket, I see no weather woes for the next 36 to 48 hours.
Yet again, there is only one chance of rain in the forecast. And yet again, it coincides with the weekend. (That will make seven in a row, if you're keeping score at home.)
Our next batch of wet weather is a two-parter. First, a piece of coastal energy will drive in some rain through the first half of Friday. It is a pretty sure bet that we will get some rain out of that one. Second, a frontal boundary will push in on Saturday. Will that one soak us? Or just produce spotty showers? Will it just rain in the morning? Or more of an all-day thing?
Those are some big questions we still need to resolve. And the answer will obviously have a huge impact on your outdoor fall fun this weekend. It is becoming clear that the threats for severe weather, flooding, or winter weather are low. And Sunday is trending dry.
This weekend also features a big cooldown. I'm still eyeing a strong signal for the first widespread frost of the year next Tuesday morning.
Wednesday
This is a day that just screams "typical October". And I mean that in a good way.
We are once again starting off with temperatures mainly in the 40s. And highs will push into the mid 60s Wednesday afternoon, right on the normal for this time of year.
Skies will be partly sunny, meaning we will average about 50% cloud cover across the day. Weather stays dry. And winds are dead calm — it's been a long time since I have forecasted single-digit wind speeds all day long.
The quiet weather will continue into Wednesday night too. Under mainly clear skies, low temperatures will bottom out in the upper 40s or so.
Thursday
I have been declaring Thursday to be the nicest day of the week. And that description still holds, even though I have lowered temperature expectations a few degrees.
My latest forecast puts Thursday's high temperatures around 65 to 70 degrees. It will be another crisp, dry day.
Skies will start bright and sunny, eventually transitioning to clouds by Thursday night. It might also get a bit breezy late-day, although nothing to write home about.
With a slight uptick in humidity, Thursday night will not be as chilly as the other nights this week. Thermometers should dip into the lower 50s.
Friday
Here comes our next chance of rain. Because this is a (weak) coastal storm system, the best chance of rain on Friday will be along the coast. (Some models paint raindrops farther inland, throughout the state. Some do not.) In terms of timing, the wettest part of the day looks to be the morning through the midday hours.
Worst-case scenario, Friday turns into a pretty wet day for the Jersey Shore. Upwards of an inch of rainfall is possible. Wind speeds may reach the "breezy" category, but will not be that intense. Coastal flooding is not expected to be a problem.
Otherwise, Friday will be mostly cloudy and still mild. High temperatures should reach the mid to upper 60s.
Saturday
Saturday is the big question mark, as a cold front approaches from the west. If a disturbance is able to ride along that frontal "highway," it could drive in another round of widespread soaking rain through much of the daytime hours Saturday. That is the worst-case scenario, with the potential for an inch of rain across much of the state.
However, soggy and sopping wet is not the only solution on the table for Saturday. Some forecast models — namely the Euro — favor a much more moisture-starved and drier solution. We would still see some spotty showers around, mainly early. (That would continue our streak of measurable rainfall through seven consecutive weekends.) But in such a best case scenario, you would be able to salvage most of Saturday with dry (although cloudy and breezy and damp) weather.
In this case, I'm thinking the truth is ultimately in the middle. So my current "most likely" forecast does have rain Saturday morning through midday. (Similar timing to Friday.) There could be some pockets of steady to heavy stuff. But then the storm system runs out of gas, and we dry out through the second half of the day. So your best opportunity for outdoor activities on Saturday will be later on.
Temperatures on Saturday are tricky too, with a cold front in play. We should see thermometers around 60 degrees to start the day, but those numbers could fall off later on. Just keep in mind, it will be a transition day, so you'll need both the umbrella and jacket handy.
Sunday & Beyond
Sunday's forecast is trending dry, aside from a lingering shower along the northern edge of NJ.
We will have lingering clouds, with peaks of sunshine through the afternoon. And a brisk wind, potentially gusting to 40 mph. That is our new, cooler, drier air mass "whooshing" in from the northwest.
High temperatures on Sunday will get stuck in the 50s. Feeling November-ish.
And that's our new standard through early next week too, with highs still in the 50s for Monday and Tuesday. As long as the wind subsides, I am concerned about temperatures bottoming out Tuesday morning, into the 30s. It may very well become cold enough for our first widespread frost of the season (away from coastal and urban areas).
The next next storm system down the road is modeled to arrive ... next weekend, of course. But that is practically a zero-confidence call this far out.
The Worst Comedies Ever Made
Cinema has brought laughter to generations of moviegoers. In these cases, though, the laughs were on the paying customers.
The 10 Weirdest TV Shows Based on Beloved Movies
A RoboCop animated kids' show? A TV sequel to The Crow? These oddball TV spinoffs based on famous movies prove anything is franchise-able.
More From WPG Talk Radio 95.5 FM