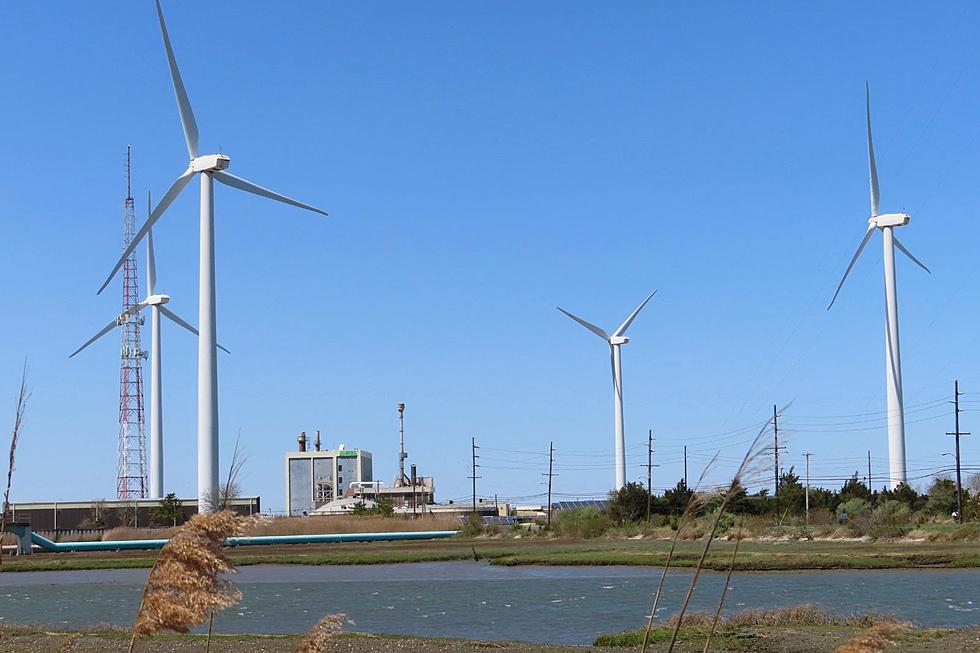 NJ's Other Wind Farm Developer Wants Government Breaks, Too
Land-based windmills turn in the wind in Atlantic City (AP Photo/Wayne Parry)
ATLANTIC CITY — A company approved to build New Jersey's third offshore wind farm says it, too, wants government financial incentives, saying its project and the jobs it would create are "at risk" without the additional help.
Atlantic Shores issued a statement Friday, shortly after New Jersey lawmakers approved a tax break for Danish wind developer Orsted, which has approval to build two wind farms off the state's coast.
Elaborating on Monday, the Atlantic City-based Atlantic Shores said it has contacted the offices of New Jersey Gov. Phil Murphy, and leaders of the state Senate and Assembly, saying it seeks a "solution that stabilizes all awarded projects."
It remains to be seen how the request will be received by lawmakers. The tax bill passed by a single vote Friday.
Atlantic Shores did not say precisely what sort of assistance it wants, and refused to publicly clarify its request, or discuss the likelihood of being able to complete the project with its current financing.
The tax break approved by lawmakers on Friday only applies to Ocean Wind I, the first of Orsted's two New Jersey projects. It also does not apply to Atlantic Shores.
"To establish a durable, thriving, full-scale offshore wind industry in New Jersey, we need an industry-wide solution, one that stabilizes all current projects including Atlantic Shores Project 1, the largest offshore wind project in the state of New Jersey and third largest project awarded in the United States," the company said in its Friday statement.
The company did not explicitly say it cannot build and operate its project without further financial aid. But it did hint that outcome is possible without "immediate action."
"Tens of thousands of real, well-paid and unionized jobs are at risk," it said. "Hundreds of millions in infrastructure investments will be forgone without a path forward."
Atlantic Shores is a joint partnership between Shell New Energies US LLC and EDF-RE Offshore Development, LLC.
Project could be in danger without help
The company said that while the bill approved Friday — which awaits action by the governor — will help its manufacturing partner EEW American Offshore Structures build the large monopiles that will support Atlantic Shores' wind turbines, "we need immediate action that also supports the Atlantic Shores Project 1 to keep these commitments within reach."
The governor's office declined to comment, and state Senate and Assembly political leadership did not immediately respond to requests for comment Monday.
Lawmakers said the Orsted bill was necessary to help offshore wind projects deal with what they called lingering effects of inflation and the COVID-19 pandemic.
The vote went largely along party lines, with Democrats, who hold the governorship and control both houses of the Legislature, supporting it as necessary to ensure that a source of green energy gets built. Republicans panned it as a wasteful gift to companies whose projects are not economically viable without further costs to ratepayers.
Atlantic Shores said it is competing against "other states and major economies" all vying to build offshore wind projects.
New Jersey energy regulators approved Atlantic Shores' 1,510 megawatt project in 2021. It would generate enough electricity to power 637,000 homes.
LOOK: Famous actors from New Jersey
Stacker
compiled a list of famous actors born in New Jersey from IMDb.
LOOK: Famous actresses from New Jersey
Stacker
compiled a list of famous actresses from New Jersey from IMDb.
(Copyright 2023 The Associated Press. All rights reserved. This material may not be published, broadcast, rewritten or redistributed.)
More From WPG Talk Radio 95.5 FM