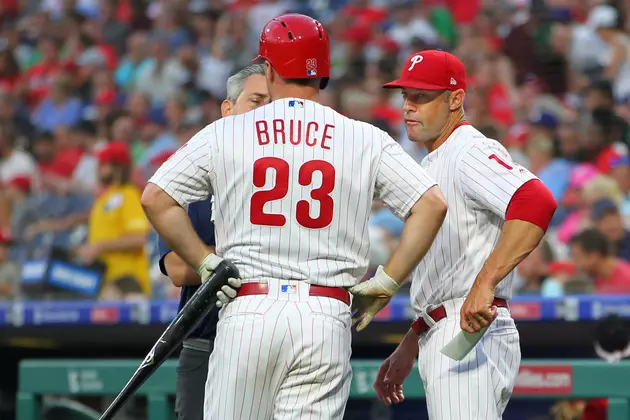 Phillies Outfielder Jay Bruce Suffers Oblique Injury
Getty Images
Another day, another injury for the Phillies. 
Phillies outfielder Jay Bruce joined the team in the wake of the suspension of Odubel Herrera and arrived just in time for the injury to Andrew McCutchen.  Bruce immediately made his presence felt, leading to game-winning runs six times in that short span.  The Phillies will now be without their latest spark.
Bruce left last night's game after appearing to injure himself during an at bat in the third inning.  The official announcement to the press (via Todd Zolecki of MLB.com) was that Bruce left the game with an oblique strain. The severity is not yet known.  However, such a strain could take a while to heal.
There is no surgery or other procedure to address a strained oblique.  The only prescription is rest.  Should a player return too early, they run the risk of re-straining the oblique.  Therefore, an injured list stint appears likely, as the Phillies will not wish to exacerbate the injury.
To replace Bruce on the roster the Phillies could turn again to Nick Williams.  Williams has played well at Triple-A Lehigh Valley.  Williams is batting a whopping .345 with a 1.032 OPS.  Those numbers are All-Star-level numbers.  But in the major leagues, Williams has batted just .173 with a .480 OPS.
The Phillies also could turn to recently-signed outfielder and first baseman Logan Morrison.   The one-time popular Twitter personality among Phillies fans joined Triple-A Lehigh Valley yesterday after signing a minor league deal.  Morrison homered on the first pitch he saw last night.   Morrison is a .288 hitter with 16 home runs between the Triple-A Scranton-Wilkes Barre RailRiders and now the Lehigh Valley IronPigs.
Since joining the Phillies, Bruce has hit .256 with 10 home runs and 29 runs batted in.
More From WPG Talk Radio 95.5 FM