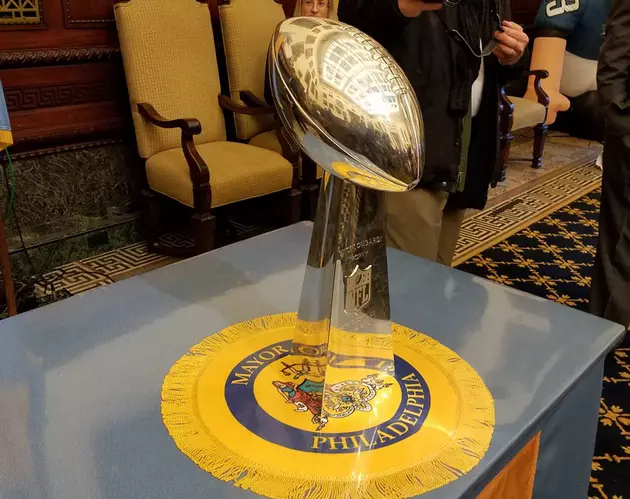 Philly to Celebrate Eagles Win With Parade, Ceremony
Vince Lombardi Trophy on display at a press conference announcing championship parade details (Noelle Foizen, Philadelphia OEM)
PHILADELPHIA — Over 2 million fans are expected to crowd into Philadelphia for the Eagles' Super Bowl victory parade and celebration.
The parade steps off at 11 a.m. Thursday at Broad Street and Pattison Avenue in South Philadelphia, the first of what the city called two distinct events. The team will be in open vehicles heading slowly north on Broad Street to City Hall, with fans behind barricades lining the route while standing on the sidewalk.
From City Hall, the parade will then head:
West to Penn Square
West from Penn Square to 15th Street
North on 15th Street to JFK Boulevard
West on JFK Boulevard to 16th Street
North on 16th Street to the Ben Franklin Parkway
West of the Parkway to Eakins Oval to the Art Museum.
Fans will not be screened to enter the parade route and the ceremony.
Fourteen giant Jumbotron screens will be set up between City Hall and the Parkway, so all will be able to see a ceremony that officials said was "40 years in the making" and promises to be "dramatic." It will last until 3 p.m.
Temperatures will be in the lower 30s under bright sunshine, according to Townsquare New Jersey Chief Meteorologist Dan Zarrow. It will be windy with no threat of rain or snow.
City officials said the parade has been in the planning since the Eagles made the playoffs, but began in earnest when they beat the Patriots 41-33 in the Super Bowl on Sunday night.
SEPTA will offer free rides on the Market Frankford Line and the Broad Street Line to get people to and from the parade route, with the tab picked up by Independence Blue Cross. The rail line will release additional information about their plans for the parade on Tuesday.
Cell service will be increased to meet the demand of all the fans, while 850 portable toilets will be set up along the parade route and on the Parkway. About 40 food trucks will be parked on the Parkway.
The city of Philadelphia will offer continuous information about the celebration by texting "Eagles Ready" to 888777.
Bud Light said it will make good on its promise to help Eagle Lane Johnson buy everyone a beer during the parade. It has declared the day as "Philly Philly Day," with bars along the route offering free Bud Light.
More From WPG Talk Radio 95.5 FM