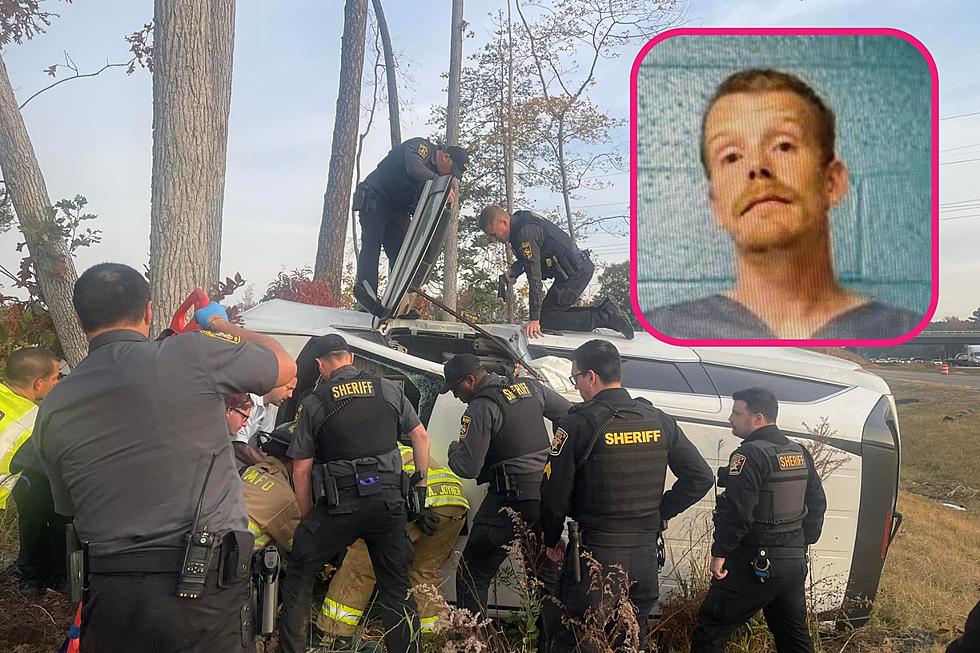 Police: Cinnaminson, NJ, Man Arrested After Going 120 MPH, Crashing on I-95 in NC
Scott Kercher of NJ is facing charges in North Carolina - Photo: Google Maps / Halifax County NC Sheriff's Office / Nash County NC Sheriff's Office / TSM Illustration
A man from the Garden State is in trouble with the law in North Carolina after police say he hit speeds of 120 MPH on Interstate 95 before crashing.
The incident began last Friday, November 10th, just south of the city of Roanoke Rapids.
The Halifax County, NC, Sheriff's Office says their deputies responded to the interstate after they received a call about a mini-van driving at a high rate of speed.
Officials say 38-year-old Scott Kercher of Cinnaminson was headed southbound on I-95 when he passed a deputy at over 100 MPH.
As police attempted to stop Kercher, he allegedly sped up to 120 MPH.
Kercher continued south on I95 passing into Nash County, when he reached the highway 64 interchange the Nash County Sheriff's Office had spike strips set up and waiting, Kercher struck the spike strips causing him to lose control of his vehicle and wreck bringing the chase to an end.
Kercher was taken to an area hospital for treatment of minor injuries.
He has been charged with the following:
Felony flee to elude
Reckless driving to endanger
Failure to heed lights and siren
Failure to reduce speed
Improper use of traffic lane
Exceeding to posted speed limit
Kercher was placed in the Halifax County Jail under a $25,000 secured bond and is expected to make an initial court appearance today.
As of this writing, the Halifax County Sheriff's Office had not identified why he was traveling at such a high rate of speed.
The public is reminded that charges are accusations and all persons are considered innocent until proven guilty in a court of law.
NJ school districts with the highest median teacher salaries
These were the highest median teacher salaries during the 2022-23 school year budget, according to data compiled by the New Jersey Department of Education. We begin with districts whose median salaries are at least $95,000 and work our way up to the highest median salary.
Gallery Credit: New Jersey 101.5
More From WPG Talk Radio 95.5 FM