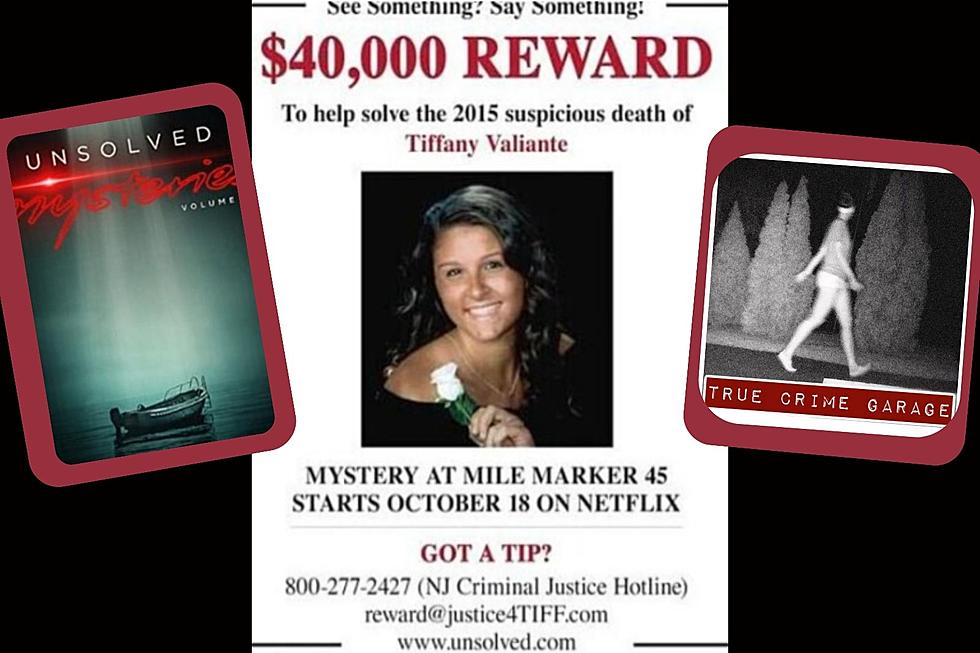 Podcasters Bring Attention to Tiffany Valiante Case in Mays Landing, NJ
Canva/Netlix/Valiante Family/TrueCrimeGarage.dom
Every time I have to write about this, it gets more and more difficult to do so. So, I'll start by saying this: I'm a lover and avid consumer of true crime shows and entertainment just like any young millennial and Gen-Z-cusper seems to be these days.
All my friends and I love crime and horror shows. There's one season of "Unsolved Mysteries" on Netflix hit a little too close to home for me, to be honest. Now, there's even a podcast about it.
I knew I had to find time to watch at least the first episode of "Unsolved Mysteries" season 3 on Netflix because I had been seeing the signs posted by the family all over the area since moving to Atlantic County.
The first episode of season 3 is titled "Mystery At Mile Marker 45."
In case you are unfamiliar with the facts surrounding this case, it's centered around an 18-year-old from Mays Landing who had just recently graduated when she was found dead on the NJ Transit train tracks in Galloway back in 2015.
The NJ Transit authorities would go on to declare Valiante's death a suicide. You couldn't convince the family of that, though.
Several reps and law enforcement professionals list plenty of reasons why there are still so many questions about that night. After watching the episode, you'll probably be scratching your head, too.
After watching the "Unsolved Mysteries" episode, I have more questions now than I ever thought I'd have. Since relocating to Atlantic County, I've seen the yellow signs with Tiffany's picture all around Mays Landing and the surrounding towns. The mystery still haunts Atlantic County. The episode has me convinced there is WAY more to the story.
A few days after the episode aired on Netflix, I saw a petition circulating on social media to reopen Tiffany's case. I wasted no time signing it.
In case you have yet to watch the episode, I don't want to spoil too much of it for you, but here are my questions:
Where's the friend involved in the credit card situation?
Apparently, Tiffany allegedly used a friend's credit card without the friend's knowledge and there was a verbal fight that broke out the night of Tiffany's death. How come that situation wasn't further scrutinized?
Why were her shoes so far away from where her body was discovered?
In my opinion, there's no way that girl walked all those miles barefoot. From where her shoes were found, that would have meant she would have had to walk for MILES without shoes on. Makes no sense to me, but what do I know?
Where are Tiffany's shorts?
To this day, her family still has no idea where her shorts are that she was wearing the night she died.
I truly believe this case deserves to be reopened and handled by a department that actually knows how to handle cases like this. By the way, the scene wasn't even cleaned up like it should have been. Members of Tiffany's family allegedly found body parts of hers around the tracks where she was struck. That was apparently AFTER the law enforcement department that handled the case did their job.
Now, there's even a famous podcast diving deep into the details of that day. True Crime Garage features two guys who drink beer and analyze various crime mysteries that have yet to be solved. On one of their recent episodes, they chose to focus on Tiffany and concluded that the entire outcome of the investigation could have turned out differently if so much of it wasn't botched within the first few days.
If you're just as confused about the case as I am, you HAVE to sign the petition to get the case reopened. Hopefully, with today's technology and the right people involved, justice can be served for Tiffany and her family. Even if there's more to be discovered about what was going on in Tiffany's life and her head at the time, the family at least deserves to have some peace after all these years of wondering what really happened.
You can sign the petition HERE.
Cold Cases: South Jersey's Unsolved Murders & Mysteries
Gallery Credit: Eddie Davis
The Ten Safest Cities In New Jersey To Live In
Whether you're just moving towns or relocating to Jersey these are the ten safest places to live according to
Safewise.com
Gallery Credit: Buehler
More From WPG Talk Radio 95.5 FM