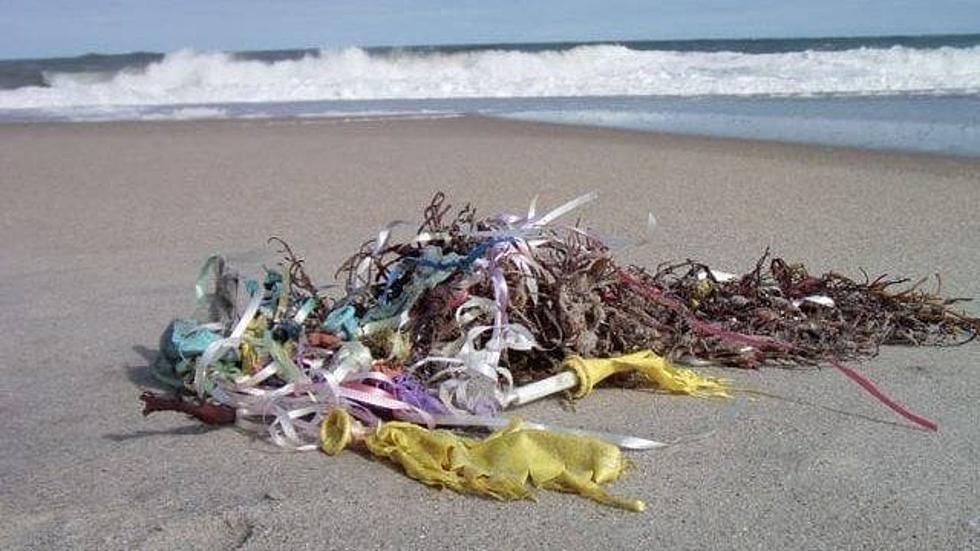 Record Number of NJ Beaches to Take Part in Clean Ocean Action's Spring Sweeps
Photo courtesy of Clean Ocean Action
Calling all beach sweepers!
Clean Ocean Action's 38th annual spring beach sweeps take place Saturday, April 1 at more than 70 beaches statewide. That's a record number, says COA's Executive Director, Cindy Zipf.
The sweep is from 9 AM to 12:30 PM, rain or shine. Volunteers of all ages are needed.
"We really have to stop all this beach litter. We have to stop the littering that's happening which is very harmful to marine life, as we know," Zipf said.
She is calling for the bucket brigades, urging volunteers to bring their own buckets as trash collectors. This will help cut down on the number of plastic trash bags that will be used to collect all the debris.
The beach sweeps is an opportunity to get a snapshot of what is washing up on the beaches, in order to use that information to get policies and better laws, Zipf said.
The 2022 Clean Ocean Action Beach Sweeps report will be out soon. Zipf said not only will the data be revealed from both the fall and beach sweeps but it will also highlight any information that they'll be able to see from the new plastic reduction law that went into effect in New Jersey in May 2022.
This bans the use of plastic bags, and foam containers, and puts a limit on straws.
Zipf said the bag ban was able to go into effect when it did, partly because Clean Ocean Action had data about how many thousands and thousands of bags had been washing up on Jersey beaches.
"We'll be anxious to see how we're doing and whether or not that shows up in our data yet," Zipf said.
As of 2021, nearly 8 million pieces of trash have been removed from New Jersey beaches, she added. That number will certainly increase once the 2022 figures are tabulated.
The most common pieces of trash found on beaches during the bi-annual sweeps fall into the "dirty dozen" category, Zipf said.
This includes things like plastic bags, bottle caps, plastic straws, plastic toys, balloons, foam packaging materials, and other everyday items you would find tossed on our streets.
Of course, there are always weird items that are discovered and put on the "Roster of the Ridiculous."
In past sweeps, things like money, an engagement ring, dentures, a Turkish hygiene kit, a toilet seat, a used Narcan kit, lawn chairs, and a sink from a boat were found, to name a few.
Volunteers are urged to register for a sweep at their favorite beach on the website.
"This is a great way for people to give back to the ocean that gives us so much joy and gives us so many wonderful gifts like a lovely seafood dinner, surfing a wave, going fishing, or just sitting on the beach with family and enjoying the beautiful ocean air," Zipf said.
Here is the list of 2023 Spring Beach Sweeps Locations:
Atlantic County 
• Atlantic City - S. Albany Ave Boardwalk (199 S Albany Ave, Atlantic City, NJ 08401) Sponsored by Atlantic City Electric
• Atlantic City - S. Florida Ave (2401 Boardwalk, Atlantic City, NJ 08401) Sponsored by Sponsored by Atlantic City Electric and Caesars, Harrah's & Tropicana
• Brigantine - 17th St. Beach, South (Brigantine Beach Patrol, 1700 17th Street, Brigantine, NJ 08203)
• Longport - 33rd and Atlantic Ave
• Margate - Granville Ave
• Ventnor City - Newport Ave Beach (Community Building: 6500 Atlantic Ave, Ventnor City, NJ 08406)
Bergen County 
• Englewood Cliffs - Englewood Picnic Area/Boat Basin at Palisades Interstate Park (GPS: 40.875925, -73.946678) In partnership with Palisades Interstate Park Commission and Hudson River Fisherman's Association.
Burlington County 
• Palmyra Cove - Palmyra Cove Nature Park *This cleanup will run from 7-10am*
Cape May County
• Avalon - 80th St. and 1st Ave beach access (working North into Avalon)
• Cape May
o Nature Center of Cape May (1600 Delaware Avenue, Cape May, NJ 08204)
o 2nd Avenue Beach (Jetty Motel: 2nd Beach Ave, Cape May, NJ 08204)
• North Wildwood - Hereford Inlet Beach (Gazebo at 1st Ave and Surf Ave)
• Ocean City - Ocean City Music Pier
• Sea Isle City - JFK Blvd & Promenade
• Stone Harbor - 95th Street Beach
• Strathmere - Rita Schiavo Memorial Library (801 Commonwealth Ave, Sea Isle City, NJ 08243) ***cleanup time 10AM-12PM
• Villas - Beach at Village Rd and Bay Dr
• Wildwood Crest - Centennial Park (6700 Atlantic Ave., Wildwood Crest, NJ 08260)
• Wildwood - Poplar Ave ( Beach Side)
Essex County
• Glen Ridge/Montclair
o Glenfield Park (meet at park entrance at Woodland Avenue and Pierson Place) Sponsored by Sims Metal
o "The Glen" (at Bloomfield and Ridgewood Avenue)
Middlesex County
• South Amboy - Raritan Bay Waterfront Park (201 John T O'Leary Blvd, South Amboy, NJ 08879)
Monmouth County
• Aberdeen -Fisherman's Parking Lot at Cliffwood Beach (967 Ocean Blvd, Aberdeen Twp NJ; across from Veteran's Memorial Park)
• Asbury Park -
o Convention Hall -North End of Convention Hall at Boardwalk (1300 Ocean Avenue, Asbury Park, NJ 07712) Sponsored by Cohen Water Initiative
o 1st Ave Beach (820 Ocean Ave, Asbury Park, NJ 07712)
• Atlantic Highlands - First Ave Beach (Seastreak parking lot)
• Avon-by-the-Sea - Avon Pavilion at Norwood & Ocean (North End of the Beach)
• Belmar -
o 3rd Avenue Beach (3rd Ave & Boardwalk)
o 15th Avenue Beach (1609 Ocean Avenue, Belmar, New Jersey, 07719) Sponsored by Hatteras
• Bradley Beach - Gazebo on Ocean Ave & 5th Ave
• Deal - Hathaway Ave
• Highlands
o Popamora Point (369 Shore Dr, Highlands NJ 07732)
o Snug Harbor (22 Snug Harbor Ave, Highlands NJ 07732)
• Keansburg - Batting Cages at Beachway (2 Raritan Avenue, Keansburg NJ)
• Keyport - Cedar Street Park (53 Cedar St, Keyport NJ 07735)
• Loch Arbour & Allenhurst - Euclid Avenue (99 Ocean Place, Loch Arbour, NJ)
• Long Branch -
o Brighton Ave Beach (639 Ocean Ave, Long Branch, NJ 07740)
o Madison Ave Beach (1 Madison Ave, Long Branch, NJ 07740)
o Seven Presidents Oceanfront Park, Beach Entrance at Joline Ave (1 Joline Ave, Long Branch, NJ 07740)
• Manasquan - Main Street Beach (East Main Street and beachfront) Sponsored by Manasquan Bank
• Middletown Township
o Bayshore Waterfront Park (719 Port Monmouth Rd, Port Monmouth NJ 07758)
o Ideal Beach (4 Ocean Avenue, Middletown, NJ)
o Leonardo Public Beach South (1 Concord Avenue & the beach. North side of Leonardo State Marina Launch ramp)
• Monmouth Beach - Monmouth Beach Bathing Pavilion (29 N Ocean Avenue, Monmouth Beach, NJ 07750)
• Neptune - Memorial Park In partnership with Shark River Cleanup Coalition *Canceled for the Spring Sweeps*
• Ocean Grove - Boardwalk Pavilion
• Red Bank - Maple Cove (end of Maple Avenue)
• Rumson - Municipal Boat Ramp (9 Ave of Two Rivers, Rumson, NJ 07760)
• Sandy Hook - Lot D
• Sea Bright
o Anchorage Public Beach (north of Sea Bright Bridge, 909 Ocean Ave, Sea Bright, NJ, 07760)
o BeachWalk Hotel (344 Ocean Ave, Sea Bright, NJ 07760)
o Sea Bright Public Beach Pavilion (1097 Ocean Ave, Sea Bright, NJ 07760)
• Sea Girt - Boardwalk at Beacon Blvd
• Spring Lake - South End Pavilion (410 N Ocean Avenue, Spring Lake, NJ 07762)
Ocean County 
• Bay Head - Beach House Classic Boardshop (517 Main Ave, Bay Head NJ 08742)
• Berkeley Twp - Dudley Park
• Brick
o Brick Beach 1 (331 Route 35 North, Brick, NJ)
o Brick Beach 3 (440 Route 35 North, Brick, NJ) Sponsored by Pasta Life
o Windward Beach Park (265 Princeton Ave, Brick, NJ)
• Island Beach State Park - Bathing Pavilion #1 (Central Ave, Seaside Park, NJ 08752)
• Lavallette - Philadelphia Ave Beach
• Long Beach Island - Wally's Restaurant in Surf City (712 Long Beach Blvd, Surf City NJ 08008) In partnership with Alliance for a Living Ocean
• Mantoloking - Lyman St Beach (1021 Ocean Ave, Mantoloking, NJ 08738) Sponsored by Church & Dwight
• Ocean Gate - Ocean Gate Beach
• Point Pleasant - Maxson Ave Beach (end of Maxson Ave near Riverfront Park)
• Point Pleasant Beach -
o Jenkinson's Aquarium on the Boardwalk (300 Boardwalk, Pt Pleasant Beach, NJ 08742)Sponsored by Jenkinson's Boardwalk and Aquarium
o Maryland Avenue Sponsored by Baine Contracting
• Seaside Heights - Carousel Building at Carteret Ave and Ocean Terrace *this site will end at 12 to avoid parade traffic
• Seaside Park -
o 2nd Ave Beach (2nd Ave & Boardwalk, Seaside Park NJ 08752)
o Midway Beach at 6th Ln
o Stockton Ave Beach (Stockton Ave & Boardwalk, Seaside Park NJ 08752)
• Toms River -
o Brown's Woods Preserve *Please note - this cleanup will be held on Friday, October 21st from 3-5PM* (meet at Save Barnegat Bay Office: 117 Haines Road Toms River, NJ 08753) In partnership with Save Barnegat Bay
o Normandy Beach at 6th Ave
o Ortley Beach at 3rd Ave (St. Elisabeth's Chapel - 5 3rd Ave, Seaside Heights, NJ 08751)
• Tuckerton- 7 Bridges Rd. (Boat Ramp on Great Bay Blvd, Little Egg Harbor Township, NJ 08087)
The data from the sweeps is the most important part because it creates the evidence needed to help improve and protect the ocean in the future, Zipf said.
2023 Seaside Heights Polar Bear Plunge
Photos from the 2023 Seaside Heights Polar Bear Plunge, which raised $2.5 million for the Special Olympics New Jersey.
More From WPG Talk Radio 95.5 FM