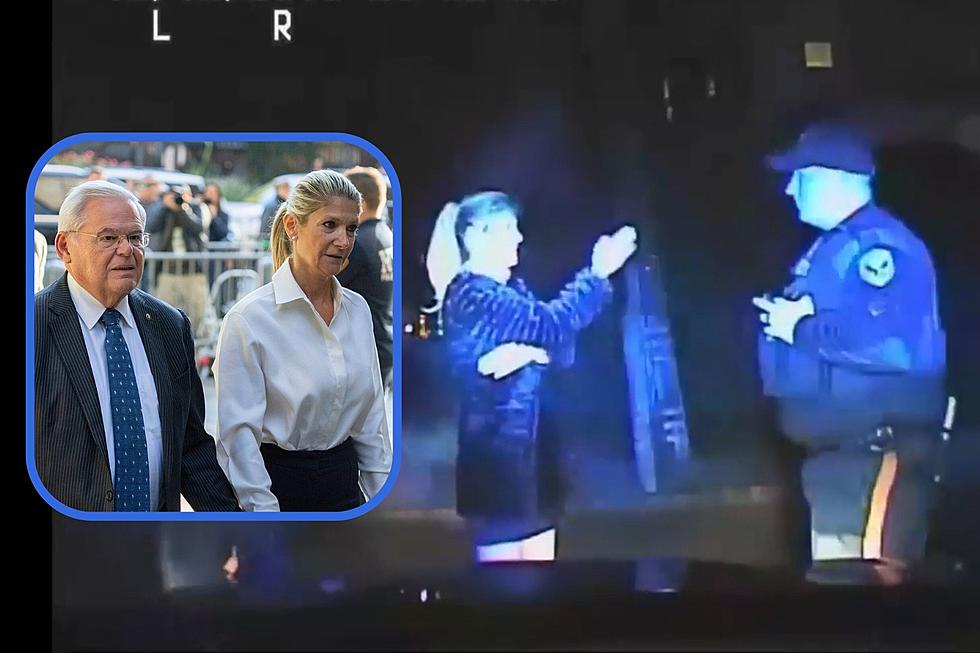 NJ Sen. Menendez's Wife Killed Man in NJ Crash — and it Was Kept Under Wraps
(AP/Bogota police/screengrab northjersey.com)
BOGOTA — The wife of New Jersey Sen. Bob Menendez was involved in a fatal crash in 2018 but it was kept under wraps until reporters carefully looked through the recently unsealed federal indictment against the couple, according to a published report.
Nadine Arslanian Menendez struck the man along the 100 block of Main Street in Bogota around 7:30 p.m. on Dec. 12, 2018, reported NorthJersey.com.
The fatal crash left Arslanian without a vehicle.
To get his then-girlfriend a new car, Sen. Menendez allegedly agreed to a bribe; he would disrupt the criminal investigation into an associate in exchange for a Mercedes-Benz C-300 convertible worth $60,000, according to the indictment.
Menendez, 69, and his wife, 56, are also accused of bribes in other forms such as cash and gold bars in exchange for favors. They have both pleaded not guilty.
Menendez has also resisted demands from fellow senators and fellow top New Jersey Democrats to resign.
Crash "swept under the rug"
The indictment only mentioned that Arslanian was involved in a car accident in December 2018. It had no other details about the crash itself.
And until this week, there was no reporting on the fatal crash that killed Richard Koop, 49, of Bogota.
According to NorthJersey.com, a police report detailed how officers found Koop's mangled body in the road and that "there was no way to properly control" the profuse bleeding from his head.
Koop was fatally injured by the strike and declared dead at a hospital soon after. The father of one was reportedly struck in front of his home on his way back from a night out with friends.
His sister, Rosemarie Koop-Angelicola, said to the New York Times that their family never heard from Menendez or Arslanian after the crash. She said there was a lack of "legal enthusiasm" and that the fatal crash had been "swept under the rug."
An attorney for Arslanian, David Schertler, said to the Times that the crash was unrelated to her charges and that she was not at fault.
Arslanian not at fault for fatal crash
Dashcam footage from a police vehicle showed Arslanian, wearing a fur coat, spoke with police for around ten minutes after the fatal crash.
She said that Koop had run into the road as she drove by. Arslanian insisted she "didn't do anything wrong" and that she wanted to speak with a lawyer before giving a statement.
There's no sign that police gave Arslanian a sobriety test or that they questioned her about alcohol use, according to published reports.
She was allowed to gather her belongings and leave.
An investigation found that Koop was walking across the street where there was not a crosswalk.
Authorities concluded that Arslanian was not at fault for the crash.
UPDATE 2023: All the NJ stores that sell legal weed
The number of recreational cannabis dispensaries continues to grow, since the first NJ adult use marijuana sales in April 2022.
Gallery Credit: Erin Vogt, Eric Scott
Plant Some Of These In Your Garden to Keep Mosquitoes Away
As we previously told you, mosquitoes are the most
dangerous creatures on earth
. If you want to keep them away from you're yard, these plants can help!
Gallery Credit: Michelle Heart
More From WPG Talk Radio 95.5 FM