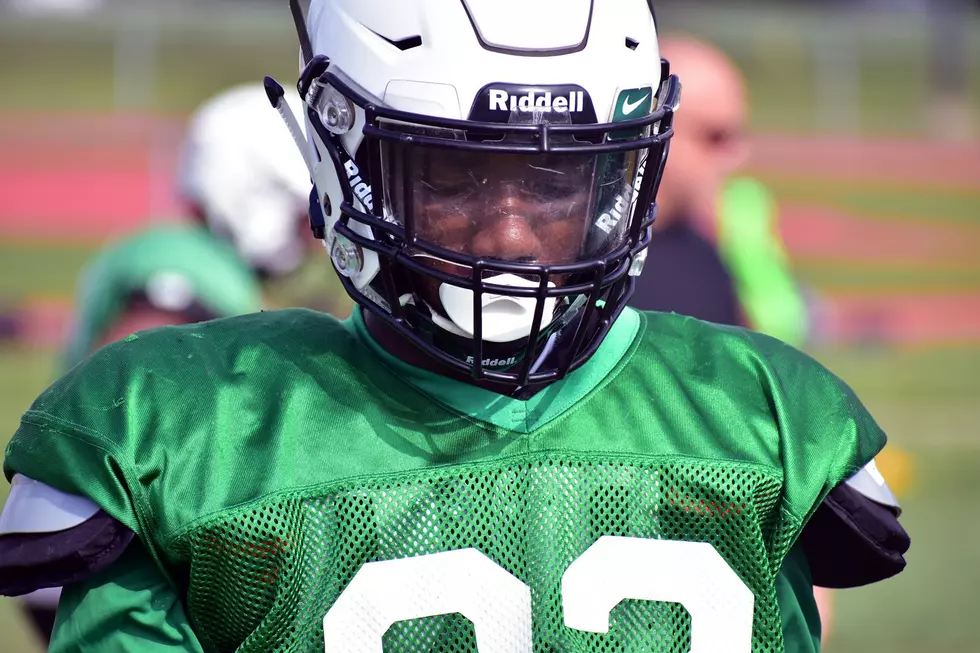 South Jersey Football: Mainland Ready to Play With Expectations
(Photo: Dave O'Sullivan, Glory Days)
Chuck Smith built up a solid football program during his years at Oakcrest High School and when he came back home to Mainland Regional a few years ago he had to endure some second guessing about his hire, as the Mustangs struggled to 1-9 seasons his first two years on the job.
But he kept preaching "program" and that if kids bought into the new staff's philosophy, eventually the Mustangs would be competing for championships like they did for years under legendary coach Bob Coffey.
It seems his message is getting through.
Last year, Mainland broke out of its two-year funk and stormed the West Jersey Football League's Independence Division, going 8-3 overall and winning the division title with a 5-0 mark that included a thrilling 24-21 win over rival Ocean City on a last-second field goal by Sean Carey late in the season. The Mustangs went undefeated in October, earned a berth in the state playoffs, and after a disappointing 25-7 loss to Shawnee in states they came back with a 12-0 win over Deptford and finished out the year with a 13-7 overtime victory over Egg Harbor Township in the Thanksgiving game. Mainland also went undefeated at home and had a +61 points differential.
Smith and the Mustangs are excited to get back onto the field this fall and prove that 2018 is what fans should expect from here on out, rather than just a one-hit wonder.
"The kids expect to do the same as last year. The foundation has been laid. Our goal this year is to repeat as division champs, make the playoffs and make a little more noise in the playoffs," Smith said. "We have a good core back from last year. We do have some pieces we have to replace, but the thing I think we have this year that we haven't had in recent years is depth. We have competition at almost every single position, and that will make us better in the long run."
With winning comes new expectations, but the Mustangs are embracing them.
"We had a really good offseason in the weight room again, the 5:30 a.m. Club had more than 30 guys in there three days a week all winter long. We have the foundation, the depth is there, now the expectations are there. Now you can tell we have a program because this year, we only had a couple kids make the record board in the weight room, where as in the past every year somebody new was going up there. Now, it's been established and firmly entrenched," Smith said.
"The culture has changed. It was different from our freshman and sophomore years to our junior year, and we just have to keep it going as seniors," said Brayden Pohlman (6-2, 240 pounds), one of several returning linebackers. "Some of us won't go on and play in college, so we want to make this the best year for everyone."
Added senior defensive back Brandon Batz, "We expect to repeat and have a playoff run. We're all excited and ready to go. We've been talking about this season since our freshman year. We're excited."
Offensively, Zack Graziotto likely will take the reins at quarterback from the graduated Dean Hall, and coach Smith is high on freshman running back Jabriel Mace, whose older brother, JaQuan, is a standout basketball player who also is playing football and could become a starting defensive back. Smith also has another basketball star out this year, as Jake Cook is putting the pads back on again and provides a tall, physical receiver for Graziotto.
The 3-3 stack defense is what will make the Mustangs go this year, however, as Pohlman and Drew DeMorat return as two of the best linebackers in the division. Smith also has Batz and Amir Vick in the secondary, and he's expecting big contributions from guys like Julian Rivera, Mackenzie Murphy and Sam Epstein.
"We hang our hat on our defense, as we always have here. The defense has always been the foundation of any good team we've had here. When you get to later in the season, the money games, you win with defense," Smith said. "We're fortunate that we have a great group of kids back on defense who have experience. They got their rear ends kicked as freshmen and sophomores, came out of their shells as juniors and are back again as seniors. I couldn't be more proud of guys like Drew DeMorat, Brayden Pohlman, Amir Vick and Brandon Batz because they really are the leaders of this team."
"We just have to keep everyone on the same page and make sure everyone is doing the right thing," Vick said.
Added DeMorat, "We may have lost good players, like Sonny Fraser and Hector Guerrero, but we have a bunch of seniors — our front six are all seniors — and we have Batz, Amir and some other seniors in the back, so we're keeping it on lockdown and I think we'll have a good season."
The biggest thing, Smith said, is that this group of seniors took their lumps early in their careers, turned things around last year, and are even hungrier to finish out their careers on a high note.
"Everybody says football is cyclical, it goes around and comes around. Now, we have kids who know what they are doing. You blow the whistle and they know where they are going next (in practice). That just shows where our program is, the kids' knowledge of the program, the expectations. We've spent a lot of time in the trenches toiling with it to get it where it needs to be, and now we feel comfortable with where this program is. I told them we're not that pushover team we were my first couple of seasons. We're the defending champs and made the playoffs, so we're not going to sneak up on anybody anymore. People are going to prepare and take us more seriously, and shoot for us, especially in our division. Our division is really tough, and I don't see anybody really being head-and-shoulders above anybody else. It's just a matter of who catches the breaks and who beats who," Smith said. "We have a great group of kids. It took us two years to get this thing going. Football is a little different than other sports because of the commitment and the time, and the length of the season. But we have a good group of kids who truly believe in something they want to be a part of. Some of these kids may never play football again after this year, but they are so focused on this season and that makes it a lot of fun."
(all games at 6pm unless otherwise noted)
Sept. 20 vs. Cherry Hill West
Oct. 18 at Middle Township
More From WPG Talk Radio 95.5 FM