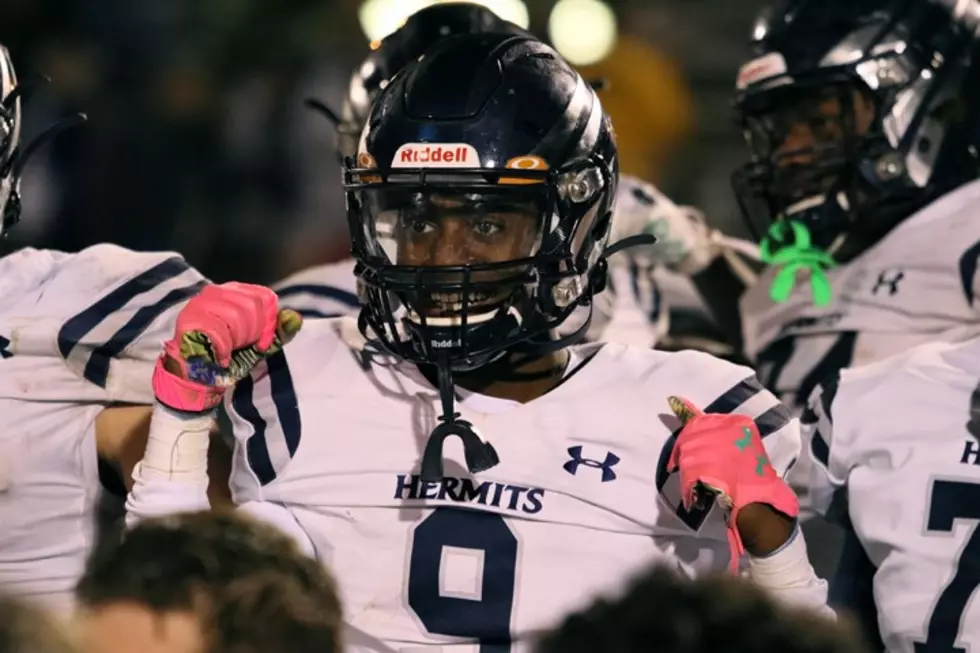 South Jersey Football: St. Augustine Victorious Over Holy Spirit
(Glory Days photo/Dave O'Sullivan)
ABSECON — Football isn't always pretty, especially during a rivalry game in October. Sometimes you just have to grind it out and do what it takes to get a victory.
Visiting St. Augustine Prep wasn't sharp in the first half and went into the locker room tied at 7 with parochial rival Holy Spirit at Ed Byrnes Stadium, but sophomore Nasir Hill made a couple of big plays in the second half that proved to be the difference in the Hermits' 21-7 victory in a highly anticipated West Jersey Football League non-divisional matchup, and the Bunting Family Pharmacy Game of the Week.
With new additions via transfer of guys such as linebacker Angelo Vokolos, receiver Carnell Davis and running back Kanye Udoh, it might be easy to forget that Hill was one of the Hermits' most dynamic players a year ago. He gave fans a reminder of that against Holy Spirit, capping off a long drive to start the third quarter with a 21-yard touchdown run down the right sideline, then intercepting a pass and returning it 45 yards to eventually set up a 1-yard quarterback sneak by Austin Leyman.
"I got moved to corner and I'm just trying to do my best. I was just trying to read (the Spirit QB) — coach was telling us not to bite on the short route, so I backed up a little bit, came back, read it and got the interception," Hill said.
St. Augustine Prep (4-3) faced a 3rd-and-13 at the Holy Spirit 15-yard line following Hill's interception and Leyman bobbled the low snap. But he scooped it up and scrambled left before heaving a pass to the left corner. Davis, a 6-foot-3 transfer receiver from Absegami, hauled in the pass at the 1-yard line, setting up Leyman's sneak for a touchdown that put the Hermits up 21-7 with 3:34 left in the third quarter. Holy Spirit (3-3) didn't quit, however, and had several drives deep into Prep territory, but one ended on an R.C. Reynolds interception at the 10-yard line and another with a turnover on downs when a fourth-down pass into the end zone was batted away.
"We knew our line was going to overpower them. They work their tails off every week and we dominated in the trenches. That was the biggest thing, getting those yards from Kanye and then throwing the ball when we had to. We didn't complete many today, had kind of an off day (with the passing game) but we just have to get back to the lab on that," Leyman said. "There are athletes surrounding me who just make plays. Carnell with that one catch, it wasn't the best pass but he made a heck of a catch, and Kanye with his runs, Nasir — our offense is stacked right now and it's awesome to be around. It's not only the talent, but it's the mentality and the hard work. We're getting better every week and that's the best part. Every week we have to get better, that has to be the progression, and we've done that. The coaches are hard on us and it doesn't matter who we're playing, it has to be 100 percent during practice. You have to have that game mentality at practice."
The Hermits got on the board first, scoring on their first drive as 300-pound fullback Isaiah Raikes finished it off with a 1-yard scoring plunge, and Luke Snyder's point after made it 7-0 late in the first quarter. Spirit's only touchdown came early in the second quarter when senior running back E'lijah Gray plowed his way into the end zone from four yards out, tying the game at 7.
Udoh led the way for the Hermits with 58 yards on 21 carries, while Gray and Patrick Smith combined for 118 yards on 27 carries. Leyman passed for 59 yards while Spirit sophomore quarterback Trevor Cohen was 11-for-22 with 89 yards.
"We wanted to come out here and show that we could compete. The majority of our success was through the defense and not letting them score. We knew we could execute on offense because we have factors all over the board — our QB, our running backs, and our line especially. All around, we have good players on offense, so we were really focused on defense and not letting them score," Hill said. "We've been facing adversity and overcoming adversity, but we're showing everybody that we can compete. We're just trying to keep going, grinding and grinding and trying to get better each day."
This matchup always features a lot of hype, even with each team right around the .500 mark, and Leyman said he was ready for it.
"As a quarterback, I just had to settle down and play my game. It's tough because you want to be involved in all the hype, but sometimes I just have to get out of the locker room real fast when everybody is getting hyped and just get ready to play my game," he said. "We have the talent, we just have to play our game. This is a team that is on the rise and we just have to keep it going."
What's next: St. Augustine Prep hosts Cherokee on Oct. 25 at 6 p.m. Holy Spirit hosts Kingsway on Oct. 25 at 6 p.m.
More From WPG Talk Radio 95.5 FM