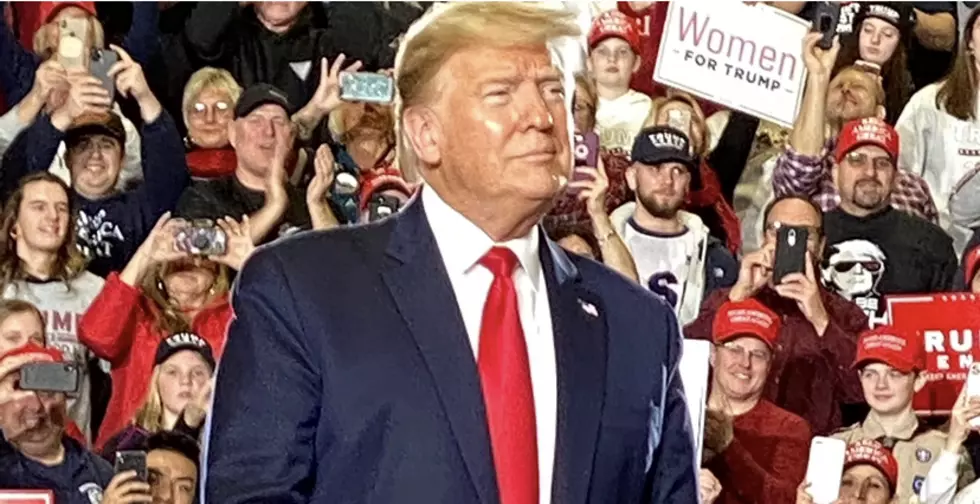 Today, Trump Will Become First President To Be Impeached Twice
Photo By Don P. Hurley
It's inevitable. United States President Donald Trump will become the first President in American history to be impeached twice.
The vote will take place today.
A minimum of 218 Democrats along with at least 5 (and, as many as 10-20) Republican House of Representative members will vote to impeach President Trump.
President Trump will face a single charge of "Incitement of Insurrection," resulting from his January 6, 2020 speech before a large crowd in Washington, D.C. on the day that a Joint Session of Congress was gathered to open the Electoral College votes.
The breach of The Capitol led to death, injury and property damage that is presently under intense investigation by The FBI.
The large crowd fought with police officers attacked The Capitol, trashed congressional offices and forced lawmakers and vice president Pence to leave the session certifying Joe Biden's election as President.
There is much disagreement if the United States Senate can even hear the case once President Trump leaves office on January 20, 2021 at 12:00 noon.
According to Senate Majority Leader Mitch McConnell, the earliest the Senate would be able to take receipt of the case would be January 20, 2021 at 1:00 p.m., one hour after Joe Biden becomes the 46th President of the United States.
Vice President Mike Pence has confirmed to Congress in writing that he will not support invoking the 25th Amendment to the Constitution, to remove the President from office.
This renders yesterday's House of Representatives censure vote moot.
All roads now lead to today's impeachment vote.
President Trump remains defiant and has called it "a continuation of the greatest witchhunt in the history of politics."
Yesterday, The president traveled to Alamo, Texas and urged for "peace and calm."
While it remains unlikely that McConnell will call for a special session of the Senate prior to January 20th, there have been widespread anonymous reports that McConnell is furious with President Trump and believes that he did commit impeachable offenses.
Another anonymous report stated that McConnell is pleased about the impeachment, believing that it will be easier to purge Trump from the GOP.
These are tough words from McConnell as Trump still enjoys a very high job approval rating from Republican voters.
GOP caucus chair, Liz Cheney, the third highest ranking Republican in The house of representatives has confirmed that she will vote to impeach President Trump.
Liz Cheney did not hold back saying "what we now know is enough. The president of United States summoned this mob, assembled the mob, and lit the flame of this attack. Everything that followed was his doing."
Further, she said "there has never been a greater betrayal by a president of the United States of his office and his oath to the Constitution. I will vote to impeach the president," said Cheney.
Liz Cheney is the daughter a former vice president Dick Cheney.
Additionally, the always Trump-supporting House Republican leader, Kevin McCarthy, openly telegraphed that members will not be required to tow the party line on the impeachment vote.
This is the first time that McCarthy has ever broken with President Trump, a significant event and a show of weakening support for the president.
It illustrates how cold politics can be. With President Trump's first term in it's closing days, some Republicans are now quick to abandon him.
With the Senate in recess until January 19, and all signs pointing that they will not rush through an impeachment trial before Biden takes office, President Trump will not be forced out of office early even if he is convicted in the Senate.
What still remains to be determined is if The president can even face a Senate trial after he leaves office.
This is never been tested in all of American history.
United States Speaker of the House Nancy Pelosi said late yesterday that "the story of our country and the future of our very democracy, are at stake."
Some support this statement by Pelosi. However, in a very split, 50-50 nation, just as many believe that this is pure politics, designed to finish Trump off from any future consideration for President in 2024.
In a John McLaughlin poll that was released last night, only 23% of respondents agreed with pursuing a second impeachment of President Trump.
77% of respondents say that Congress should work on the coronavirus response instead of pursuing impeachment of President Trump.
74% say impeachment is "politically motivated to prevent the president from running again."
65% said President-elect Joe Biden and how speaker Nancy Pelosi are "keeping the country divided."
74% say if social media platforms can take away President Trump's free speech, "they can take away the right to free speech for any American."
In my view, impeaching President Trump during his final week in office is not an inappropriate step to take.
It will further sow the seeds of division, in an already equally divided and bitter nation.
With possible protests slated for every state in the union in the run-up to Biden's Inauguration, the spectacle of a second President Trump impeachment and possible United States Senate trial is ill advised and appears purely political and strategic in nature.
Enter your number to get our free mobile app
CHECK OUT: Where NJ's biggest winning lottery tickets were sold
More From WPG Talk Radio 95.5 FM