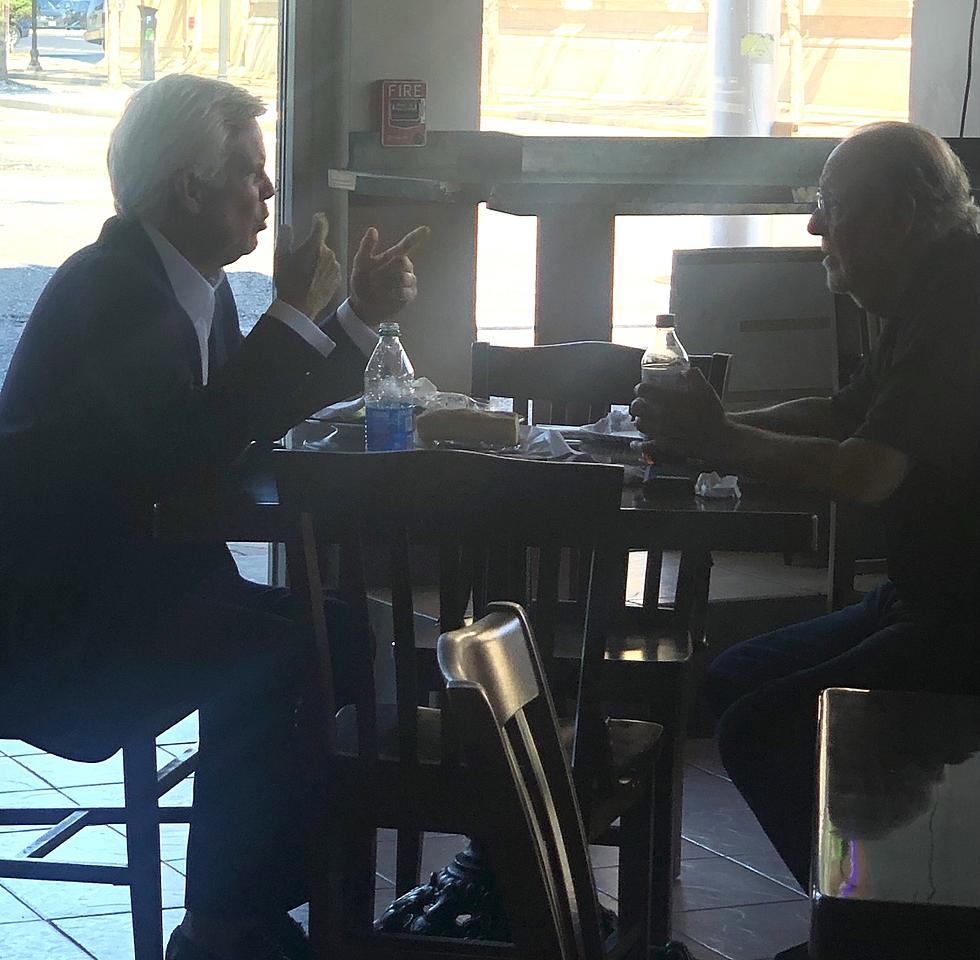 Together In Atlantic City: Politics Makes Strange Bedfellows (Opinion)
George Norcross, III & Dennis Levinson - Dining in Atlantic City, 9/27/21
A HARRY HURLEY OPINION - EDITORIAL
This is not a slam against either gentleman pictured here dining together. I know them both. I like them both. This is purely a political observation. One that I strongly believe that all "political junkies" will find very interesting.
Pictured here are Camden County Political Potentate George Norcross, III, and Atlantic County Executive Dennis Levinson.
One is a politically powerful Democrat (Norcross), the other is a powerful Republican (Levinson). The equivalent of a political odd couple to be sure.
This photo was taken yesterday, Monday, September 27, 2021, while they dined together in Atlantic City at a local restaurant on the corner of North Carolina and Atlantic Avenues. We respectfully file this under the old adage that "politics make strange bedfellows."
Just in case you're wondering, this expression dates back to the mid 19th century, meaning that political alliances in a common cause may bring together those of widely differing views.
Make no mistake about it. Neither Norcross nor Levinson will be displeased with this coverage. They purposely chose to dine together in broad daylight at 12:00 noon in a popular locals spot in the center of Atlantic City.
They wanted to be seen and they want everyone to know that they were together. They have dined together before in Atlantic City a few years ago. Full disclosure, I also dined in open public view with Norcross (a few years ago) in Atlantic City. We were also noticed.
The most powerful Camden County political figure holds no elective office.
In the hierarchy of Atlantic County Republican politics, only United States Congressman Jeff Van Drew and Atlantic County Senator Vince Polistina outrank Levinson.
Now, if you're Senator Polistina, Don Guardian, or Claire Swift it's probably a much different story.
You can't blame them one bit if they're not happy about yesterday's special lunch gathering in their district.
The Republican 2nd Legislative District ticket has been getting politically savaged on television, radio, and print with money raised by Norcross for Assemblymen Vince Mazzeo, John Armato, and Commissioner Caren Fitzpatrick.
The latest attacks are that Polistina is rich. Guardian allegedly bankrupted Atlantic City, which is patently false. And, the meanest attack of them all, Democrats are blaming Swift for the "deaths of 4 children and that 9 more children suffered brutal, prolong abuse under her watch."
This allegation made against Swift is patently false. As a former New Jersey Deputy Attorney General, Swift was responsible for Atlantic County.
These tragic children cases occurred in Camden County according to Swift in our live WPG Talk Radio interview of Monday, September 27, 2021.
Ten years ago, Norcross bankrolled a vicious Democratic campaign that accused Polistina of killing women with cancer. At that very time, Polistina and his wife Carolyn were caring for Carolyn's Mother, who was actually terminally ill with cancer.
The allegations against Polistina were false and despicable. The Camden County Democrats play rough.
All the more reason why Levinson openly dining with Norcross is well received in some quarters; not so much in others.
These two political titans, from opposing political parties, stepped out together in public to be seen.
They got exactly what they wanted.
We saw you.
Every Amazing New Jersey Restaurant Featured on Diners, Drive-Ins and Dives
An Exclusive Look Back at the Golden Nugget, Atlantic City from 1980
25 Famous People That Were Surprisingly Born In The State Of New Jersey
More From WPG Talk Radio 95.5 FM