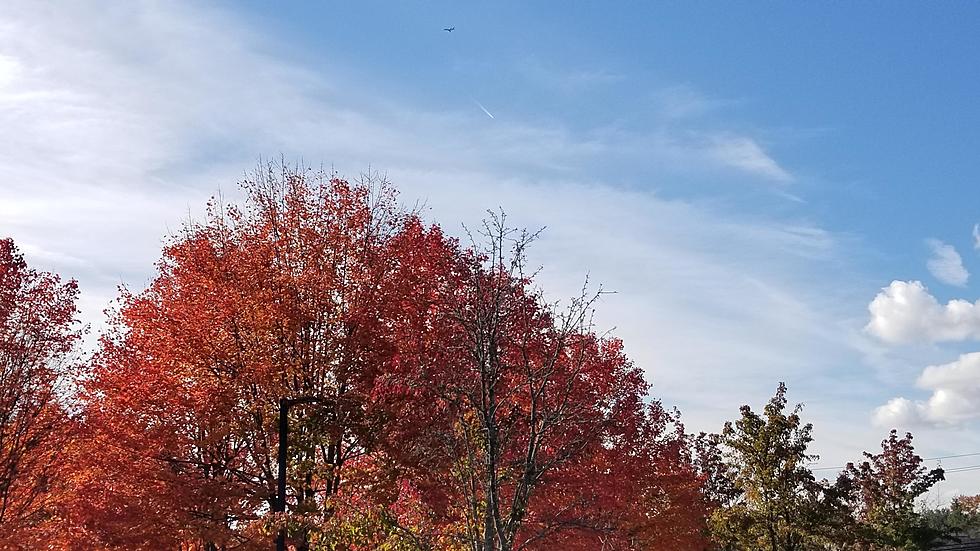 Tuesday NJ Weather: Back to the Warm Side For 1 Whole Day
A pleasant November sky. (Dan Zarrow, Townsquare Media)
The Bottom Line
This is a weird week of weather. We are literally flip-flopping between "unseasonably cool" and "unseasonably warm" every 24 hours.
While Monday was a pleasant day, temperatures were mainly stuck in the 50s. Tuesday is a warmup day. Then Wednesday cools down again. We will get one more shot of mild air on Thursday, before chilly air arrives Friday. And those cool temperatures will be here to stay through the weekend.
Meanwhile, rain chances are limited. One round of North Jersey showers is wrapping up Tuesday morning. And we could see about the same thing early Thursday morning. Friday is a bit of a question mark, as a piece of energy potentially rides long a cold front to our south — models have largely dried out NJ's forecast, but could rain clip at least South Jersey?
Tuesday
I foresee no problems getting to the polls for Election Day.
As of this writing (6 a.m.), overnight showers in North Jersey are wrapping up. Raindrops have been limited to approximately along and north of Interstate 78.
For the rest of Tuesday morning, we are under the influence of a warm front. That means two things: 1.) Warmer temperatures, of course, and 2.) cloudy, drizzly conditions.
Technically, patchy drizzle is a possibility over the next few hours, but radar is pretty quiet and surface observations look clear. Low clouds will definitely hang on for the first half of Tuesday, before substantial breaks of sun take over in the afternoon. It will turn breezy later on too, with southwesterly gusts over 20 mph.
Meanwhile, temperatures are mainly in the 50s to start the day. Quite comfortable - you might be able to leave the jacket at home. We will see highs in the upper 60s to around 70 degrees Tuesday afternoon. That is running about 10 degrees above normal for this time of year.
A cold front will push through New Jersey Tuesday evening. This is going to be a dry one, with no rain in the forecast. However, a chilly northwest breeze will carry in cooler air overnight. Temperatures will tumble to around the 40-degree mark by Wednesday morning. Frost is possible for the interior of the state, but the wind should stir things up enough to prevent temps from really tanking.
Wednesday
Cooler, but pleasant.
The stiff breeze will calm down sometime Wednesday morning, and then the rest of the day will be trouble-free. It will be on the order of 15 degrees cooler than Tuesday — definitely more November-ish. But mostly sunny skies will somewhat make up for that.
Look for high temperatures in the lower to mid 50s Wednesday afternoon. Slightly below normal for early November.
Thursday
Another warmup day. In fact, the last mild day before a sustained cooldown takes hold.
Model guidance continues to paint some spotty showers over the Garden State early Thursday morning. Mainly pre-dawn, and mainly to the north. While a sprinkle will be possible through Noon, it does not look like a "wet" or even "damp" day overall.
On Thursday, the stiff breeze will blow from the southeast. That is a humid breeze, so I expect a marked increase in cloud cover.
High temperatures will mainly hit the 60s — but there could be a lot of variability there. The northern tip of NJ is forecast to stick close to 50 degrees, while 70 is a possibility once again to the south.
Friday
Friday is transition day, as our new cooler air mass blows in from the west.
As I mentioned above, there is quite a bit of uncertainty swirling over rain chances on Friday. The cold front that moves in early on will be just south of New Jersey as an impulse (storm system) rides along that "highway in the sky". So there is a chance that we get wet. Especially over southern New Jersey.
But that is not a "sure bet" — I'd say there is more evidence toward a dry (or mainly dry) Friday over a washout. In any event, any precipitation on Friday will be generally light, non-severe, and non-wintry.
Friday will be pretty cloudy. And again, cool. High temperatures will settle in the lower to mid 50s.
The Extended Forecast
Chilly air will be here to stay this weekend. Both Saturday and Sunday will be sunny, but highs will be only reach the 50s. Morning lows could end up in frost-freeze territory too.
As I have mentioned before, cold air is the first ingredient in winter weather. While I do not see anything significant on the horizon, each subsequent storm system will have to be watched for snowflake potential. Especially in the usual "cold zone" of NW NJ.
Do You Have NJ Bed Bugs? How to Tell What They Are
Gallery Credit: Eddie Davis
How To Describe the Jersey Shore in One Word
How residents would describe the Jersey Shore in just one word.
Gallery Credit: Sam Elliot
More From WPG Talk Radio 95.5 FM