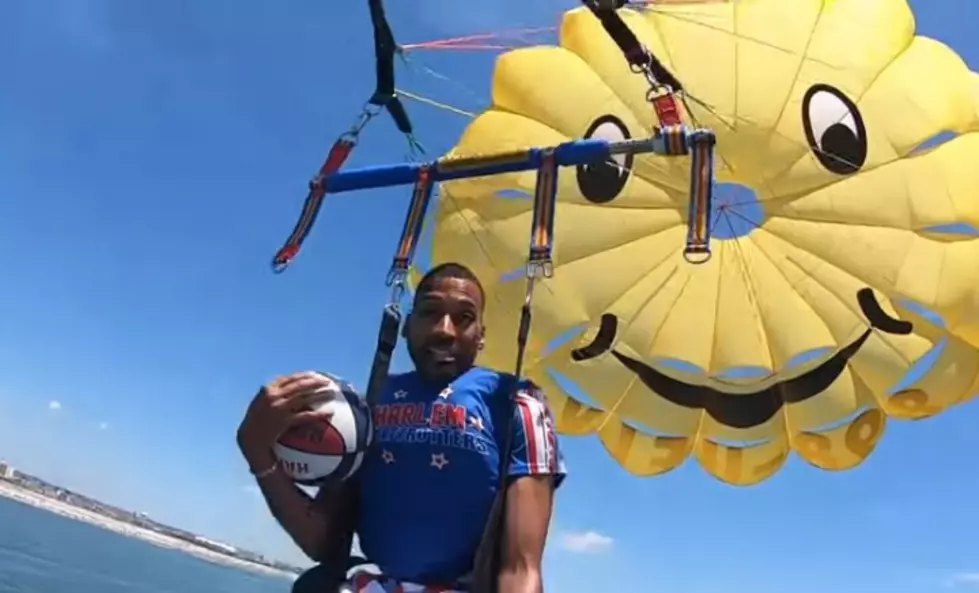 Watch Harlem Globetrotter's Trick Shot From Wildwood Parasail
Harlem Globetrotters/YouTube
Zeus strikes again! Leading up to four games in Wildwood, Harlem Globetrotters star Zeus McClurkin made history with the first-ever trick shot from a parasail.
In the video, Zeus is seen parasailing in the Atlantic Ocean off the coast of Wildwood when he radios for a second boat to travel under him with a basketball hoop.  Flying over 100-feet above, Zeus nails the shot despite the wind and waves.  He followed up the parasailing shots with two more shots from one boat to another.
"I just hit one of my toughest trick shots ever," said McClurkin on the boat ride back to the dock. "Today, I faced my toughest defense ever: waves, wind, and math."
Zeus continues a summertime tradition in Wildwood with his unprecedented trick shot.  His teammate Bull Bullard made a shot on the Skycoaster ride at Morey's Piers in 2016 from a helicopter above the beach in 2017, and via an airplane in 2018.
The Harlem Globetrotters will play four games at the Wildwoods Convention Center from Wednesday, Aug. 14 through Saturday, Aug. 17.
More From WPG Talk Radio 95.5 FM