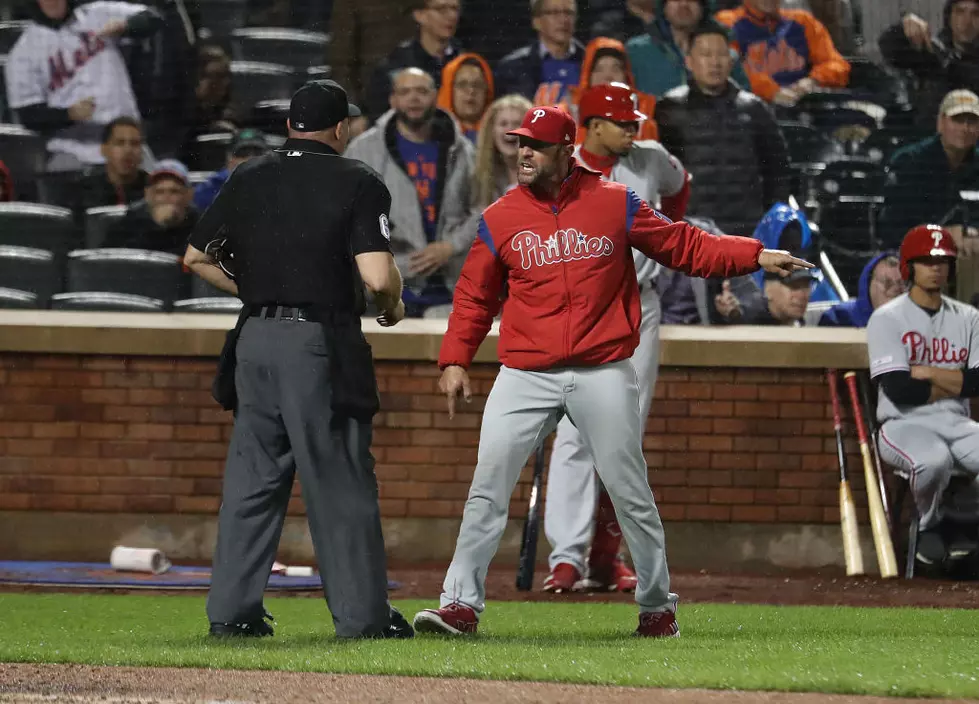 Will Gabe Kapler Be Back With the Phillies in 2020?
Phillies manager Gabe Kapler was not happy that umpire Mark Carlson tossed Bryce Harper (Al Bello/Getty Images)
With a loss in game one of their doubleheader in Washington, the Philadelphia Phillies were eliminated from earning a spot in the post-season for the eighth straight season.
A season filled with frustration, injuries, and inconsistent play has left Phillies fans wondering what's next for a team that spent over $400 million this off-season.
Which begs the questions, will Kapler be back in 2020? That remains unclear.
"There is going to be plenty of opportunity to reflect.  I love this organization, love this team specifically, I love working for this front office, I love working for this ownership group.  I'm going to manager this club as long as I can, because I think I give us a great chance to win and I think because I care deeply about the success of this franchise."
Kapler, who has been criticized by many for his analytical approach and overly positive demeanor, has not connected with Phillies fans during his almost two seasons with the team, which has fueled a lot of speculation about his future, and how has be connected with his players.
Bryce Harper, the biggest of the Phillies big off-season additions, weighed-in on Kapler.
"If that's a conversation that if it needs to be had, than it will be had, but at this point he's our manager," Harper told reporters in Washington after Tuesday's games. "I think all of the guys in this clubhouse back him with what he does every single day as the manager. If that conversation needs to be had, that's way over my head."
The Phillies needs a 3-2 record over the final five games just to finish with a winning record, something that hasn't been achieved since 2012.  But after ending last season just two games under .500 with a mediocre roster, the team made massive upgrades by adding Harper, Jean Segura, J.T Realmuto, and Andrew McCutchen to help their offense.
The team elected to stand pat with their 2018 rotation, and injuries to the bullpen were an issue all season.
So how do those decisions reflect on the manager?
"There's guys above me that make those decisions," Harper said.
John Middleton is the guy who makes that decision and he became a popular figure in the off-season when he helped land Harper to sign on the dotted line.
Now Middleton, who was in Washington with the team on Tuesday, might have to pull the plug on his second year manager if he wants to keep that popularity.
More From WPG Talk Radio 95.5 FM