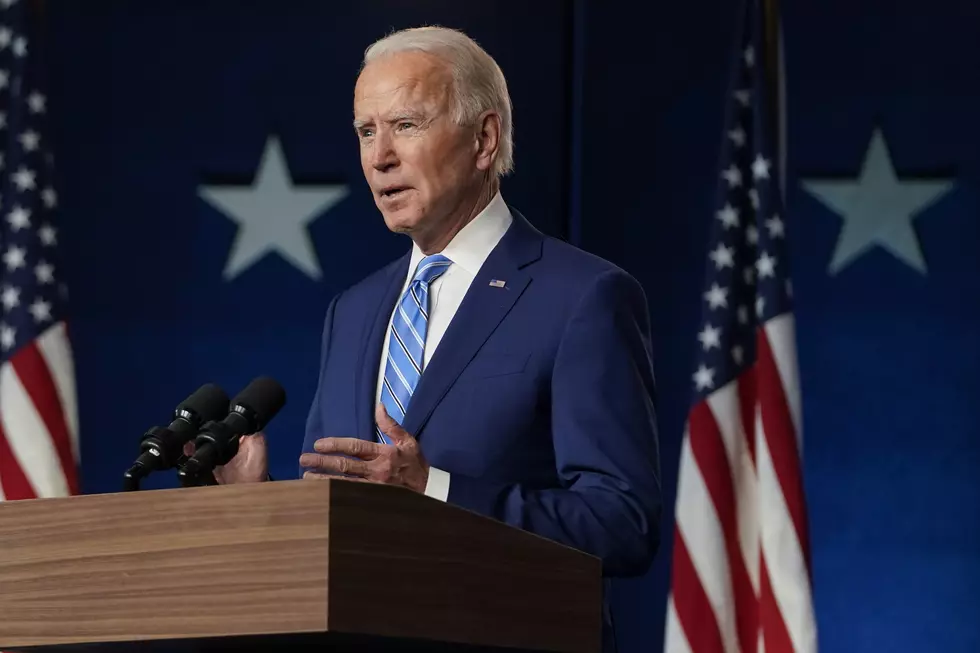 Biden, James & Others Rush To Judgment In Ohio Police Teen Shooting
Drew Angerer/Getty Images
The President of The United States and NBA superstar LeBron James have rushed to judgment and immediately blamed a Columbus Ohio police shooting of an armed 16-year-old teen as racially motivated.
What James did was reprehensible. He actually Tweeted a photo of the Columbus Ohio Police Officer's picture, with the words "YOU'RE NEXT #ACCOUNTABILITY."
James has received a significant amount of well deserved criticism and has since taken down the despicable Tweet.
The White House and James were quick to compare this to the former Minnesota Police Officer Derek Chauvin case.
It wasn't just the President and James who rushed to judgment. United States Senator Sherrod Brown, Congresswoman Ayana Presley, former Barack Obama senior advisor Valerie Jarrett and many others all jumped to the same false conclusion.
On the flip side, United States Senator Tom Cotton tweeted, LeBron James is inciting violence against an Ohio police officer. This is disgraceful and dangerous. Is the NBA OK with this? Is Twitter?
Former Philadelphia Philly Lenny Dykstra tweeted, on behalf of pro athletes, current and former, I apologize for how #lebronjames just showed his inner Maxine Waters and made a very real, ongoing threat to the life of the officer who quickly acted to prevent a knife attack from becoming worse. Many of us appreciate what law enforcement officers do!
Initial allegations in Ohio said that the teen was unarmed. The Police body cam video proves otherwise. The teen who was ultimately shot and died was holding a black-handled blade, which is being described as looking like a kitchen or steak knife.
Because of his reckless Tweet, James is being accused of inciting violence.
The responsible thing to do is to wait for a full investigation before commenting. This sound practice is no longer followed.
Instead, false narratives are floated to try and win a political victory.
However, it is becoming crystal clear that The Biden Administration strategy is to declare that America is a nation based upon systemic racism.
"Someone called 911 to say they were being physically threatened," interim police chief Michael Woods said at this past Tuesday night's news conference.
The investigation is still in its infancy, but, the early facts In Ohio appear to be very different versus the Chauvin case.
Police Officers in Ohio responded to the scene of a 911 call. The police witnessed what appears to be a girl swinging a knife.
According to the police body cam video, the teen girl with the knife then charges at another person who is pinned up against an automobile. The police officer shouts several times to get down.
The officer fires four gunshots and the teen (with the knife) falls to the ground.
Let me pose a fair question regarding the officer shooting of the teen in Ohio.
Had the police officer not fired his service weapon, the teen with a knife appeared poised to stab another girl.
The police officer had two choices; do nothing or do something. Ohio law considers a knife to be a deadly weapon.
The Columbus, Ohio police officer was in the ultimate no-win scenario. Do nothing and a stabbing was about to take place. Instead, the police officer decided to shoot the person wielding the knife and this resulted in immediate racial bias allegations.
It certainly appears that police officers are no longer afforded the presumption of innocence. They now start as "guilty" and must prove their innocence.
The Biden Administration clearly plans to make everything about racism for political purposes. It's a divisive and dangerous strategy.
A media member actually asked during the press conference, "why the police officer didn't shoot the teen in the leg."
Biden has made a similar ridiculous statement in the past. A police officer is not legally permitted to shoot to wound.
When a sworn police officer discharges their service weapon, it is only to kill.
We are presently living in a radical Bizarro World.
Shouldn't the initial operating theory in Columbus, Ohio have been about a sworn police officer, who saved the life of a girl who was about to be stabbed by making a quick, life-saving decision?
Instead, the total focus is why did the police officer shoot a teenage girl?
Let's not lose sight that a police officer had about 10-12 seconds after getting out of his police car to make a life-and-death decision.
He was forced to take a life ... in order to save a life.
That's as tough as it gets
SOURCE: Information from the Associated Press and Fox News was used in this article, along with Harry Hurley Opinion Editorial comments