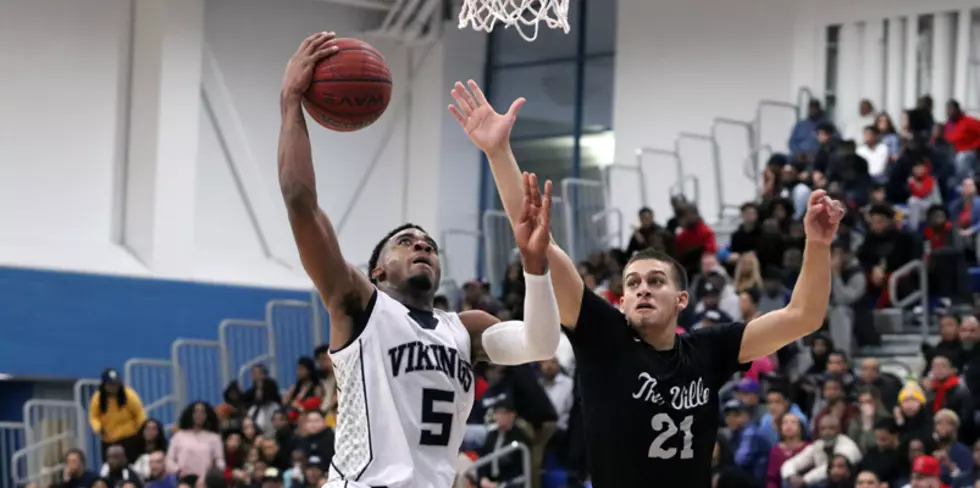 CAL Boys and Girls Playoff Seedings are Set
(Glory Days photo/Dave O'Sullivan)
The Cape-Atlantic League basketball tournaments are set to begin on Monday, and defending girls champion Ocean City received the No. 2 seed behind Wildwood Catholic when seedings were announced today. Ocean City's boys team, currently tied with Holy Spirit for second place in the CAL National behind Mainland, was seeded eighth and will have to go on the road to face top-seeded Wildwood Catholic.
This is the ninth year of the tournament, and this year provided a bit of a twist, as the top four seeds were guaranteed home games. On the boys side, Wildwood Catholic will host Ocean City, No. 2 St. Augustine Prep hosts No. 7 Pleasantville, No. 3 Mainland hosts No. 6 Holy Spirit, and fourth-seeded St. Joseph will host No. 5 Atlantic City, all on Monday. On the girls side, top-seeded Wildwood Catholic gets No. 8 Absegami in Monday's opening round, No. 7 OLMA travels to No. 2 Ocean City, third-seeded Atlantic City hosts No. 6 ACIT, and No. 5 Middle Township travels to No. 4 Mainland. Ocean City and Mainland currently are tied atop the CAL National standings, with the Red Raiders beating out the Mustangs for a higher seed. The seeds were decided upon by a group of CAL athletic directors.
On the boys side, both the National and United conferences got three teams in, with two from the American. The tournament features the top two teams in each conference plus a pair of wildcard entries, in this case, Ocean City and Pleasantville. On the outside looking in were teams like Millville, Egg Harbor Township, ACIT, Cedar Creek and Middle Township. On the girls side, OLMA and Absegami beat out teams like EHT, Cedar Creek, Holy Spirit and Buena for the wildcard bids.
Wildwood Catholic and Mainland were the only two schools to put both their boys and girls teams in the top four. The Mainland girls have won 13 of their past 15 games while Ocean City has gone 16-1 in its last 17 games, with its lone loss coming on Feb. 14 against Mainland, a defeat that snapped a 15-game winning streak. Wildwood Catholic is 11-1 in its past 12 games and despite being a half-game behind Middle in the United standings, garnered the No. 1 seed on the strength of wins over OLMA, Atlantic City, Middle Township and Red Bank Regional. The Crusaders' only losses have come against Middle, Sanford (Del.) and Cherokee.
On the boys side, St. Joseph and St. Augustine Prep both have been surging. The Wildcats have gone 10-1 since losing 101-82 to Wildwood Catholic on Jan. 15, while the Hermits have gone 8-1 since a loss to Wildwood Catholic on Jan. 22.
*St. Joe loss to Pleasantville after the seedings meeting dropped them from No. 4 to No. 5 in the CAL Tournament. The Wildcats must travel to No. 4 Atlantic City for Monday's opening round, as those two teams flip-flopped in the rankings.
Here's a quick look at the matchups and schedule:
(Opening round games on Monday at the higher seed, times TBD)
(8) Ocean City (14-8) at (1) Wildwood Catholic (16-7)
(4) St. Joseph (17-4) at (4) Atlantic City (16-5) - 7pm on 97.3 ESPN
(6) Holy Spirit (16-7) at (3) Mainland Regional (18-5)
(7) Pleasantville (12-11) at (2) St. Augustine Prep (18-4)
Semifinals: Wednesday at Absegami
5 p.m. Holy Spirit/Mainland winner vs. St. Augustine Prep/Pleasantville winner
7 p.m. Atlantic City/St. Joseph winner vs. Ocean City/Wildwood Catholic winner
(8) Absegami (15-8) at (1) Wildwood Catholic (20-3)
(5) Middle Township (19-4) at (4) Mainland Regional (16-5)
(6) ACIT (14-7) at (3) Atlantic City (15-7)
(7) OLMA (17-7) at (2) Ocean City (17-6)
Semifinals: Thursday at Ocean City
5 p.m. Absegami/Wildwood Catholic winner vs. Middle/Mainland winner
7 p.m. ACIT/Atlantic City winner vs. OLMA/Ocean City winner
More From WPG Talk Radio 95.5 FM