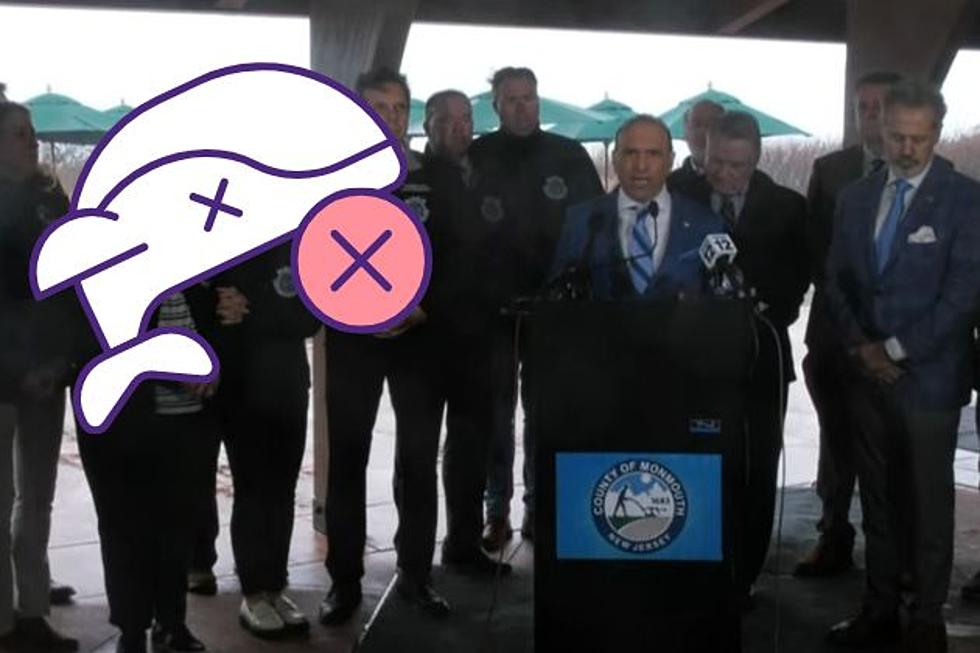 Dead Whales 'Telling us something' — NJ Officials Push Again For Wind Energy Stoppage
Monmouth County Commissioner Thomas Arnone speaks at an event in Long Branch (Screengrab from Facebook live stream/Canva illustration)
LONG BRANCH — There has to be something that's contributing to a rash of marine mammal strandings along the New Jersey coastline, officials say. So, what is it?
County, state, and federal officials gathered in Long Branch on Wednesday to call for a pause of offshore wind activity, so that a comprehensive — and unbiased — investigation can be conducted into whether the going-green effort is contributing to the deaths of dozens of dolphins and several whales on New Jersey and New York beaches.
"It's a simple equation — just stop, investigate, and tell us why," Monmouth County Commissioner Thomas Arnone told a crowd at Seven Presidents Oceanfront Park.
For months, activists and officials have been pushing a not-yet-proven theory that preparation work to get wind turbines along the East Coast is interfering with the normal way of life for marine mammals, resulting in their death.
Environmentalists and New Jersey mayors have sent letters to President Joe Biden and Gov. Phil Murphy, asking for a halt to wind energy progress offshore, at least until it can be proven that acoustic surveys and other activity aren't directly causing deadly harm to marine life. A moratorium has also been the focus of legislation on the federal level.
"The whales are the canaries in the coal mine. They are telling us something that we all need to listen to," U.S. Rep. Chris Smith, R-N.J. 4th District, said at the press conference. "The entire ecosystem of our ocean will be devastated by this effort."
Many of the dead sea mammals found since December were struck and fatally injured by boats, according to necropsy results. According to Smith, whale-boat collisions are rare, and the animals' sonar capabilities are being impacted by wind energy infrastructure.
"We're going to see even more whales washing ashore as time goes on," Smith said.
No evidence of a link?
Gov. Murphy has rejected calls for a break in the action offshore.
In February, Murphy said allegations that wind activity is connected to animal deaths are unfounded. And weeks later, the New Jersey Department of Environmental Protection suggested the same thing.
The National Oceanic and Atmospheric Administration has suggested that warmer waters may be pushing whales closer to shipping lanes. NOAA and other agencies have maintained that there is no link between offshore wind and animal deaths.
Most recently, NOAA indicated that work on New Jersey's first offshore wind farm may "adversely affect" marine mammals, but won't seriously hurt or kill them.
LOOK: 31 breathtaking images from NASA's public library
In 2017, NASA opened the digital doors to its
image and video library
website, allowing the public to access more than 140,000 images, videos, and audio files. The collection provides unprecedented views of space.
Stacker
reviewed the collection to select 31 of the most breathtaking images, including the first from the James Webb Space Telescope. Keep reading to see these stunning images, curated with further information about the captured scenes.
More From WPG Talk Radio 95.5 FM