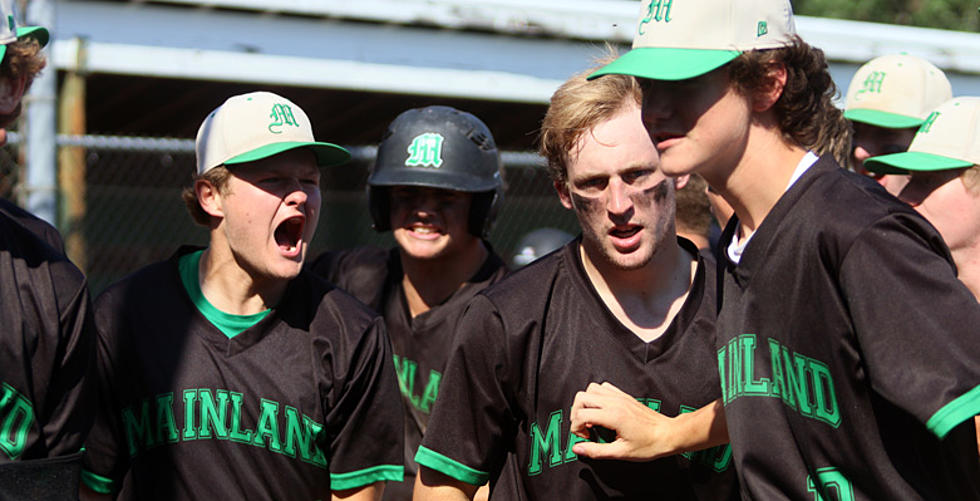 Mainland High School Baseball Wins a Wild Playoff Game in Walk-off Fashion
Photo: Dave O'Sullivan/Glory Days magazine
LINWOOD — South Jersey baseball fans have heard all year about Mainland players such as Brody Levin, Mark Elliott and Cole Campbell. And, of course, Chase Petty, a potential Major League Baseball first-round draft pick next month who routinely throws 100 miles-per-hour. Sports reporters and scouts have been at every Mainland game that Petty pitches, and a lot where he's just playing the infield. If you Google "Chase Petty" there is no shortage of headlines.
Luke Sharp figured it was about time he grabbed a headline. The senior shortstop was running out of chances.
Sharp came into Saturday's South Jersey Group 3 quarterfinal matchup against Triton batting .244 with 11 RBIs, but came through with the biggest hit of his career as he singled home pinch runner Brandon Sharkey from third with the winning run as Mainland walked off with an 8-7 victory. It was the second straight playoff walk-off win, as a hit from Petty helped top-seeded Mainland get past 16th-seeded Absegami in 11 innings during the opening round on Wednesday.
Sharp's heroics helped wipe out an uncharacteristically shoddy defensive performance from Mainland, which committed five errors and allowed five unearned runs. But none of that will be remembered thanks to the Mustangs' No. 9 hitter.
"I was in the same position on Wednesday in our last game and I was just trying to keep the same approach. I was just looking for a fastball and trying to drive it to the outfield because they were playing the infield in. There are a lot of teams that sleep on the bottom of the lineup, so I was expecting that fastball, and they gave it to me. It's an amazing feeling. There's nothing like it," Sharp said. "It's just the chemistry that we have that keeps this team together. One guy goes down and the rest of us pick him up. It doesn't matter if we're up or we're down, there's always that energy to keep us going."
"These guys, all day just stacking runners and putting me in a good position to succeed and I was just happy to come through for them. That's just a testament to these guys fighting. They didn't stop all day and the score came out on our side," said Clayton Sands, a senior right fielder who bunted Sharkey to third following freshman Christian Elliott's leadoff double to start the bottom of the seventh. "Sharp doesn't get his name in the paper a lot but he's been grinding all season. He's been stringing quality at-bats together and that's a testament to how hard he's been working all year. We're really proud of him today, he really showed up for us."
Mainland (22-3 and ranked No. 2 in the state by nj.com) got off to a great start, taking a 3-0 lead in the bottom of the first and adding another run in the third on an RBI single down the left-field line by Sands. But then the wheels came off in the fourth and fifth, as Triton (11-11) rallied for seven runs, including four in the top of the fifth. Teddy Gorski tied the game, 4-4, with an RBI single up the middle off Mainland starter Will Hoover, who allowed just two earned runs all day while throwing 111 pitches in 6 2/3 innings. Phoenix Foster followed an RBI single after an error loaded the bases, and Gorski scored as Mainland turned a double play, giving No. 9 Triton a 6-4 lead. Triton made it 7-4 on a run-scoring double to left-center field by Tom Formisano before Hoover was able to get a flyout to finally end the inning.
In the fourth and fifth innings, Triton tallied seven runs on five hits, two errors and a walk.
But in the bottom of the sixth, some thunder off the bat of Petty changed the whole game around.
Sam Wood drew a 1-out walk and after Sharp flied out to center, Elliott was hit by a pitch to put two on with two out. That brought up Petty, who deposited the second pitch he saw over the left field fence for a game-tying three-run home run. That made it 7-7 heading into the seventh, and after Hoover reached his pitch limit, Jared Wilson came on in relief and got the first batter he faced to bounce out to second to end the top of the seventh. He was credited with the win after throwing just five pitches.
"Hoover has been amazing for us this season," Sharp said. "He doesn't throw hard like some of the other guys we have but he throws strikes and pounds the zone, and that's just what we need."
Petty's homer was his only hit of the game, but it was the fourth of the season and gave him 32 RBIs.
"Having him on the team is great. A lot of guys feed of his energy," Sands said of Petty. "I knew that as long as he was able to swing the bat it was going to go somewhere and we'd get a run in. Luckily enough, he was thinking the same thing and he hit one out for us. That was huge momentum for us. They went a couple innings scoring at least three runs in each inning and we went 1-2-3 in back-to-back innings. But we came out (in the sixth) and put up a tough zero then came back with three and that was just momentum in our favor."
The win puts Mainland up against No. 4 Moorestown on Tuesday at 4 p.m. There's a chance the Stangs could see rival Ocean City in the championship game, as Gannon Brady tossed a 1-hit shutout with 13 strikeouts against Lacey Township on Saturday to put the No. 2 Red Raiders into the other semifinal, against No. 3 Central Regional. They'll play Tuesday in Ocean City.
"We don't think we're going to lose until we're having a bad talk after the game. A guy like Chase, he is who he is and he's going to show out every day. We never think we're going to lose until the final score says otherwise and we're going to keep fighting until the end, and obviously you saw that today," Sands said. "This team, we don't stop fighting until the end. These guys, up and down the lineup — it doesn't matter if you're hitting first or ninth — we're putting quality at-bats together and it's a team at-bat over anything. Nobody is selfish. You saw Luke Sharp at the end just getting the job done."
What's next: No. 1 Mainland hosts No. 4 Moorestown in the South Jersey Group 3 semifinals on Tuesday at 4 p.m.
These Beautiful South Jersey Sunsets Will Take Your Breath Away
More From WPG Talk Radio 95.5 FM