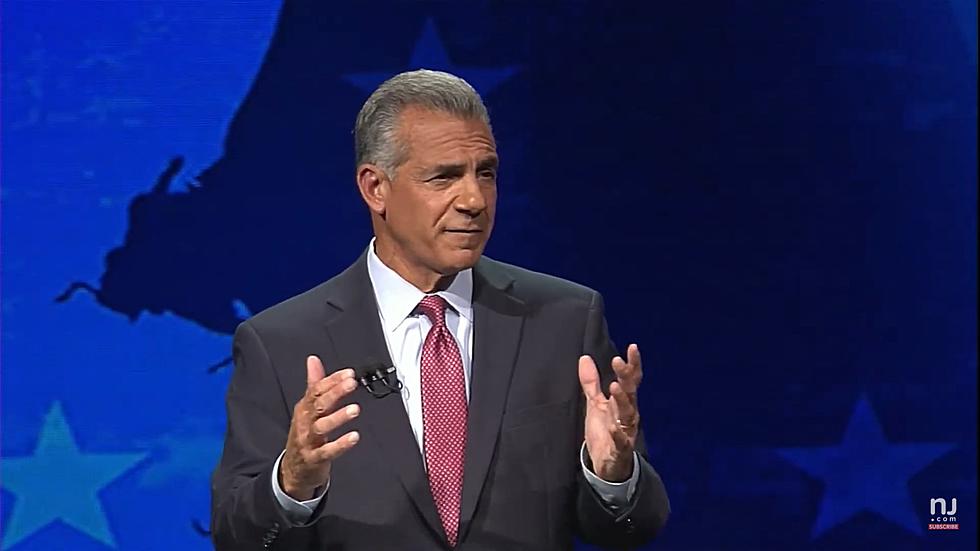 Murphy vs. Ciatterelli: "A Debate Has Broken Out At A Hockey Game"
Republican gubernatorial candidate Jack Ciattarelli at the debate on Tuesday, Sept. 28, 2021. (YouTube screenshot)
Second verse, same as the first.
The 2nd New Jersey Governor Phil Murphy vs. Jack Ciatterelli debate was just as bombastic as the first one.
Former New Jersey Assemblyman Jack Ciatterelli has delivered a great debate season performance versus New Jersey Governor Phil Murphy.
Will that translate into victory on November 2, 2021 in the General Election?
The polls say no, but, Ciatterelli is making it interesting.
During last night's 2nd and final debate, Ciatterelli hit Murphy hard on New Jersey's high taxes, spending and the COVID-19 response.
In fairness to Murphy, it's always harder to defend your record then it is for a challenger to attack it.
Ciatterelli is like a dog on a bone. He doesn't let go.
The debate took place at Rowan University in Glassboro.
Ciatterelli had several effective closing themes:
"New Jersey, the state we love is broken," said Ciatterelli. "You know it (Murphy) and I know it. It needs to be fixed and that's what my candidacy is really all about," said Ciatterelli.
The crowd was just about as raucous as during the first debate. It appeared that this crowd was more pro-Murphy then the first debate crowd.
Murphy delivered a very funny line at one point saying … "A debate has broken out at a hockey game." It was a great line, delivered well.
Ciatterelli's best lines of the night went like this:
"If you like paying the highest property taxes in the nation, if you like having the worst business climate in the nation, waiting five hours online at motor vehicles, waiting month after painful month for your unemployment benefits, or not being able to get anybody on the phone in the state department or within our state government, vote for Phil Murphy."
"High taxes and massive spending by Murphy are making New Jersey into the East Coast version of California," Ciatterelli said during his closing argument.
"If you don't mind a governor who says if taxes are your issue, we're probably not your state, if you don't mind the governor who says he wants to make New Jersey the California of the East Coast, vote for Phil Murphy,"Ciaterrelli said.
Murphy emphasized that not complying with COVID-19 mandates "puts peoples lives at risk."
Ciatterelli also hit hard about Murphy's stance regarding abortion, and, specifically about late term abortions.
Murphy's theme throughout last night was about New Jersey continuing to move forward and not going backwards.
After taking non-stop political haymakers from Ciatterelli, Murphy finally had enough and basically called Ciatterelli a White Supremacist.
How much do the debates actually matter? Typically, not much, as very few tune in at all.
Early in-person voting begins on Saturday, October 23, 2021 for 9 days, through Halloween, Sunday, October 31st.
General Election Day is Tuesday, November 2, 2021.
No Democrat Governor in New Jersey has won a second consecutive term since Brendan Byrne more than 40 years ago.
The 20 Most Expensive Colleges In New Jersey By In State Total Cost
Atlantic City's Firsts Throughout History
Here are New Jersey's Most Wanted Criminals