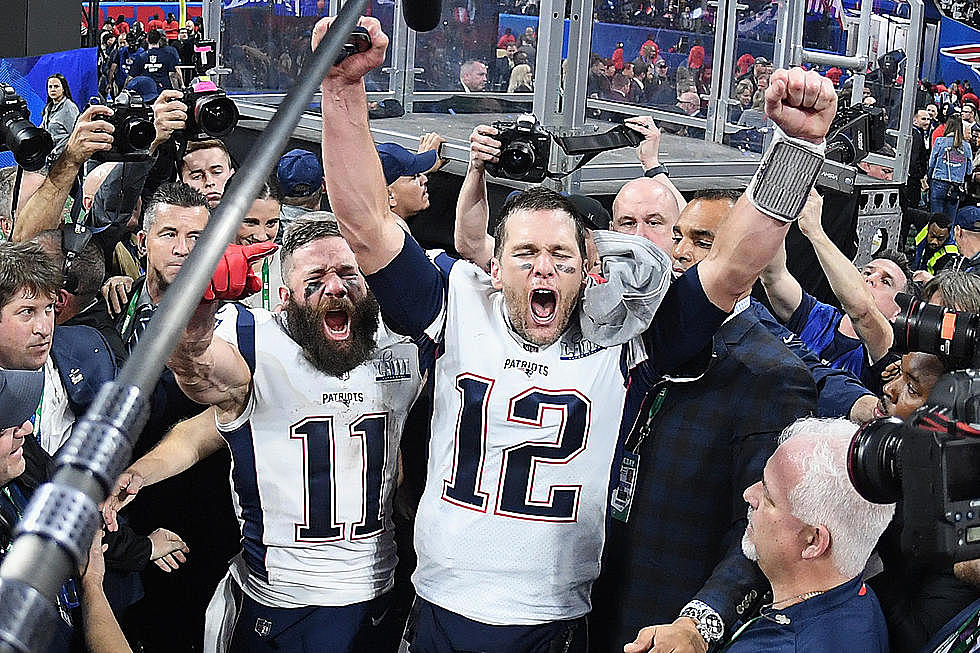 New Jersey Connection With 'GOAT' Tom Brady & It's Bad News
Julian Edelman
- New England Patriots and teammate Tom
Brady #12 celebrate at the end of the Super Bowl LIll (Harry How/Getty
Images)
We reported about this "Tom Brady" scam (with a direct New Jersey connection) back on December 21, 2021. Here's a link to our article, to give you background about this scheme: Read More: FBI Busts NJ Man For Selling Fake 'Tom Brady Super Bowl Rings'
Federal authorities have confirmed that a New Jersey man, Scott V. Spina Jr., of Roseland, has plead guilty to charges of:
Mail Fraud.
3 counts of wire fraud.
1 count of aggravated.
Spina will be sentenced on May 23, 2022.
It's a wild scheme, whereby Spina pretended to be a New England Patriot's player and then he used that status to concoct an elaborate scam, creating and selling fake Super Bowl rings, engraved with Tom Brady's name for big money.
One of the phony rings reportedly sold for more than $337,219 at an auction.
Ironically, Spina plead guilty on the day after Brady officially announced his retirement from the NFL after 22 seasons, winning a record 7 Super Bowls along the way.
Spina ordered three replica Super Bowl LI rings engraved with the name "Brady." He then sold them to an auction house for $100,000, receiving a significant profit, the United States Attorney's Office for the Central District of California confirmed last December in a public release.
"The rings were at no time authorized by Tom Brady," the complaint reads. "Defendant Spina intended to obtain the three rings by fraud and to sell them at a substantial profit."
Spina has agreed to pay restitution to the former New England Patriots player that he impersonated.
This as part of the plea deal that was secured by Assistant United States Attorney Erik M. Silber.
SOURCE: United States Attorney's Office for the Central District of California.
What Does South Jersey Think of Tom Brady's Retirement?
South Jersey didn't hold back with their opinions on Tom Brady's retirement. Philly special anyone?
54 Jersey natives playing in the NFL in 2021 (+ 2 head coaches)
Some of them may even be on your fantasy football team.
Check out the home Derek Jeter sold that he once rented to Tom Brady
As more people leave New Jersey for Florida, the Jersey-born Yankee captain who is now the chief executive officer and part-owner of the Miami Marlins just sold the home that he once rented to 7 time Super Bowl Champion Tom Brady for $22.5 million. Take a look at just how gorgeous this home is.
More From WPG Talk Radio 95.5 FM