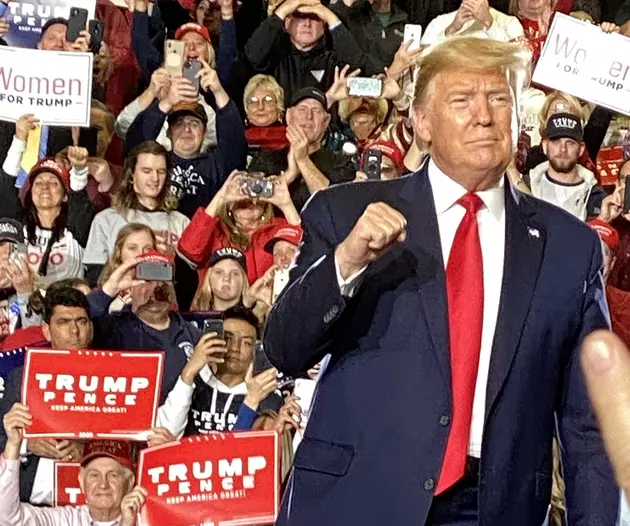 Former President Trump Launches 'Truth Social' App
Don P. Hurley photo.
The former President Donald Trump social media app called "Truth Social" has officially launched.
Before getting into some of the specifics, let's debunk a rumor that has circulated widely on the internet and some media coverage.
There is not a $4.99 weekly charge to use the "Truth Social" app. There is no charge.
The Trump app is available in Apple's App Store, with the Trump "Truth Social" app available to download shortly before midnight, ET. last night.
There was an opportunity to pre-order the app and it was automatically downloaded to your phone by Apple, Inc.
Some users (I'm one of them) had trouble registering for an account. After you enter your date of birth (since there's a minimum 18 years old requirement), you are next prompted to enter your email address. It then says that an "email has been sent to you to verify your account."
I've been waiting for more than 3 hours for the verification email to arrive.
Other users were advised that they were added to a waitlist with a message: "Due to massive demand, we have placed you on our waitlist."
There have been many valid criticisms about the decidedly left of center, existing social media companies.
Yet, none of the newer competitors: Gettr, Parler and the video site Rumble, have been able to be competitive to date.
President Trump has been de-platformed by Facebook, Twitter, and others, despite the fact that these social media behemoths regularly keep some of the most despicable people on planet earth alive and well on their various platforms.
The Trump app is being led by Led by former Republican U.S. Congressman Devin Nunes, who left The United States House of Representatives to become President of Trump Media & Technology Group (TMTG).
Only time will tell if the Trump app can break through and provide a more fair and balanced opportunity for the pursuit of free speech on the information superhighway.
Nunes said to Fox News Channel host Maria Bartiromo that it is their goal to be fully operational throughout The United States by the end of March 2022.
BEWARE: Newest Facebook Scam Reaches A New Low
Do you have Facebook? Then listen up!
Four months after implosion, what's happening at the former Trump Plaza site in Atlantic City, NJ?
Less than five months ago, a 39-story building that was once Trump Plaza Hotel and Casino stood between Pacific, Mississippi, and Missouri Avenues in Atlantic City. It was imploded in February, 2021. Work now continues at that site with the lot now almost totally cleared of debris.
More From WPG Talk Radio 95.5 FM