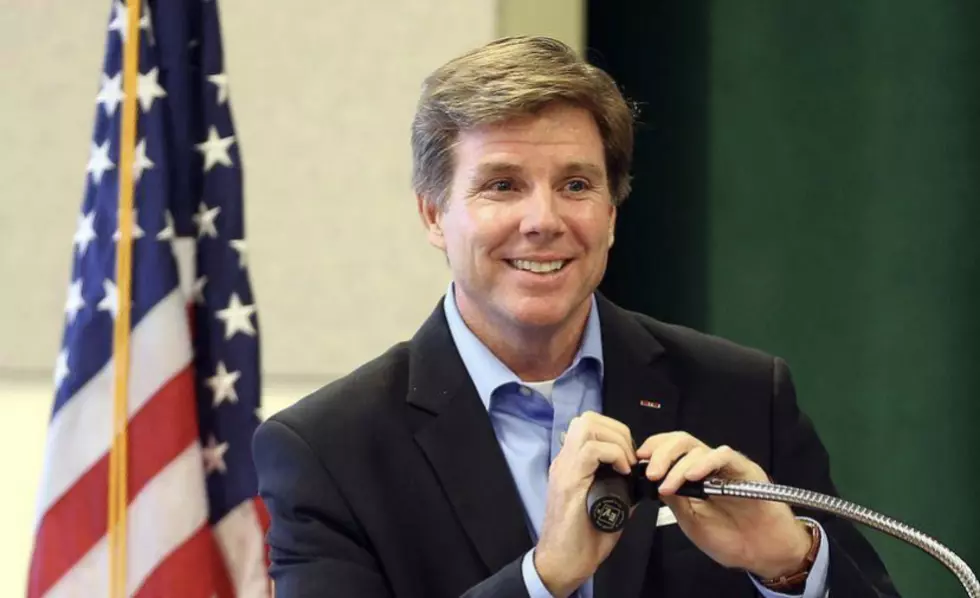 New Jersey State Senator Chris Brown Will Not Seek Re-election
Don P. Hurley Photo
New Jersey State Senator Chris Brown promised from the beginning of his electoral career that he would never succumb to the temptations and become career politician.
Today, Brown officially kept his word when he formally announced that he will not seek re-election to his 2nd District Senate seat.
Brown will leave after serving one term in the Senate and 3 terms in the New Jersey General Assembly.
Brown was a prohibitive favorite to win reelection.
This will certainly incentivize the Democrats to go back to the drawing board and recruit a strong candidate, with hopes of winning the seat back to their column.
On the Republican side, popular former New Jersey Assemblyman Vince Polistina is the early favorite to replace Brown on the ballot.
Former Atlantic City Mayor Don Guardian looks very strong for one of the 2 Assembly slots, along with Atlantic County Commissioner John Risley.
Polistina will be our guest tomorrow, Friday, February 19, 2021 at 9:05 a.m. on the "Hurley in the Morning" program on WPG Talk Radio 95.5
i have reached out and left a phone message for Atlantic County  Republican Chairman Keith Davis for comment about Brown's upcoming retirement  and his thoughts about filing the slot.
Here is Senator Brown's official statement in it's entirety.
"I will not seek re-election to the State Senate.
It's been an honor and a privilege to serve our Atlantic County families as their representative in the Legislature. These ten years have gone by in the blink of an eye.
At a very young age, I learned life goes by much too quickly, and tomorrow is promised to no one. Knowing the pages in the Book of Life turn quickly, I believe each chapter should be an adventure. While this chapter of serving as a legislator is coming to an end, I am looking forward to the next chapter which I'm sure will lead to another adventure for my family and me.  I don't know what that adventure will be, but I'm excited to find out. 
While holding elective office is something I do, it's not who I am.  Having held many titles such as U.S. Army major, judge, prosecutor, assemblyman, and senator, the titles husband and father remain the most important to me, which is why I am deeply thankful for the love and support of my wife, Christine, and my children, Matt, Danny, and Mallory, who made many sacrifices during my time in the Legislature, and without whom I would have never been able to serve.  I believe by choosing not to seek re-election, my children are learning not only is there honor and integrity in getting involved in public service, but there is also honor and integrity in gracefully stepping aside to allow others to serve the public.
I appreciate the counsel from friends who reminded me how hard I worked to earn my seat in the first place, who pointed to the polling data showing a clear path to re-election, and who encouraged me to run again while I'm at the top of my game.  I never intended elective office to be a career for me, and while I have  always taken the position seriously, I never took myself seriously.  To run just for the sake of holding onto a title would mean putting my ego ahead of the needs of the families of Atlantic County. That's not what I believe in.  It is healthy for our democracy and better for those we represent to open opportunities for others to serve in office.  New candidates can bring fresh ideas while energizing more voters to participate in the process. 
This chapter in my life was a page turner, particularly the story about our successful fight to defeat North Jersey casinos, which saved our industry and thousands of local jobs.  I'm grateful for those who helped me write all of the pages in this chapter:  
The families of the Atlantic County Republican party who believed and trusted in me to nominate me as an advocate for all of our families;  
Independent and Democrat families who voted for me because they also had faith I would do what's right for all Atlantic County families, regardless of party affiliation;
my colleagues in the Legislature, who joined with me on bills and issues to help Atlantic County;
talk show radio hosts and journalist friends, who graciously provided a platform for me, as a public servant, to answer the public's questions; and
the many churches, civic groups, and local organizations whose members and volunteers I got to know during my term, who do their part every day to make Atlantic County a great place to live, raise a family, and retire in. 
Although my time in elected public service will come to an end, I look forward to continuing serving in other ways.  I'm grateful and blessed for the opportunity to do my best to serve the families of Atlantic County, and, in my own way, by working with everyone, I hope they feel I helped make their lives better.
Thank you and God bless."
Senator Brown's statement is one of the comprehensive and gracious that I've ever seen in electoral politics.
It should come as no surprise becoming from Senator Brown.
COVID relief for NJ municipalities: How much is your town getting?
The American Rescue Plan signed by President Joseph Biden awards $10.2 billion to New Jersey. Here is a a county-by-county and town-by-town breakdown.
LOOK: Stunning vintage photos capture the beauty of America's national parks
Today these parks are located throughout the country in 25 states and the U.S. Virgin Islands. The land encompassing them was either purchased or donated, though much of it had been inhabited by native people for thousands of years before the founding of the United States. These areas are protected and revered as educational resources about the natural world, and as spaces for exploration.
Keep scrolling for 50 vintage photos that show the beauty of America's national parks.
More From WPG Talk Radio 95.5 FM