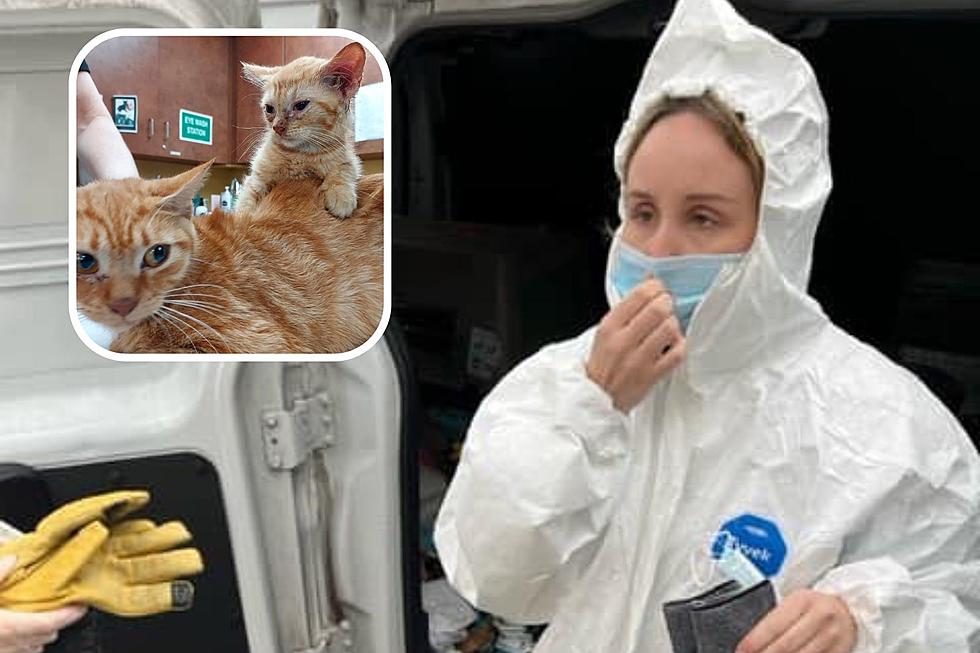 No Charges For Owners of 20 Cats Found Living in Filth in Neptune, NJ
MCSPCA worker at a house with 20 cats in Neptune Township (MCSPCA)
NEPTUNE TOWNSHIP – The Monmouth County SPCA made a humanitarian rescue from a home with 20 cats and two young children living in filth.
Volunteers and staff wearing PPE spent several hours on Wednesday removing the frightened cats from a bug-infested apartment in Neptune Township after the agency was anonymously tipped off, according to SPCA Executive Director Ross Licitra.
Many of the cats were found to have had upper respiratory infections, eye ulcers and dental disease but were in fair health.
The state Division of Child Protection & Permanency was also notified about the children age 3 and 6 living in the home. Licitra the children were sent home often from school because of poor hygiene.
A family needs help, not a legal headache
No charges will be brought in what Licitra called a "sad situation."
"A family in our community really needed help. They were struggling, so we stepped in. We took in 20 cats and kittens from their home who now will receive the love and medical care they so desperately need," Licitra said." The Monmouth County SPCA was the first organization to assist this family, which will now trickle down to other entities to help the children and adults in the home."
The cats will eventually be put up for adoption after being examined, vaccinated, spay and neutered and microchipped.
The MCSPCA is accepting donations to help pay for the cats care.
NJ school districts with the highest median teacher salaries
These were the highest median teacher salaries during the 2022-23 school year budget, according to data compiled by the New Jersey Department of Education. We begin with districts whose median salaries are at least $95,000 and work our way up to the highest median salary.
Gallery Credit: New Jersey 101.5
Thanksgiving snow? When it happened, & the odds in NJ for 2023
A look at the chances of snowfall, as well as other extremes that have occurred on Thanksgiving day in New Jersey (statistics based from the New Brunswick weather station).
Gallery Credit: Mike Brant
More From WPG Talk Radio 95.5 FM