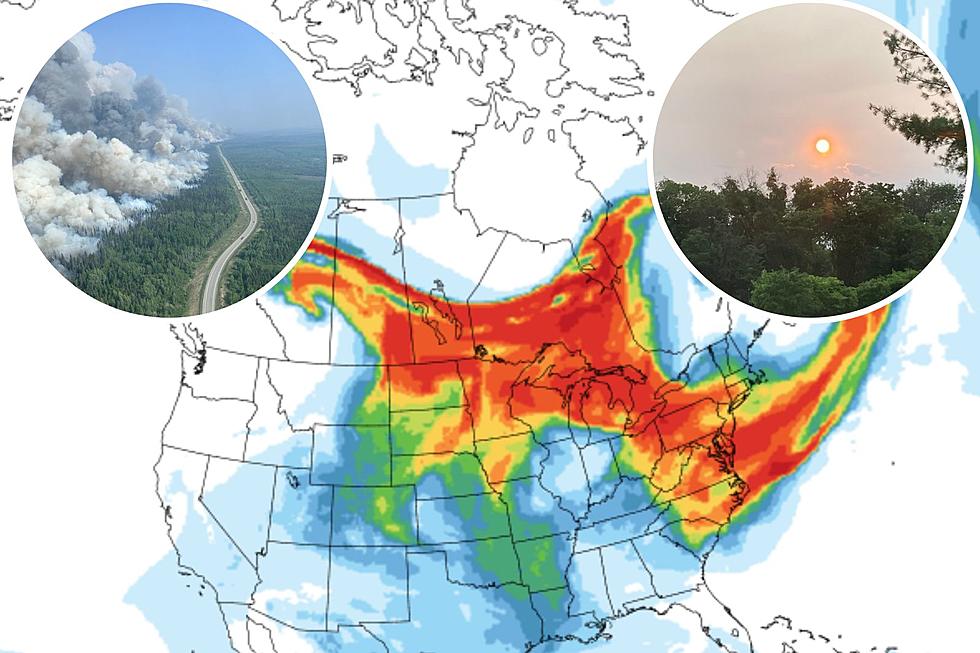 Noticed something weird lately about sunrise/sunset in NJ?
Hazy sun over Bridgewater (Dan Shea @lutra37 via Twitter), Stoddart Creek wildfire in British Columbia (BC Wildfire Service), vertically integrated smoke map (NOAA)
Smoke from wildfires in western Canada have reached New Jersey via the jet stream creating hazy, red sunrises and sunsets.
The fires in Canada have been burning mostly in the province of Alberta, where thousands of residents have evacuated and regional officials have issued a state of emergency alerts. There have also been fires in British Columbia.
As of Sunday, 1.6 million hectares have burned, according to the Canadian Interagency Forest Fire Centre.
The smoke has no impact on air quality and won't be smelled in New Jersey, according to WPG Meteorologist Dan Zarrow.
Why is the smoke visible across the country?
The smoke climbs into the atmosphere, even into the stratosphere. That is where a strong current of wind transports those smoke particulates across continents, according to Zarrow.
"The thin layer of smoke in the upper atmosphere will often cause a hazy, milky, washed-out sky. It also increases refraction when the sun gets low in the sky, leading to extra vivid, colorful sunrises and sunsets," Zarrow said.
Zarrow said that while NOAA's vertically integrated smoke map shows the smoke has pushed south of New England he's not sure how long the smoke will be visible in New Jersey.
The cause of the fire is under investigation.
(Includes material copyright 2023 The Associated Press. All rights reserved. This material may not be published, broadcast, rewritten or redistributed.)
Report a correction 👈 | 👉 Contact our newsroom
A look back at the NJ Garden State Parkway token
A nostalgic token of NJ history dating back to the 1980's.
How to pronounce these 20 town names in NJ
How many of these New Jersey municipalities and neighborhoods have you been pronouncing wrong?
Here is where all "The Real Housewives of New Jersey" live
For Season 13 of the show, the Real Housewives of New Jersey hometowns are largely in North Jersey — with one Central Jersey newcomer and a few Shore houses, for good measure.
More From WPG Talk Radio 95.5 FM