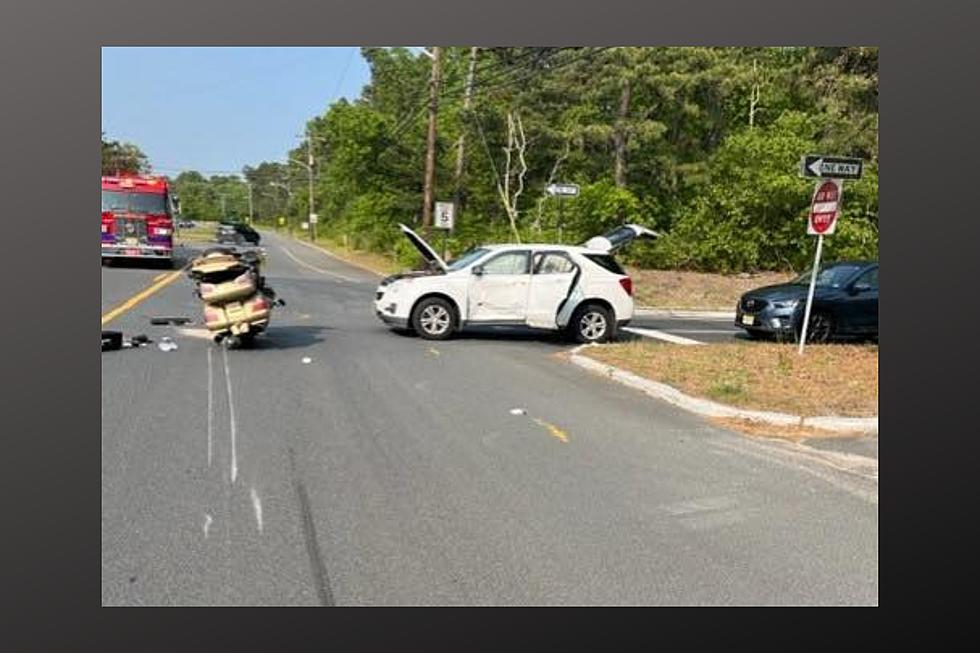 Ocean County, NJ, Police Respond to Crash Between Motorcyclist, Teen With Learner's Permit
Motorcycle-SUV crash in Manchester Township NJ - Photo: Manchester Township Police Department
Authorities in Ocean County continue to investigate an accident between a motorcyclist and a teen driving with a leaner's permit Monday afternoon.
The crash happened around 4:30 near the intersection of Route 37 and Colonial Drive in Manchester Township.
According to police, officers at the scene observed a 2006 Honda Gold Wing motorcycle lying on its side in the roadway on Colonial Drive at its intersection with a ramp to Route 37. A 2013 Chevrolet Equinox was also in the roadway, perpendicular to the motorcycle, with driver side damage and airbag deployment.
The investigation revealed that the Honda was travelling north on Colonial Drive, when the Chevrolet entered the roadway in front of the Honda from the SH 37 off ramp. The motorcyclist applied the brakes, and lied the bike on its side, before sliding into the driver's side of the Chevrolet.
The motorcycle was being driven by 66-year-old Anthony K. Williams of Lakehurst, who was taken to an area hospital for treatment and evaluation of non-life threatening injuries.
The Equinox was being operated by a 16 year old under a NJMVC Learner's Permit, who was not injured.
Also in the Chevrolet was 40-year-old Sarah J. Jeffers of Manchester Township, who was transported to Community Medical Center with non-life threatening injuries. Two other juveniles in the Equinox were not injured.
The investigation into the crash is still ongoing, however, failure to stop and yield to the right of way of all vehicular traffic appears to be a contributing factor.
Police would like to remind everyone that May is Motorcycle Safety Awareness Month and motorists need to be aware of their surroundings and use extra caution to help keep roads safe for motorcycle riders.
The 25 Most Dangerous Roads in New Jersey
The 25 Most Dangerous Cities in New Jersey
More From WPG Talk Radio 95.5 FM