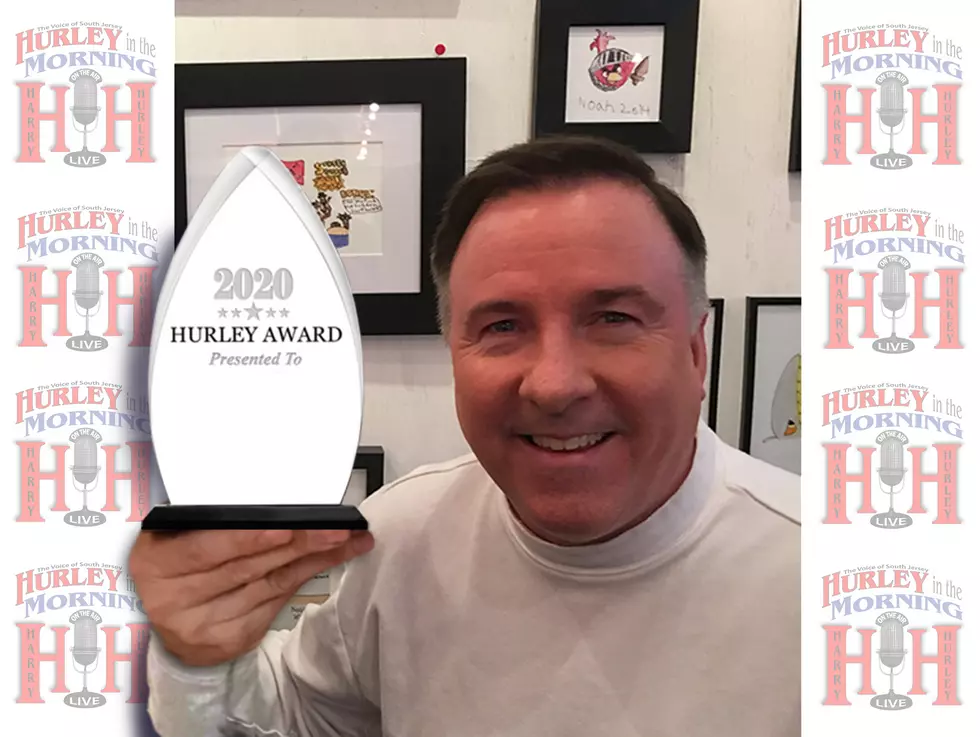 Official Release Of The Inaugural Hurley Awards 2020 Recipients
Harry Hurley holding Inaugural Hurley Award 2020
INAUGURAL HURLEY AWARDS 2020
Monday, December 21, 2020
Welcome to our Inaugural "Hurley Awards 2020," which are nearly 30 years in the making.
Obviously, 2020 has been a very challenging year for everyone.
We've all been surrounded by stress, illness, death and economic crises at a scale that we've never experienced before.
From the beginning, I've observed that it has brought out both the best and worst in people.
Some of our community leaders have risen to the challenge magnificently. Others have been exposed as not being capable of managing a health pandemic of this magnitude.
Below, you will read about the people that we have selected, who represent the best and worst in our region and nation this year.
For our Inaugural reveal, I have attempted to painstakingly create a super-list that draws upon a variety of factors. I respectfully acknowledge that our list is subjective.
I have strived to give credit, where credit is due.
There is no doubt that I have inadvertently omitted deserving people. Please attribute this to a sin of my mind and not my heart.
Merry Christmas and Happy New Year
INAUGURAL HURLEY AWARDS 2020
BIGGEST WINNER WHO DIDN'T WIN ... BUT, LIKELY DID WIN ... AND, CAN WIN AGAIN IN 2024
United States President Donald Trump
The recipient of nearly 75 million votes. The winner of 18 of 19 bell weather Counties. The winner of more than 2500 Counties in America. Trump won Counties by a margin of 5 to 1 over his opponent, former Vice President Joe Biden.
President Trump directed the most effective and rapid response to a global health pandemic in the history of the world.
No vaccine had ever been achieved in less than 4 years. The COVID-19 vaccine (multiple ones) were achieved in less than 9 months.
President Trump's free market economic policies led to financial market all-time highs and the lowest unemployment rate in American history.
MOST RESILIENT ELECTED OFFICIAL
United States Congressman Jeff Van Drew
Congressman Van Drew switched political parties and comfortably won re-election in an almost impossible political climate.
Van Drew's race versus Amy Kennedy was one of the most watched and most expensive races in America.
Democrats from House Speaker Nancy Pelosi on down desperately wanted to defeat Van Drew in the worst way.
They wanted to teach Van Drew a lesson, for others to learn from going forward.
In the end, it was Van Drew who schooled them.
BIGGEST LOSERS: It's a tie.
The National Media & Social Media (Big Tech).
The national media and Big Tech social media's blatant level of intellectual dishonesty and willingness to suppress legitimate news and information from the American people is a public disgrace.
It took place at a corrupt level never before seen in a 1st World Country.
They have forever removed any and all doubt that they are nothing more then a direct working partner with the Democrat party.
STEADY LEADERSHIP - WHILE UNDER FIRE - DURING MOST CHALLENGING TIMES
New Jersey Governor Phil Murphy
Governor Murphy has displayed great focus, determination, compassion and resolve in managing the COVID-19 health pandemic.
To keep the transmission rate as low as humanly possible and try to save lives, The Governor has been willing to make very difficult decisions, which have had a dramatic impact on the lives of New Jerseyans.
Businesses have been hurt and overall civil liberties have taken away during 2020. Understandably, no one likes it.
Because of this, Governor Murphy has taken significant criticism from elected officials and citizens alike on a daily basis for the past more than nine months.
Managing a pandemic is a highly unpopular business.
Here's a fact that has not received any publicity. It's the beautiful, kind and compassionate phone calls that Governor Murphy regular places to family members of those who have died from COVID-19.
Governor Murphy has endured much criticism this year and he's held up very well.
BROADCASTER OF THE YEAR
Brian Kilmeade
Fox News Channel
Fox News Radio
Kilmeade is the host of Fox & Friends on the Fox News Channel and The Brian Kilmeade Show on Fox News Radio.
Kilmeade also fills-in for his national colleagues on a regular basis in all day parts.
In my view, Kilmeade is the single hardest-working member in our industry.
Klimeade is also fair and balanced in his opinion editorial commentary and reporting.
There's almost no interview that Brian can't land. His overall content and relevance has never been at a higher level.
BEST ELECTED LOCAL OFFICIAL MANAGING COVID-19 PANDEMIC
Atlantic City Mayor Marty Small
To some people's surprise, Small came up big all year long in 2020.
Small demonstrated the proper sense of urgency regarding COVID-19 from the beginning.
He protected Atlantic City Hall employees and implemented remote work programs to still effectuate the delivery of key city services.
Small displayed focus and passion and delivered COVID-19 testing early in the going and he was prepared and properly ramped-up testing when the harsh second wave hit.
He displayed courage in putting down the riots in Atlantic City that could have turned The World's Play Ground (WPG) into Portland.
Small walked the streets, stoically while riots and looting were in actual progress.
WORST ELECTED LOCAL OFFICIAL MANAGING COVID-19 PANDEMIC
Atlantic County Executive Dennis Levinson
In perhaps the most shocking performance by an elected official in 2020, the award goes to Levinson for his blatant mismanagement of the COVID-19 crisis.
Levinson was late to begin testing. He was late (June) before providing Personal Protection Equipment (PPE) to Atlantic County employees.
Levinson has failed to display the proper sense of urgency required during the worst health crisis in more than 100 years.
Numerous Atlantic County employees have filed formal complaints with the state of New Jersey. They do not feel safe in their workplace.
It's inexplicable, but, Levinson has well earned this unfortunate poor performance spotlight with respect to his failure to properly manage his areas of responsibility during the health pandemic.
Prior to the pandemic, we have consistently praised the job done by Levinson for the past 3 decades. I take no joy whatsoever in reporting the truth to the public regarding this matter.
ATLANTIC COUNTY SOCIAL SERVICES EMPLOYEES
HEROES AWARD
This is a collective award for Leonard Golden and all of the Atlantic County Social Services employees. Golden is an absolute, unsung super star in the arena of public service.
The team members that we are spotlighting work in the following areas:
The Emergency Assistance Unit, The SNAP program (The Bank, The Call Center, The Processing Center ... These make up the various Food Stamps programs) and TANF (Temporary assistance for Needy Families) within Atlantic County Government.
These employees have been super heroes during the health pandemic of 2020.
These hard-working and underpaid public employees, are incredibly dedicated to serving their clients.
They have been forced to work in horrific working conditions during the COVID-19 pandemic.
Presently, there is a potential COVID-19 spread that has forced a significant number of employees into quarantine, as a preventive measure.
This is one of the most deserving awards we have the honor to present this year.
MVP STATE LEVEL ELECTED OFFICIAL
SOUTHERN NEW JERSEY
New Jersey Senator Michael Testa
Testa is the quintessential public servant. He's not a politician. He's a throwback to when being an elected official was actually sacrifice.
He is a successful businessman. Many of today's elected officials use their position to feather their own nest. Not Testa.
Testa is tireless and works incredibly hard for his constituents.
Testa also did a great job as President Trump's New Jersey state Co-Chairman.
Additionally, Testa was sheer masterclass in helping Congressman Van Drew make such a smooth transition from a Democrat to Republican.
Simply put, Testa has had an MVP season in 2020. Testa is also the Cumberland County Republican Party.
Testa wears many hats well.
OUR REAL HEROES DURING COVID-19
All Doctors, Nurses, first responders, public safety officers, treatment and mental health professionals.
We can't properly thank you for risking your own lives for all of us.
I'm not aware of any hazard pay being awarded. It should be a regular occurrence.
Your performance has been remarkable and unprecedented and we can never properly thank you or repay you for what you have done.
This includes my immediate family members: Lauren Hurley Lauriello, Andrew Lauriello, Lisa Fineran and Sara Fryer. You are remarkable.
BEST "SECOND ACT"
Former New Jersey Senator Bill Gormley
Senator Bill Gormley has done some of his finest work this year.
Gormley has long been a driving force regarding Stockton University's impressive expansion into Atlantic City.
Gormley has also been a visionary with respect to The Atlantic City Boys & Girls Club and the expansion and harnessing of collaborative relationships between local leaders and Apple, Inc., along with other substantial national partners.
The after school and adult programs will be cutting edge and state-of-the-art.
Gormley has made all of the introductions and he has done so quietly and then just stepped back and let them all go to work.
Couple this with all of the good work that Gormley has done with Atlantic City parochial schools ... along with other projects and you have all the makings for a prolific "Second Act" and one of the most dynamic post electoral careers in state history.
NEW JERSEY STATE AGENCY TOP PERFORMER
Matthew Doherty, Executive Director
New Jersey Casino Reinvestmnent Development Authority
Matt Doherty is the former Mayor of Belmar, New Jersey. He is the only Mayor in the state that delivered no tax increases for 7 consecutive years while he was Mayor.
Doherty is responsible for creating public-private partnerships and inter-governmental agreements.
Doherty has displayed a true focus to generate local growth within the Tourism District.
Under Doherty's leadership, special events in Atlantic City have flourished.
The CRDA has regularly assisted with the drive-thru food distribution program for Atlantic County hospitality workers.
The CRDA also approved funding to support the Volunteers of America, in a first of its kind pilot program addressing human trafficking in Atlantic City.
This is a well deserved spotlight award for Matt Doherty.
BEST EDUCATIONAL DELIVERY SYSTEM
Stockton University
President & Chief Executive Officer Harvey Kesselman
Harvey Kesselman fixed a series of disastrous (inherited) problems and has led Stockton University to a triumphant, bold and successful footprint in Atlantic City.
For an encore, Stockton University launched their Phase 2 Atlantic City Campus during the worst global health pandemic in more than 100 years.
The physical plant has never been in better shape. The blending of the Pomona and Atlantic City educational delivery systems have been managed in a highly responsible manner.
Kesselman's work is always masterclass.
ATLANTIC CITY BOYS & GIRLS CLUB
Stephanie Koch, MSW
Chief Executive Officer
Through profound collaboration, Koch is successfully delivering programming that you usually see only in Silicon Valley.
I confidently predict that the cutting edge after school programs offered for students and future adult programs, will actually save lives by giving people direction, hope and purpose.
Their vaunted STEAM LAB is state of the art and it will create opportunities in technology and other disciplines never before seen at the local level.
SAVING LIVES SPECIAL RECOGNITION
Dr. Naim Nazha Cancer Center
For nearly 30 years, Dr. Nazha and his team have been saving lives.
This world class caliber team has somehow managed to step-up their A-Game during the COVID-19 pandemic.
Nazha Cancer Center is the only cancer care provider in the shore region of Southern New Jersey to qualify for membership in the prestigious Sidney Kimmel Cancer Network at Jefferson.
Established in 1993, the Network provides patients in its member hospitals access to the very latest developments in cancer research, technology and treatment.
In addition to both saving and prolonging lives, Dr. Nazha is a great man.
BEST ATLANTIC CITY CASINO RESTAURANT
Capriccio Italian Restaurant
Resorts Casino Hotel
Capriccio is the current the # 1 casino restaurant in America, by USA Today in the 10Best.com Readers's Choice Awards 2020.
It's their second first place win in the past 3 years.
You can now dine outdoors all year round with their enclosed covering and multiple heaters on their veranda. It's a new enhancement that offers comfortable outdoor dining overlooking the boardwalk.
BEST SPORTSMANSHIP IN A LOSING CAMPAIGN
Amy Kennedy, candidate for The United States House of Representatives, NJ-2
Kennedy had a great Democrat Primary victory over Bridget Callahan Harrison.
Kennedy ran a very credible General Election campaign against Congressman Van Drew.
When it became self-evident that she had lost to Van Drew, Kennedy conceded in a very gentle-womanly manner.
This is rare to see during these troubled and divisive times.
BEST NEW JERSEY POLITICAL WEBSITE
InsiderNJ.com

Max Pizarro and Pete Oneglia manage a dynamic, relevant and fair news and information platform.
InsiderNJ.com is a daily must read for all political junkies.
They are hard-hitting, highly competent and deliver breaking news content on a daily basis.
When they write something good or bad about you ... it sticks like glue.
Max and Pete are highly respected influencers and what they say and write truly matters.
NEW JERSEY SPOTLIGHT AWARD
New Jersey State Senator Chris Brown, R-2
Senator Chris Brown has consistently demonstrated that he is a fighter for the citizens of his district and state.
Brown has also been a champion regarding Veteran's affairs issues. Brown is a retired Army Major, who fought on the battlefield of war.
Brown is a consensus builder and he has demonstrated that he can effectively work with the loyal opposition, for the better good of the taxpayers.
Brown is expected to run for re-election in 2021 for a second term in the New Jersey Senate, after previously serving multiple terms in the New Jersey General Assembly.
BEST MULTI-TASKING BY A LOCAL ELECTED OFFICIAL
Charles Cain, Deputy Mayor Hamilton Township
Owner with Ann Marie Cain of The Auto Plaza at English Creek.
Mayor Cain embodies my late Father's Doctrine: "That if you want something done right, give it to a busy person ... The other people have no time."
Cain proves that you can own and operate a large family-owned business and still find the time to materially contribute to your local community.
Mayor Cain is serving his second term as a member of The Hamilton Township Committee.
He shines in The areas of frugality of taxpayer dollars, coupled with promoting responsible development to increase taxpayer ratables.
OUTSTANDING COUNTY-WIDE RE-ELECTION WINNER IN SOPHOMORE CAMPAIGN
Atlantic County Freeholder at Large Caren Fitzpatrick
Fitzpatrick was the top vote-getter for Freeholder at Large in the November 3, 2020 General Election.
Over the past 20 years, Democrats who won a term on the Freeholder Board (at Large), lost the very next election.
Fitzpatrick broke this trend and won the toughest race to win, your "Sophomore " election.
Fitzpatrick is hard-working and always accessible to her constituents.
She's also not afraid to oppose Levinson and the Republican majority when necessary.
Checks and balances are a good thing. It keeps everyone on their toes. Fitzpatrick is good at that.
COMMUNITY SERVICE AWARD
Jim Curcio
Atlantic County Surrogate
Jim Curcio has been elected Atlantic County Surrogate three times for a good reason.
Curcio is the prototype elected official. He loves his job and he loves helping people. A truly winning combination.
There is an excellent service culture in place at The Atlantic County Surrogates office.
In many cases they are assisting people at times of great stress and sadness in their lives. They know this and they demonstrate true kindness and compassion on a daily basis.
Curcio has followed in the great tradition of Jan Mathis and Jim Carney, the two immediate past Atlantic County Surrogates.
TOP PERFORMANCE BY AN ATLANTIC CITY CASINO IN MANAGING THE COVID-19 PANDEMIC:
Resorts Casino Hotel
They have spent multiple 7 figures to make Resorts Casino Hotel safe for employees and guests alike.
Even the elevator buttons disinfect automatically after a human touches them.
They employed bio blasting, elaborate air handler and other HVAC work, temperature screenings, plexiglass and have implemented many other safety protocols.
The industry as a whole has done a great job, which Governor Murphy has publicly recognized.
Resorts Casino Hotel stands out above the rest.
RADIO MARKET PRESIDENT OF THE YEAR
Michael Ruble
Townsquare Media Atlantic City
Ruble successfully manages 6 radio stations in the New Jersey metro market; including the perennial Top 2 radio stations.
In 2020, Ruble presently manages 3 of the Top 5 radio stations in the market (Lite Rock 96.9, Cat Country 107.3 and WPG Talk Radio 95.5
Ruble also leads the most nimble, dynamic and prolific digital media company in New Jersey metro market history.
Ruble has also managed his responsibilities during COVID-19 with an appropriate level of seriousness.
RADIO STATION OF THE YEAR
WPG Talk Radio 95.5
I know, at first glance this seems like a real "homer" call.
But, it's really not. In 2020, WPG became the # 1 rated, most-listened to talk radio station in South Jersey.
This award is well earned and deserved.
The station also has a very faithful readership on their news and information website www.WPGTalkRadio.com
The station is live, local and relevant.
RADIO STATION PROGRAM DIRECTOR OF THE YEAR
Chris Coleman
WPG Talk Radio 95.5
Coleman is the hardest working program director in South Jersey.
In addition, Coleman is a full-time DJ on Cat Country 107.3 and the production director for 6 Townsquare Media Atlantic City radio stations.
Coleman has successfully programmed a great blend of live and local talent, coupled with top flight nationally syndicated broadcasters.
The diverse mix has worked very well.
Coleman skillfully directed WPG Talk Radio's ascent to the # 1 Rated News Talk Radio Station in South Jersey.
It's a significant and memorable accomplishment.
BEST NATIONAL TALK RADIO PUBLICATION
Talkers Magazine
Michael Harrison, Founder & Publisher
www.TalkersMagazine.com
Under the direction of Founder & Publisher Michael Harrison, Talkers Magazine is the undisputed "Bible" for talk radio and the new talk media.
Harrison is always nimble and forward thinking. He has expanded his brand to achieve its finest digital presence of their entire existence, which is now more than 30 years.
Harrison has more than 53 years of experience in the radio industry, in all genres.
Harrison is "The Babe Ruth" of Talk Radio.
ATLANTIC CITY CASINO PRESIDENT OF THE YEAR
Mark Giannantonio
President & Chief Executive Officer
RESORTS CASINO HOTEL
Mark Giannantonio started at the bottom and worked his way to the top.
Giannantonio began his hotel casino career as a waiter during the summer months, while going to school.
Giannantonio honorably worked his way through the ranks to achieve the American Dream; earning the top position within an Atlantic City Casino Hotel.
In reality, there are so few of these positions nationwide, making it a nearly an impossible feat to achieve.
Giannantonio, along with Resorts Casino Hotel owner Morris Bailey were instrumental in helping to defeat New Jersey casino gaming from expanding outside of Atlantic City.
Had this ballot question not been defeated, it would have had a devastating effect on Atlantic City and the entire region.
Giannantonio's decades of experience have been essential during the past 9 1/2 months of the COVID-19 health pandemic.
CASINO HOTEL EXECUTIVE "HOUDINI" AWARD
Tom Cantone
President of Sports and Entertainment for MGE Properties Worldwide
You would be hard-pressed to find a president of any organization who has worked harder than Tom Cantone to bring back live events in as safe a manner as is humanly possible.
Cantone turned the Mohegan Sun Arena into a "bubble" broadcast center.
Cantone proved that you can still produce relevant, live content, even during a global health pandemic.
Cantone focused on their top 2 sports brands - Showtime Boxing and Bellator MMA.
The "Live from Mohegan Sun Arena" was born and it was made available on a nationwide basis. Cantone skillfully worked with Viacom to make it happen.
Tom Cantone's been a winner in the hotel casino industry for more than 40 years. He's ageless, relevant and most important, a caring, compassionate and wonderful human being.
GRACE UNDER PRESSURE AWARD
Kellyanne Conway, Former Senior Counselor to United States President Donald Trump
Between a husband who has relentlessly attacked President Trump on a regular basis ... to other challenging family matters.
Kellyanne has conducted herself with true grace and dignity.
Kellyanne is an unflappable and competent defender of President Trump.
Wait until you read her upcoming book. Then you'll fully understand everything.
CITIZEN OF THE YEAR
John Zarych, Esquire
I can't properly formulate the words to convey how philanthropic and decent John Zarych really is.
From his generous pro bono work, along with countless financial contributions that John makes regularly to area not-for-profit organizations.
John is a rare and extraordinary man and overall talent.
For many years, John has also provided legal advice and other assistance to numerous local, county, state and national political campaigns.
HOSPITALITY HERO AWARD
Larry Sieg
President & Chief Executive Officer
MEET AC
Larry Sieg started his career at the Visitor's Welcome Center on the Atlantic City Expressway.
In 2020, Sieg was appointed President & Chief Executive Officer of MEET AC, with the departure of Jim Wood.
Sieg was the perfect choice, who along with Sandi Harvey, will lead the effort to bring back great conventions and meetings to The World's Play Ground as soon as the pandemic releases its powerful grip.
Sieg and his team are working hard as we speak.
BLUE LIVES MATTER
SPOTLIGHT AWARD
We Salute all Police Officers
This has been a very tough year to be a sworn police officer.
From the disturbing violence, to the absurdity of some cities actually reducing police funding for purely political reasons.
We are presenting this "Hurley Award" to all police officers.
We also want to highlight The Atlantic City Police Department. They successfully managed a full blown riot during a very politically charged moment in history.
We broadcasted in real time on WPG Talk Radio 95.5 during the many hours-long riot in Atlantic City.
The ACPD couldn't have done a better job. This goes for Atlantic City Mayor Marty Small, too.
PUBLIC SCHOOL OF THE YEAR
Atlantic County Institute of Technology
Dr. Phil Guenther
This is one of the most dynamic schools in America.
College is not for everyone. This incredible Institute of learning is providing dynamic opportunities for students, who are better suited to learn a trade or skill versus the traditional college route.
Students who attend are achieving valuable experience, which can lead to a lifetime of employment.
Dr. Phil Guenther has taken the ACIT to new heights. Guenther is also an integral driving force in the great strides presently being made at The Atlantic City Boys & Girls Club.
Guenther is a self-motivated winner. He requires no oversight from County government. His decades of governmental public service, coupled with his career in education, uniquely qualifies Guenther to lead at this crucial time.
PAROCHIAL SCHOOL OF THE YEAR
Holy Spirit High School
Holy Spirit High School is such a local gem. They have demonstrated skill and proper discipline during COVID-19.
Hence, they've been able to provide full in classroom instruction during the entire pandemic.
Congratulations to President Father Perry Cherubini, Principal Tom Farrell and their entire certified and supportive staff members.
Many students have been adversely affected by remote learning since the 3rd marking period of last year.
From an educational delivery standpoint and the critical social emotional component, it can't be overstated how significant it is that Holy Spirit has managed to keep teachers and students in the classroom.
EDUCATOR OF THE YEAR
Bob Garguilo,
Superintendent of Public Schools
Cape May City & West Cape May Public Schools.
Bob has always been an innovator and trailblazer at each stop along his way in the education field for almost 40 years.
Bob always leaves things better then they were before he touched them.
Bob has also joined us twice per-month (on-air) on our "Hurley in the Morning" program during the entire length and breadth of the COVID-19 pandemic.
Bob has provided our thousands of listeners with critical educational updates during the pandemic.
COMMUNITY HOSPITAL EXECUTIVE AWARD
LORI HERNDON
President & Chief Executive Officer
AtlantiCare Regional Medical Center
Lori Herndon is a real life American success story.
First, Herndon did the hard work and earned all of the strict educational requirements to become a registered nurse.
Herndon then spent the next decade, earning positions of increasing responsibility.
On July 1, 2016, Herndon became the president and chief executive officer of AtlantiCare Regional Medical Center.
During COVID-19, AtlantiCare has risen to the occasion and they have earned a position of trust and a direct role in the administration of the newly achieved COVID-19 vaccine.
REGION'S BEST PHILANTHROPIST
Cookie Till
Cookie Till is the Owner and operator of the iconic Steve and Cookies Restaurant in Margate, New Jersey.
Till specializes in farm-to-table culinary offerings.
Till also purchased and established the new Reed's Farm in Egg Harbor Township.
It was a true passion project, as Cookie regularly works the farm herself.
Till purchased the 80-acre farm in Egg Harbor Township; a nonprofit foundation with the goal of reimagining it into an organic vegetable farm, animal sanctuary, and community center.
This is where till diverges from any other restaurant-affiliated organic farm.
MAJOR FUNDRAISING COUP DURING THE HEALTH PANDEMIC
Vince Polistina & Don Purdy
The former Assemblyman and Mayor proved that you do not have to hold elective office to be effective and outstanding leaders.
They delivered a personal appearance by Donald Trump, Jr. and Kimberly Guilfoyle to Atlantic County and raised many tens of thousands of dollars in one, star-studded night.
They materially helped local campaigns and local charities in Atlantic City and elsewhere as a direct result.
Polistina has also launched his own monthly radio program ... as a part of "Hurley in the Morning" on WPG Talk Radio 95.5 on the first Friday of every month for the 8:00 a.m. hour.
SPECIAL COMMUNITY SERVICE AWARD
THE D'AMATO LAW FIRM
Paul D'Amato, Esquire
In addition to being the founder and leader of the most prolific personal injury law firm in Atlantic County history ... Paul D'Amato performs countless acts of unselfish community service work.
One example is the death of Tiffany Valiante. Paul has doggedly pursued justice in this case for years. No matter how many times the case has appeared to be a "cold case," D'Amato simply won't take no for an answer.
D'Amato was also a dynamic, prevailing attorney in the tragic Tropicana Casino Hotel parking garage collapse.
D'Amato is the former Mayor of Linwood and a former New Jersey Assemblyman.
Paul and Sandi D'Amato are also amazing citizens and incredibly philanthropic in countless ways.
COMMUNITY BANK & EXECUTIVE OF THE YEAR
OceanFirst Bank
Vincent M. D'Alessandro,
Southern Region President
OceanFirst Bank does it all. They are the region's preeminent community bank and they are led by a dynamic President that is professional and highly polished in every way.
Vinny D'Alessandro is our one clear choice for Senior Banking Executive of the Year.
D'Alessandro is the prototype senior executive, who knows how to build a team and deliver excellence in service for his clients.
OceanFirst Bank also provides such a vital service with their OceanFirst Foundation.
The most recent example, The OceanFirst Foundation (just last week) donated $20,000 to Jewish Family Service Village by the Shore.
OceanFirst Bank and Vinny D'Alessandro are making an enormous positive difference in the Southern Region.
OUTSTANDING PANDEMIC PERFORMANCE
Michael Chait, President & Chief Executive Officer, The Greater Atlantic City Chamber of Commerce
During the COVID-19 pandemic, Chait created an important Facebook Page, "Atlantic County Take Out and Delivery Options."
This public service has provided important Atlantic County takeout dining information and recommendations during the entire length of the health pandemic.
It's been a vital service and they've helped a countless number of people, along with helping to drive much-needed dollars for our area restaurants, who have been suffering during COVID-19.
ATLANTIC COUNTY MAYOR OF THE YEAR
Ventnor City Mayor
Beth Maccagnano Holtzman
Holtzman is a courageous local elected official, who is never afraid to make difficult decisions.
She creates an environment that promotes economic growth, in a business friendly manner, while balancing and protecting the natural resources at the same time.
Holtzman is the Jewel in The Crown of the 3-Member Ventnor City Commission.
CAPE MAY COUNTY MAYOR OF THE YEAR
Middle Township Mayor Tim Donohue.
Mayor Donohue is as solid as they come. He is totally committed and devoted to the citizens of Middle Township.
Donohue is accessible, hard-working and demonstrates uncommon leadership skills.
The prototype local Mayor.
He also possesses an excellent sense of humor and is never afraid to deploy it, which is required during high stress times such as these.
CUMBERLAND COUNTY MAYOR OF THE YEAR
Vineland Mayor Anthony Fanucci
Anthony Fanucci has served the city of Vineland since 2006, as a school board member, City Council President, and now his second term as Mayor.
Mayor Fanucci and his Council team have swept the past two elections, with the Mayor receiving 71% of the vote this year.
He is a family man, successful businessman and dedicated public servant who has demonstrated a forward-thinking approach that has drawn praise from throughout the state, and brought exciting new development and jobs to the city.
CAPE MAY COUNTY POLITICAL CHAIRMAN OF THE YEAR
Michael Donohue
Donohue is The Chairman of the Cape May Regular Republican Organization for the second time.
Donohue voluntarily left a lifetime appointment as a New Jersey Superior Court Judge, to follow his passion in life. It was a huge sacrifice.
Donohue did a great job during his first stint. He'll do so, again.
Donohue also hosts his own Cape May County based radio talk show.
SPECIAL RECOGNITION AWARD
Outgoing Cape May Regular Republican Chairman
Marcus Karavan
Karavan did an outstanding job as Chairman for many successful years, before turning the reigns back to Michael Donohue.
Karavan was a fierce defender of his candidates and a prodigious fundraiser. He is also a true professional and a perfect gentleman.
ATLANTIC COUNTY COMMUNITY HOSPITAL OF THE YEAR
Shore Medical Center
The Shore Medical Center under the leadership and direction of President and Chief Executive Officer Ron Johnson has been a consistent high-level performer.
Their Shore Medical Center Foundation also does great philanthropic work, year-in and year-out.
2020 has been a most challenging year and Shore Medical Center has continued to shine throughout.
BEST LOCAL SPORTS COACH
AJ Russo
Head Football Coach
Holy Spirit High School
Russo is a role model and a winner.
Russo teaches athletes to compete the right way. He also respects traditions, which is presently a dying art in America.
Russo is a great role model in the lives of scholastic athletes.
Russo is the defending, two-time South Jersey Championship Head Football Coach (2019 & 2020 seasons).
BEST LOCAL ENTERTAINER
Kenny Jeremiah (posthumously)
This one really hurts, as the COVID-19 beast took the life of this generous, talented and philanthropic musical legend on December 4, 2020.
Jeremiah holds a "Billboards Top 100," # 1 hit "Expressway to your Heart."
Kenny is the holder of 2 Gold records.
During his storied lifetime, Kenny donated thousands of hours of his time and talents, serving countless, great charitable causes.
Jeremiah was arguably the youngest 78-year-old that you'll ever know.
ATLANTIC COUNTY CHAIRMAN OF THE YEAR
Michael Suleiman
Atlantic County Democratic Chairman
Suleiman had some big wins in the November 3, 2020 General Election cycle.
Caren Fitzpatrick, Atlantic County Sheriff Eric Scheffler and there remains a good chance to score an upset win with Thelma Witherspoon in her race vs. Andrew Parker for Atlantic County Freeholder - District 3.
Suleiman also relentlessly fights for and defends his candidates and office holders.
Not since the legendary Joe Gindhardt has the County had such an engaged Democrat Chairman.
VOTE BY MAIL DIFFERENCE MAKER
Craig Callaway
Craig Callaway continues to increase his level of influence in all at large races in Atlantic County.
Callaway worked with Amy Kennedy in the Democrat Primary. She won. He worked for United States Congressman Jeff Van Drew in the General Election versus Kennedy, and, Van Drew won.
Callaway is also the difference in the Atlantic County Freeholder at Large race. Callaway supported Risley. Had he not, the Democrats would have won both at large seats.
Callaway is equal opportunity. His organization's services are available for both Republicans and Democrats.
It's not just about money for Callaway. He works with the candidates that he likes. He's arrived at a point where he can pick and choose.
WORST CAMPAIGN OF 2020
Brendan Sciara
Sciara spent more than $ 100,000 of his own money to lose by 10,000 votes for Cape May Freeholder.
A bad investment by any standard of measure.
FINANCIAL GENIUS & PHILANTHROPIST
CHUCK MALAMUT
Chuck Malamut has been our "Hurley in the Morning" official and exclusive financial expert for the past 29 years. We've been close friends, like brothers since 1981.
Simply put, Chuck is one of the most generous, caring and giving persons that I have ever known. He's earned a position of respect and inclusion on this list.
Chuck and his wife Pam regularly perform generous acts of kindness and they make countless charitable donations each and every year.
Chuck and Pam are amazing.
PHOTOGRAPHER ON-THE-SPOT AWARD
Don P. Hurley
Many reading this are well aware that Don has generously donated his time and talents to countless area events.
Many iconic events have been properly memorialized over the past 3 decades because Don has attended so many events.
Don knows how to capture the essence of an event and he routinely provides memorable photos of your special occasion at no cost.
REAL ESTATE PROFESSIONAL OF THE YEAR
The Jo Ann Daly Team
RE MAX Platinum Properties of Ventnor
Jo Ann Daly and her team provides excellence in service, attention to detail and great follow-up systems.
They can do it all. They are there for you whether you're buying, selling or renting your home.
They possess a winning service culture and regularly go the extra mile for their clients.
FAVORITE HAIR CUTTERY
Sport Clips Haircuts
Mays Landing, Somers Point and Deptford, New Jersey.
Margie and Vaughan Reale
Margie and Vaughan Reale's Sport Clips Haircuts is the gold standard for "guy trained" stylists.
In addition, with the MVP upgrade and it goes beyond a haircut and enters the realm of a Spa experience.
Margie & Vaughan have worked very hard to make their operations COVID-19 safe and clean.
Sport Clips Haircuts has earned the standing as the Official and Exclusive Hair Cuttery for The "Hurley in the Morning" program.
LOCAL ENTREPRENEUR & PHILANTHROPIST
Captain Ron Meischker
The Somers Point Crab Company &
Patcong Creek Foundation
Including Captain Ron Meischker on our prestigious Inaugural List was a must.
Captain Ron has brought great joy to thousands in our region for a myriad of reasons.
1. His local business, The Somers Point Crab Company. So many people gave enjoyed his wonderful product, available for more than 1/2 of the year.
2. The Patcong Creek Foundation. They are doing a great job with overall education and vital clean up operations.
3. The Assault on Patcong Creek. Captain Ron is the founder and director of the largest crabbing tournament in America.
It is a truly iconic event.
Meischker is also a former member of the Somers Point City Council; Who served as the political strategist and campaign manager for many winning Somers point candidates.
BEST FORMAL WEAR - UNIFORM COMPANY
Craig Tanzola
Formal Dimension
Egg Harbor Township, New Jersey
Craig Tanzola and Formal Dimensions has a performance record of demonstrated longevity and success measured over decades.
From school proms, weddings, banquets and galas to some of the most elaborate hotel and casino uniform programs in America, Tanzola and his team have demonstrated the ability to adapt to changing environments over the years.
They are The Gold Standard in formal wear and uniforms in my view.
FAVORITE CAPE MAY RETREAT
Le Mer Beachfront Resort
Cape May, New Jersey
Francesca Santoro
General Manager
Le Mer Beachfront Resort is an absolute gem, on the quiet side of Cape May and the Beach.
Francesca Santoro is the General Manager and placed her design and development in every facet of this property.
They are presently in a large room renovation program. 60 guest rooms are being reimagined.
20 other guest suites were recently fully renovated, providing guests a very nice inventory of upscale rooms.
There is also excellent dining on premises, with The Pier House Restaurant.
Le Mer Beachfront Resort has a workout area on property as well.
La Mer Beachfront Resort
1317 Beach Avenue
Cape May, New Jersey 08204
MORTGAGE PROFESSIONAL OF THE YEAR
Jim Malamut
Green Tree Mortgage
The Jim Malamut team has had a record year during the COVID-19 pandemic.
Mortgage interest rates keep setting record new lows.
Home owners are presently refinancing at record levels.
Jim and his team are focused on delivering a high level customer service experience for their valued clients.
SOLAR ENERGY COMPANY OF THE YEAR
All Season Solar
Chris DeMasi, Owner
Chris DeMasi and his team at All Season Solar have a truly outstanding product and they also shine with the high quality of their installations.
Their service level is at the highest level.
It is also important to note that for every customer that mentions that the "Hurley in the Morning" program sent you ... All Season Solar makes a $ 500 contribution to our "Hurley in the Morning" Charity.
You can fix your electrical energy costs for the next 20 years, with All Season Solar.
AUTO - HOMEOWNERS INSURANCE COMPANY OF THE YEAR
The Shore Agency
Nancy & Kirk Conover
Nancy Conover's company works very hard to get you the best rates available.
For example, before simply renewing your insurance policies, they will check to see if they can obtain you with the same or better coverage at an even better price.
They always go the extra mile for their clients.
Their honesty and integrity are beyond reproach.
BEST DENTIST
Dr. Alan Chenman
The Smiie Center of Linwood
Dr. Chenman is a skillful Dentist and such a decent man.
Dr. Chenman's attention to detail, along with his care and concern for his clients is extraordinary.
Dr. Chenman's commitment to excellence is hard to match. He takes a genuine interest in yiu and your family.
The Smiie Center of Linwood, owned and operated by Dr. Alan Chenman is a modern, well appointed, clean and COVID-19 safe dental practice.
FAVORITE BREAKFAST & LUNCH SPOT
Gary's Restaurant
Gary Field, Owner & Operator
Gary's Restaurant in Pleasantville features one of the most comprehensive and elaborate menus anywhere in the region.
Owner, Operator Gary Field is visible, very active and service-minded on a daily basis.
Breakfast is available right until closing at 4:00 p.m., which customers really enjoy.
Gary also provides customers with a great takeout service. They are 8:00 a.m. to 4:00 p.m., every day except Tuesday.
FAVORITE VETERINARIAN
Dr. Mark Newkirk
Owner & Operator
Newkirk Family Veterinarian's
Dr. Newkirk brings 40 years of experience to your family.
The word "Family" is in the name of the practice, because that's the operating philosophy of Dr. Newkirk. He makes it a family atmosphere.
Dr. Newkirk's practice specializes in traditional and alternative care.
Dr. Newkirk does a great job separating the dogs and cats as far apart from each other as possible.
The cat house also has soft furnishings, which really helps to keep the cats calm and comfortable.
Whether it is a well care visit, or a major surgery, Dr. Newkirk and his team possess the talent, care and compassion to meet all of your needs.
BEST HEART HOSPITAL
Deborah Heart & Lung Center
Browns Mills, New Jersey
Deborah Heart & Lung Center regularly performs what used to be called miracles.
Deborah is the only hospital in the Delaware Valley region that focuses exclusively on cardiac, vascular, and lung disease.
Deborah was established in 1922 as a tuberculosis sanatorium to provide care for those who cannot afford it the motto was "there is no price tag on life!"
In the late 1940's, when tuberculosis was cured upon the advent of antibiotics, Deborah skillfully pivoted to a focus on the heart and lung disciplines.
ATLANTIC CITY RESCUE MISSION
Dan Brown
President & Chief Executive Officer
The need is so great each and every year.
In our pandemic year of 2020, the need has been even more significant.
Dan Brown and his team have really stepped-up this year.
The Atlantic City Rescue Mission has also recently opened a new thrift store on Tilton Road in Northfield. They have great items to purchase. A variety of new and gently used items to are available.
You can contribute and help them to continue their life-saving and life-changing work on their website at ACRescueMission.org
LOCAL ARTIST & PHILANTHROPIST
Jon Baker
Jon Baker's art work has become highly valuable and collectable.
What makes Jon special is his commitment to giving back to his community.
Jon donates thousands of dollars each year to The Dean Randazzo Cancer Foundation and other area not-for-profit organizations.
Look closer the next time you're attending a local charity event. It's more likely than not that Jon has donated his time and talents to help make the event successful.
LAWMAN OF THE YEAR
Damon Tyner
Atlantic County Prosecutor
Damon Tyner wields great power with benevolence.
Tyner does the job as it should be done. He does not go after people like some vicious prosecutors do.
He's also not a hot dog like some other prosecutors are.
Tyner properly manages the cases that should be prosecuted.
He's the son of a legendary law man (Hank Tyner). He gets it.
Damon Tyner displays the perfect temperament and it serves the public well.
MOST VERSATILE ELECTED OFFICIAL
Frank Balles
This is a field of exactly one person.
Frank Balles has served the citizens of Atlantic County as Sheriff, Egg Harbor Township Committeeman and now as Atlantic County Freeholder at Large.
Balles recently won the unexpired term of Frank Formica.
This was a smart and crucial decision by the Atlantic County Republican Committee.
Because this position will be on the ballot for the voters to decide in 2021.
Balles is one of the few Republicans who can win an at large race in Atlantic County.
Democrats are currently in the process of making a big move towards trying to achieve county-wide superiority.
VETERAN'S ADVOCATE OF THE YEAR
Michael Merlino
President
American Legion Post 352 Legion Riders
Mike Merlino really stepped-up in 2020. He led efforts to help guard the war monuments in Atlantic City during the massive riot and additional threatened unrest activities.
Regardless of the weather, Mike and his team of riders participate in numerous community events and funerals.
Mike also hosts his long-time program, "Veteran's Matter."
Mike is the ultimate advocate and he is philanthropic and so generous with supporting numerous area charities.
Mike Merlino is a very effective and important community leader.
BEST CANDIDATE IN A LOSING EFFORT AT THE NATIONAL LEVEL
New Jersey Senator Tom Kean, Jr.
New Jersey Senate Minority Leader Tom Kean, Jr. did everything possible, except win his election for The United States House of Representatives in New Jersey's 7th Congressional District.
When all the votes were counted, Kean came within 1 percent of defeating the incumbent, Tom Malinowski.
The margin of difference:
Without the unprecedented Vote by Mail election, Kean would have won the seat comfortably.
Kean ran a great race. His future for any House or statewide race remains very bright.
In electoral politics, there really is a such thing as a "good" loss. This qualifies as that for Kean.
PHILANTHROPIC COUPLE OF THE YEAR
James Toto & Beverly Toto
Somers Point City Councilman James Toto and his wife Beverly are two of our area's finest.
You would be hard pressed to find two more giving people anywhere.
They attend and make generous contributions to seemingly every worthy charitable endeavor in the region.
Also, I'd be remiss if I didn't highlight that Beverly Toto makes the absolute finest baked treats and shares them generously with so many people.
James and Beverly Toto are an example of everything that's right about our region.
SOUTH JERSEY'S BEST UNION
UNITE-HERE LOCAL 54
President Bob McDevitt has earned a career that has spanned nearly 25 years.
This is because he has never lost sight of the mission. He cares for his members like they are family, because they are.
McDevitt, working along with other strategic partners, delivered much-needed food to his members who gave been both unemployed and under employed during the health pandemic.
McDevitt remains on the top of his game.
BEST LOCAL CANDIDATE IN A LOSING EFFORT
"Tokyo" Joe O'Donoghue
Atlantic County Sheriff
O'Donoghue ran with honor, integrity and dignity.
He was also the hardest working candidate, (along with Freeholder at Large candidate James Toto) during the recent 2020 General Election.
O'Donoghue received more votes than any Republican candidate for Sheriff in Atlantic County history.
It was a very tough election season for any newcomer to run during the health pandemic.
O'Donoghue was also very loyal and faithful to his running mates. Sounds normal. But, it's not. There is trechiry and dishonesty during campaigns, even among those of the same political party.
POLITICAL BUSH LEAGUE MOVE OF THE YEAR
Denny Levinson and Frank Formica
Levinson and Formica schemed to bring Formica back to them Atlantic County employment rolls; as Levinson selected his good friend (Formica) for a $ 40,000, brand new Atlantic County Shared Services Coordinator's position.
It was a very politically sleazy move by Levinson, who sprung it last week on The Atlantic County Board of Chosen Freeholders on just 3 hours of advanced notice.
Levinson violated the County's 12-day rule. This rule is in place so the public and Freeholder Board can learn about things just like this before they happen.
"Bush League" has two definitions. The first meaning is a "minor league professional sport, especially baseball."
The second meaning of "Bush League" is "Not of the highest quality or sophistication; second rate."
So there's no mistaking it here, we're going with the second definition for Levinson and Formica in this example. They've earned it with this blatant circus stunt.
Levinson and Formica did everything that the taxpaying public despises in career politicians, who have lost their way.
WPG TALK RADIO LISTENERS & READERS
Please accept my thanks and appreciation. It's all because of you that we have had a record year in 2020 on WPG Talk Radio 95.5 and our WPGTalkRadio.com website.
Your listenership and readership has been outstanding and we never take it or you for granted.
Because of you, WPG Talk Radio 95.5 is the # 1 rated news talk radio station in South Jersey.
As we prepare to turn the page on 2020 and ring-in the New Year, we wish you a Merry Christmas and a Happy New Year.
Our wish is that 2021 will bring peace and prosperity for you and yours, along with a year renewed with joy, hope, and health.
Enter your number to get our free mobile app
LOOK: Just some of the photos that capture the historic year that was 2020
More From WPG Talk Radio 95.5 FM