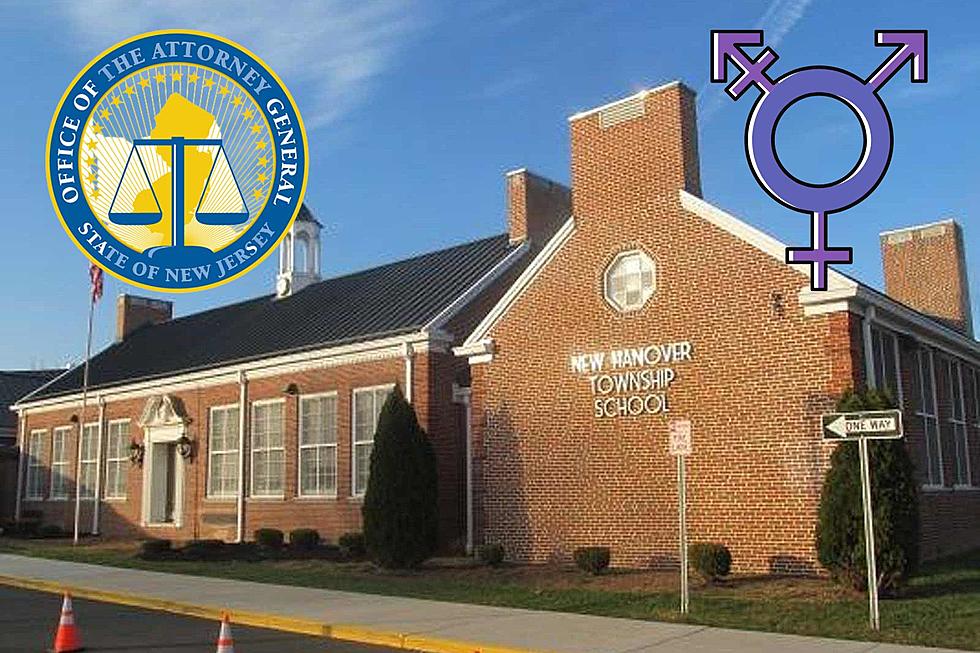 Parental rights vs. transgender policy in NJ schools
New Hanover Township School District)/Townsquare Media illustration
🔻 A judge ordered NJ and Hanover Township to fix transgender policy
🔻Multiple districts have passed parental notification policies
🔻The debate is centered an parental rights versus student privacy
---
In a closely watched showdown between a New Jersey school district and Gov. Phil Murphy's administration over the current transgender policy, a judge heard arguments from both sides on Tuesday.
Lawyers for the Hanover School District argued their local policy of notifying parents if a child changes their gender identity in school was vital to protecting parental rights.
The state argued notification could cause irreparable harm to the student.
Two weeks ago, the Hanover School board approved a policy that included parental notification regarding a student's sexual orientation, gender identity and/or gender expression. The Hanover School District is a K-8 district only, and does not have a high school. Board members cited the age of their students in adopting the policy.
That policy, however, is in direct contradiction to state issued guidance regarding how transgender students are to be treated under the Murphy administration policy. That policy strictly forbids parental notification.
Attorney General Matt Platkin immediately sought, and were granted, an injuction.
According to NJ.com, Deputy Attorney General James Michael told Morris County Assigning Judge Stuart Minkowitz in oral arguments on Tuesday the local district policy is illegal and discriminatory and that "outing" a student violates their privacy and could cause "irreparable harm."
The school district's attorney, Matthew Giacobbe, countered the 14th Amendment includes the protection of parental rights to be informed of their child's behavior.
Judge Minkowitz grilled both lawyers and raised questions about notification for other so-called 'protected classes' and other students behaviors, such as drug use and violence, but made no final ruling.
The judge did order the Murphy administration and the district to work together to come up with a policy that would not be considered discriminatory, but would still allow teachers and parents to work in the best interests of the children.
While Giacobbe had no comment after the judges instructions, Michael said his office would work toward an acceptable solution.
Other NJ Districts are watching this case
The Colts Neck Board of Education also recently adopted a new transgender policy.
Schools would be required to notify parents if the parents are not already aware a student has changed their gender identity or their name. The principal of the school would develop a plan with the student to tell their parent or guardian.
The Marlboro Board of Education is also considering a similar policy.
Garden State Equity: Districts should reconsider
Christian Fuscarino, executive director of the LGBT civil rights organization Garden State Equity, said these policies create "a hostile and discriminatory environment within the school community."
"The policy's requirement to disclose personal information about students to their parents, such as the use of a name or pronouns that do not correspond to their legal or biological sex, is a violation of privacy and an invasion of their personal lives," Fuscarino said in a written statement to New Jersey 101.5. "If parents want to know if their child is LGBTQ+, they should focus on creating a welcoming environment at home where the child feels comfortable sharing that information with their parents."
(Previous reporting from Dan Alexander was included in this story)
Places in New Jersey where you can now carry a legal gun
New Jersey passed its own law in December, trying to ban legal guns from "sensitive places."
A federal judge has found many of those spots to be legally protected on the grounds of armed self-defense, noting in her opinion, "Crowded locations are not sensitive places."
Here's the latest on what is legally allowed.
Top 20 highest average property tax bills in NJ for 2022
Based on the average residential property tax bill for each town in New Jersey in 2022, these are the 20 highest.
More From WPG Talk Radio 95.5 FM