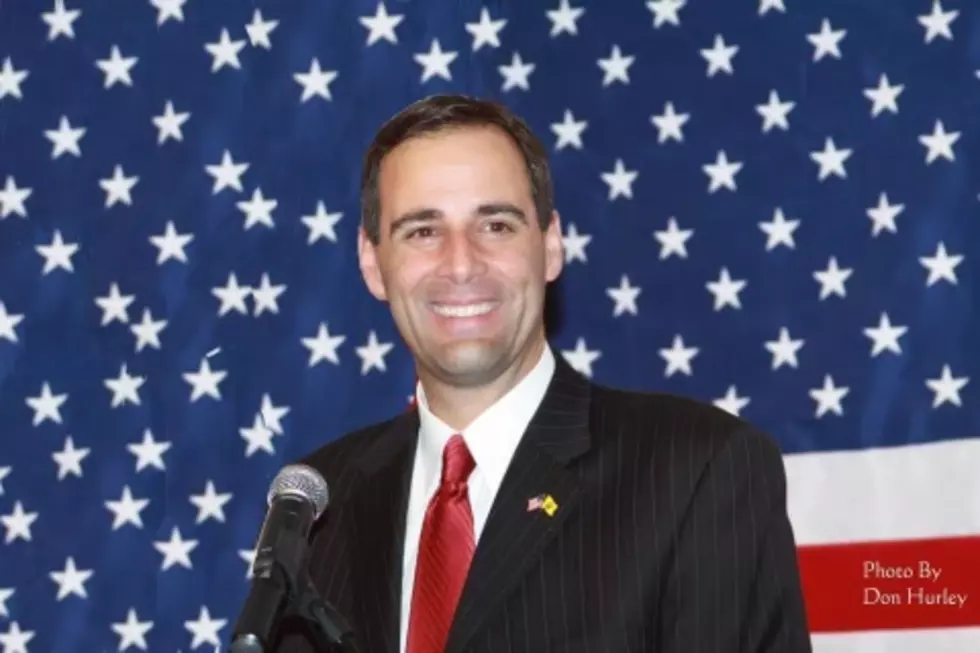 Polistina Clears The Field; Guardian Headed Back To Assembly Bid?
Don P. Hurley Photo
When former New Jersey Assemblyman Vince Polistina declared his candidacy live on-the-air (on the "Hurley in the Morning") last Friday, it was a display of shock and awe.
The support for Polistina poured-in all weekend long. It quickly became self-evident to all interested parties that Polistina would not be denied the Republican Nomination for the New Jersey State Senate in District 2.
To his defense, former Atlantic City Mayor Don Guardian did not know that Polistina was preparing to enter the race, when he quickly jumped from the New Jersey General Assembly to the State Senate contest.
Had Guardian been fully aware of Polistina's intentions, he would have stayed parked right where he was. He was sitting pretty as a viable Assembly candidate.
Guardian appeared inevitable, with a perfectly timed, well executed and well received announcement.
Guardian was enthusiastically welcomed to the race by many relevant insiders and outsiders alike.
Now, he must quickly recalibrate. The Atlantic County Committee votes are just not there for Guardian for Senate.
Guardian has the unenviable task of trying to reset his campaign and not look he's scattered all over the place.
Respected Republican statesman, former Senator Sonny McCullough said this on-air today on "Hurley" that Guardian does not have the party support to defeat Polistina.
McCullough also took the rap today on-air ("Hurley") publicly stating that he was the one who floated Keith Davis as a possible State Senate candidate.
In fairness to the Republican Chairman, he was not floating his own potential candidacy. The truth matters.
As Guardian abruptly changed course, others have now expressed interest in the Assembly race.
There's Claire Swift for example. She knows Atlantic County Republican Party Chairman Keith Davis since their law school days.
Swift is also well thought of by Polistina and former Galloway Township Mayor Don Purdy, who remains a very influential Republican and an excellent fundraiser.
Atlantic County Commissioner John Risley remains committed to the Assembly race.
Atlantic City 6th Ward Councilman Jesse Kurtz has heard from many leading Republicans that this is not his time.
Polistina appears to have locked-up the Republican Senate nomination by properly cultivating the integral Atlantic County Republican Committee Members.
They pick the nominee. They're fiercely independent and immune from any Party bossism.
The nominating process for the two Assembly nominations remains fluid at this time.
Guardian is too smart not to see what's going on here. I forecast that he will pivot back to the Assembly race as early as today.
It's the absolute best move for him ... And, it's also the best move for the Atlantic County Republican Party to cultivate the strongest state legislative ticket.
I think that people should cut Guardian some slack when he moves back to the Assembly race. He got whipsawed. He knows it by now and he'll do the right thing.
On the Atlantic County Democratic side, Assemblyman Vince Mazzeo wants to step-up and run for the State Senate.
Assemblyman John Armato will be running for re-election.
The leading contender for the second Assembly nomination is Atlantic County Commissioner at Large Caren Fitzpatrick.
Fitzpatrick is the best candidate that the Atlantic County Democrats have. She was the runaway, top vote-getter in the 2020 General Election.
Fitzpatrick would also be the Democrats best candidate for the Senate in this year's election cycle.
COVID relief for NJ municipalities: How much is your town getting?
The American Rescue Plan signed by President Joseph Biden awards $10.2 billion to New Jersey. Here is a a county-by-county and town-by-town breakdown.
LOOK: Stunning vintage photos capture the beauty of America's national parks
Today these parks are located throughout the country in 25 states and the U.S. Virgin Islands. The land encompassing them was either purchased or donated, though much of it had been inhabited by native people for thousands of years before the founding of the United States. These areas are protected and revered as educational resources about the natural world, and as spaces for exploration.
Keep scrolling for 50 vintage photos that show the beauty of America's national parks.
More From WPG Talk Radio 95.5 FM