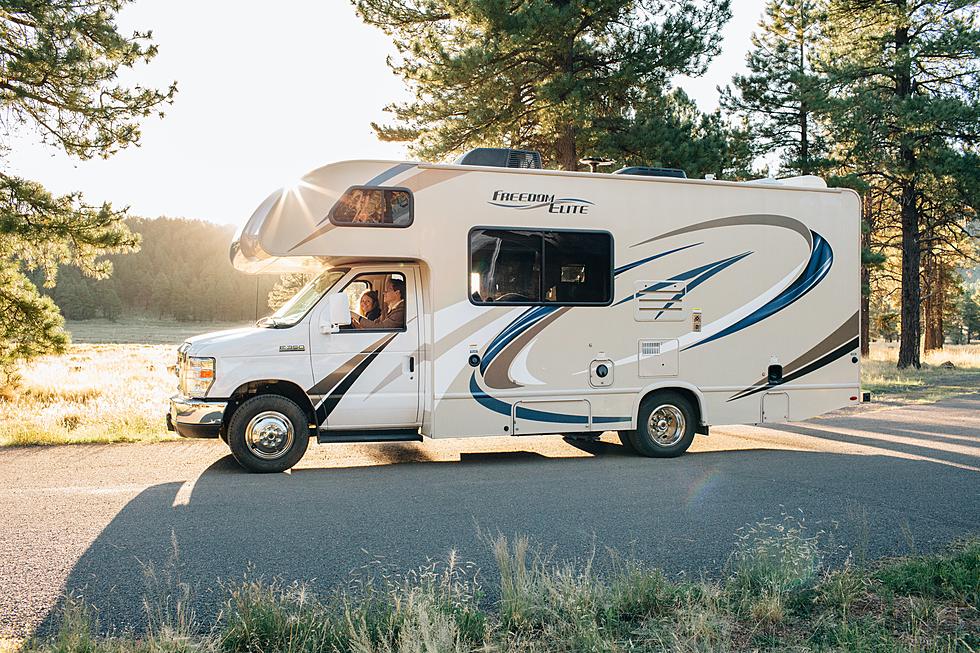 Some in NJ are Getting RV Buyer's Remorse
Togo RV via Unsplash
One industry that made a killing during the pandemic is the RV industry. RVs were typically reserved for those retirees who want to pack up the Winnebago and head down to Florida, stopping to see the grandkids on the way there.
I'm a big fan of RVs but I like the 45' diesel pusher that has the big engine and glides down the highway. I have slowly but surely grown a disgust for air travel, it has become worse than traveling by bus. As a result, I enjoy gassing up my SUV or renting an RV and heading to where I want to go, traveling with want I want to eat and drink in my refrigerator, and always having a bathroom at my disposal.
With an RV I have a place for a great nap when I'm tired and the ability to make a cup of coffee when I'm ready to hit the road. As a result, I am more refreshed and I enjoy the trip. I love to drive and check out the scenery. I have driven across the country and have seen some amazing things. For me, it's a great way to see the country.
During the pandemic with air travel restricted, hotel rooms were scarce, and RVs made sense. 2020 numbers showed the increase in RV sales went through the roof and that 40 – 50% of the 2020 new sales were purchased by millennials which was a 100% increase in sales for the demographic. 50 to 80% of those buying RVs were first-time RV buyers. According to RV Industry Association, some area sales are up 170% from 2018 to 2020. The numbers are in for 2021 and the year posted a 34% increase in sales over the incredible large increase that 2020 experienced.
Many are trading in their previously owned RVs and getting top dollar and turning around with an RV upgrade. Used inventory is at a premium and many new orders for RVs have delays in getting them filled.
At the time that the pandemic hit, regular gas prices here in New Jersey were hovering around $2.25 a gallon today the New Jersey average is $4.25 a gallon of regular gas and diesel averaging close to $5.50 a gallon. That price hasn't slowed down sales even though most large RVs average 5 – 7 miles per gallon. Filling up the old RV can cost you dearly. Most of the larger RVs have a 100 or 150-gallon gas tank. That means when you tell the attendant to "fill er' up" it's going to cost you between $425 and $600 for regular and $550 - $825 for diesel.
Add an average of $150 a month for storage of the unit and just to put the RV on the road will cost you a small fortune. Blow a tire and it'll cost you $800. The full set will run you $5,000. If the generator for the RV goes on the fritz you should be prepared to dish out $6,000. Service on RVs is expensive and time-consuming with some RV repair shops having a two to a three-month backlog.
mp;q=89">
Photo by Steven Weeks on Unsplash[/caption]These day-to-day costs and the current overly high sales prices on new and used RVs have kept me away from purchasing an RV. I'll wait until the market softens to pre-pandemic pricing.
There are those who have made the switch to RVs and more are enjoying the travel. If you're heading down the road good luck and drive safe
These are the best hiking spots in New Jersey
A trip to New Jersey doesn't have to be all about the beach. Our state has some incredible trails, waterfalls, and lakes to enjoy.
From the Pine Barrens to the Appalachian Trail to the hidden gems of New Jersey, you have plenty of options for a great hike. Hiking is such a great way to spend time outdoors and enjoy nature, plus it's a great workout.
Before you go out on the trails and explore some of our listeners' suggestions, I have some tips on hiking etiquette from the
American Hiking Society.
If you are going downhill and run into an uphill hiker, step to the side and give the uphill hiker space. A hiker going uphill has the right of way unless they stop to catch their breath.
Always stay on the trail, you may see side paths, unless they are marked as an official trail, steer clear of them. By going off-trail you may cause damage to the ecosystems around the trail, the plants, and wildlife that live there.
You also do not want to disturb the wildlife you encounter, just keep your distance from the wildlife and continue hiking.
Bicyclists should yield to hikers and horses. Hikers should also yield to horses, but I'm not sure how many horses you will encounter on the trails in New Jersey.
If you are thinking of bringing your dog on your hike, they should be leashed, and make sure to clean up all pet waste.
Lastly, be mindful of the weather, if the trail is too muddy, it's probably best to save your hike for another day.
I asked our listeners for their suggestions of the best hiking spots in New Jersey, check out their suggestions:
How the world saw New Jersey — 1940s to 1980s
This is how New Jersey saw the world from 1940-to 1980. All these photos are from AP and Getty publications, meaning they were used in a magazine or newspaper. There has been plenty of inventions and history made in New Jersey. Check the photos below.
More From WPG Talk Radio 95.5 FM