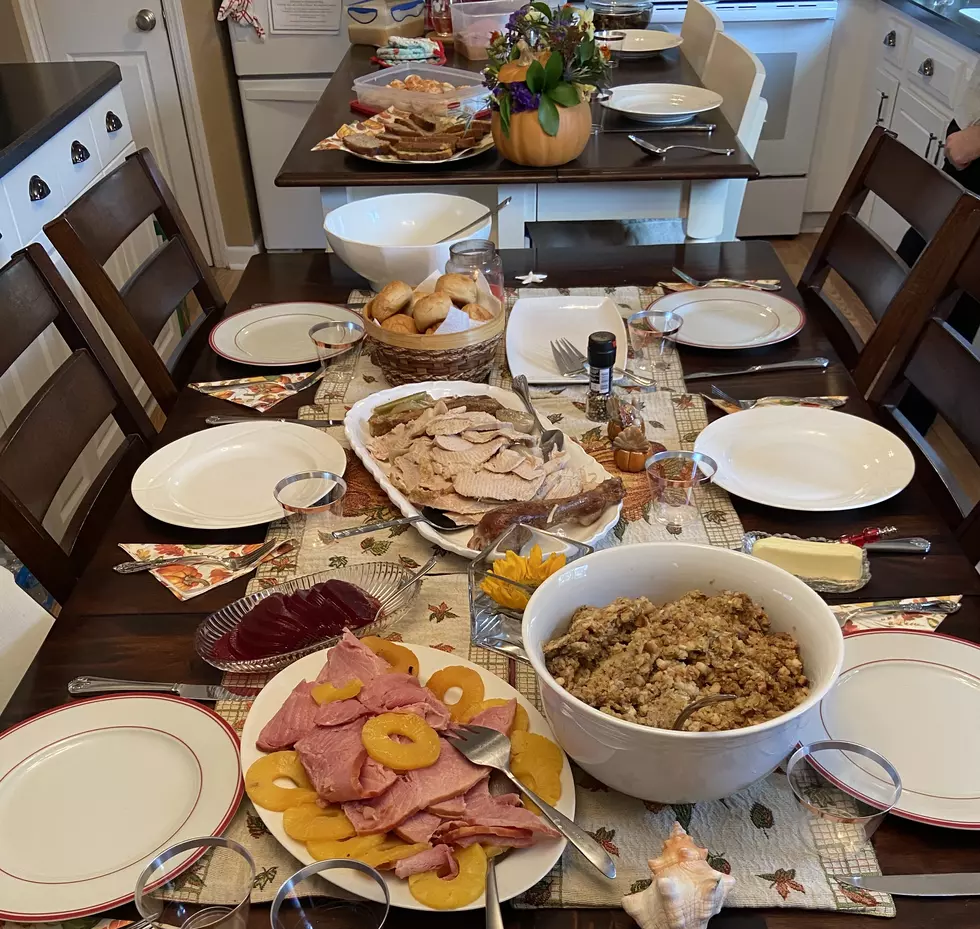 These New Jersey Stores Will Be Closed On Thanksgiving Day 2022
Harry Hurley Family Thanksgiving Table (2021)
Make sure that you get all of your Thanksgiving shopping needs done before Thanksgiving Day itself. That's because these go to big box stores will all be closed and not available for your last minute dinner needs.
The store closings afford these employees the opportunity to spend Thanksgiving Day with their families.
If you plan to dine together as a family, I'm also a fan of making your Thanksgiving dinner meal plans and purchases at the various big box stores this year.
That's because of the current runaway inflation and exorbitant costs of everything during these challenging times.
Another Thanksgiving dinner option is to go out as a family to your local restaurants or golf clubs, who do a great job on this special holiday.
The Farm Bureau does an annual survey of the cost for Thanksgiving dinner. Last year saw a 36 percent increase per-person versus the prior year.
It's hard to imagine that this year won't be more than that, because of the runaway inflation, costs, supply chain issues, the cost of fuel are dramatically worse this year versus last year.
Until a few years ago, most of the big box stores used to be open on Thanksgiving Day. The thought was that many people would wait until Thanksgiving morning to buy their dinner ingredients.
And, still others who might want to pick-up a few last minute items, could be venture out early on Thanksgiving Day in years gone by.
Here are the big box stores, located in New Jersey that will be closed on Thanksgiving Day, 2022 as follows:
SAM'S CLUB
Tte above photo is from the Sam's Club store located in Egg Harbor Township, New Jersey. Closing on Thanksgiving Day started about 3 years ago. It's becoming the trend to close on most major holidays.
WALMART
The above is the Walmart Supercenter in Egg Harbor Township, New Jersey. It's no surprise that Walmart follows the same hours of operation and days off as Sam's Club.
COSTCO
The above is the Costco Wholesale Club, located in Mays Landing, New Jersey.
BJ's WHOLESALE CLUB
The above is BJ's Wholesale Club, located in Mays Landing, New Jersey.
You have plenty of time to prepare for Thanksgiving dinner 2022.
Please remember, but if you decide to wait until the end, these big box stores will all be closed on Thanksgiving day.
To you and yours, we wish you a very Happy Thanksgiving Day.
Atlantic City Area Readers Submit Favorite Winter Comfort Foods
Atlantic City Area Readers Submit Cell Photos Of Favorite Meals
More From WPG Talk Radio 95.5 FM