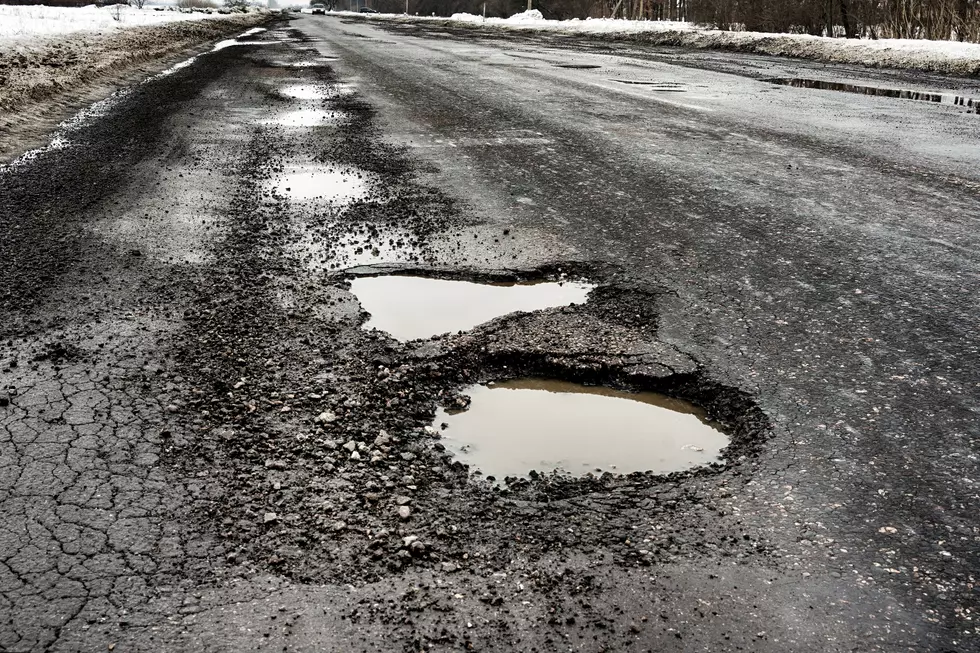 Atlantic City & Elsewhere, Potholes Are Everywhere: You Have Rights
Getty Images/iStockphoto
If it seems like road potholes are everywhere these days, it's because they are. It's that time of year.
The wear and tear, along with the expansion and contraction of road surfaces creates the potholes.
We have all come across the likes of the pothole obstacle course pictured above.
And, potholes can be very tricky when they completely fill up with water and you can't even see the pothole coming up in front of you … Until it's too late and you experience that bone crunching crash … as your car drops into the pothole with such force that even your teeth rattle.
Potholes can cause significant damage to your car, by breaking wheel axles, destroying tires, front end damage and more.
The good news is, you don't have to just take it. You have rights. If a local, county or state road is the cause for damage to your car, there is a process to seek reimbursement for the cost of repairs and replacements.
Let's start with The County of Atlantic, which does a really good job in this area to proactively attempt to prevent damage to your car in the first place.
However, invariably there will be times that a County road will cause damage to your car and they have put in place a structured process that is available to you. Here's how it works:
Here is a link to the County of Atlantic (form) to report your pothole claim.
https://www.atlantic-county.org/public-works/pothole-report.asp
We can all be helpful and report potholes when you see them.
If you experience damage to your car due to a pothole on a state road, here is some helpful information:
You can call 609-965-6060. A Pothole/Road Hazard Claim Form (RM-3) is required to be completed.

If your incident occurs on a local or other County road, you should call the city/township/county or visit their respective website.
Finally, to bolster your case that a pothole on a particular road caused your property damage, you'll need evidence … not just a good story.
Here are some helpful tips that may just help you win your claim:
1. Stop at the incident spot immediately to begin documenting your case.
2. Report the matter to the local police and have the police complete an incident report, so that you timestamp and properly document your damage.
3. Take photos of the pothole or whatever caused the damage to your car.
4. Take pictures of the affected, damaged areas of your car.
5. Request a quotation or an invoice from a dealer or repair shop.
6. Make sure that you do everything possible to thoroughly document the cause of the incident, and attempt to verify the speed you were travelling at the time.
7. Send an incident report, pictures of the pothole and invoice or quotation to the local, County or State Public Works Department and central government authorities.
If you properly document your incident, you will dramatically improve your chances for deserved financial recovery.
The 25 Most Dangerous Roads in New Jersey
8 New Jersey Roads That Really Give Us The Creeps
The most frightening time of the year is almost here. Have you ever driven down a road and suddenly you get overcome with chills down your spine?
More From WPG Talk Radio 95.5 FM