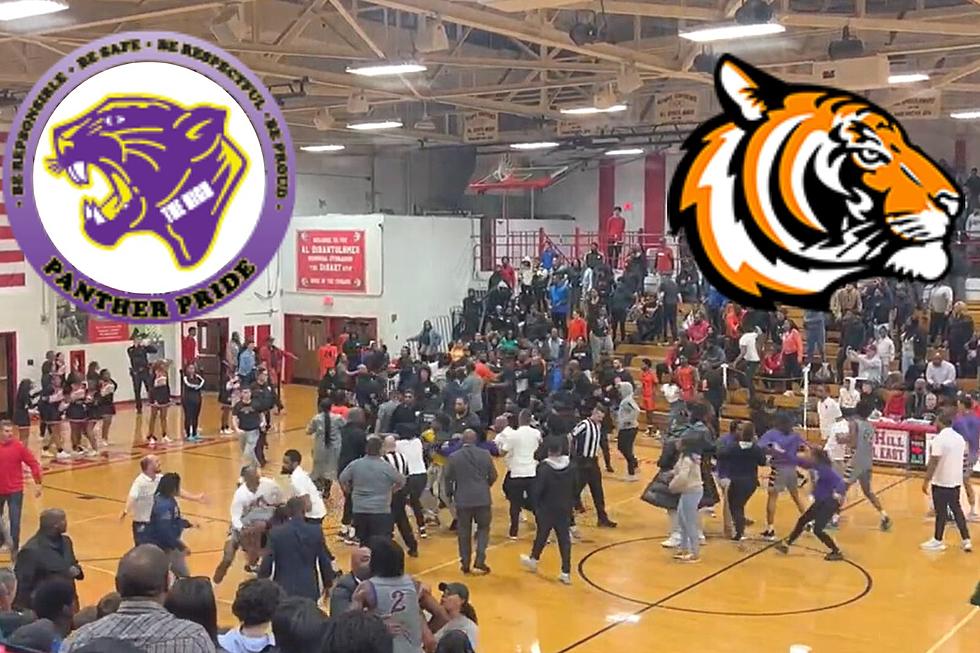 Court Fight Stops Camden County, NJ, Basketball Tournament
Fight during the Camden County Tournament 2/16/23 (Cherry Hill Courier Post)
CHERRY HILL — A fight on the court between members of the Camden and Eastside High basketball teams during the final game of the Camden County Tournament final Thursday night led to the game's suspension.
Basketball action in the tournament's inaugural championship game at Cherry Hill East came to a halt when a referee whistled a foul towards the end of the second quarter which upset some members of the Camden Panthers who chased after Eastside Tigers players, according to a Cherry Hill Courier-Post report.
Video posted by the newspaper shows spectators coming out of the stands and onto the court to join the fracas.
A livestream video of the game showing the fight has been taken down.
Another video of the fight shows Camden coaches and players trying to contain a player from going back onto the court as it fills with spectators and small scuffles. CBS Philadelphia reported police presence was increased outside the school.
Camden was leading at the time 30-17.
Post-season implications
The Panthers are the sixth-ranked boys high school basketball team in the country, according to the website MaxPreps with a 22-2 record. They are the defending South Jersey Group 2 champions and are ranked second for the upcoming playoffs. The Tigers are ranked fifth. Any disciplinary action against players and coaches could impact their playoff run.
Camden Public Schools Senior Communications Director Sheena Yera, in a statement, said no one was seriously injured by the altercation.
"Our top priority is the safety and well-being of our students and fans. Thankfully, no one was seriously injured," Yara said in a statement. "This incident is not an indication of who we are…And, we expect our student-athletes to compete with sportsmanship. The district will take all the necessary steps for appropriate disciplinary action."
NJSIAA statement
The New Jersey State Interscholastic Athletic Association issued a statement about the altercation and the fatal stabbing in the concourse of the Cure Insurance Arena during the Mercer County Tournament.
"The NJSIAA is monitoring the situations related to yesterday's basketball games in Camden and Mercer County, while awaiting additional information from authorities and all involved schools. Certainly, our hearts go out to the family and friends of the stabbing victim in Mercer County," the organization said in a statement.
NFL pros from New Jersey
There are more than 60 active pros with NJ roots.
More than 10 players who made it to the NFL conference championship games this year have NJ ties — and four active NFL quarterbacks were born in the Garden State.
Some of them may even be on your fantasy football team.
Every NJ celebrity with a star on the Hollywood Walk of Fame
More From WPG Talk Radio 95.5 FM