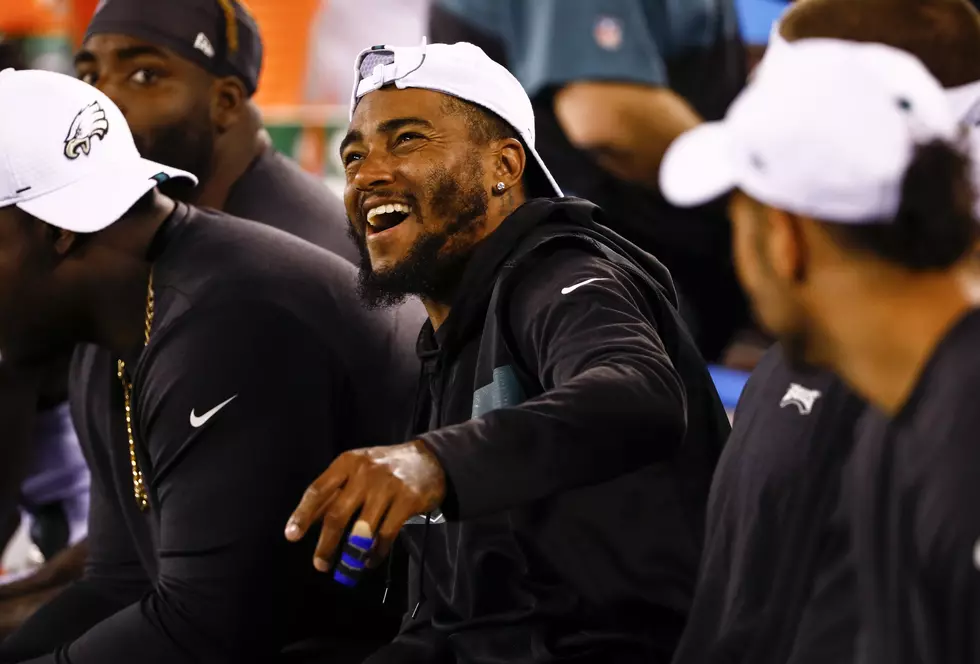 Eagles Finish Preseason With Listless Performance Against Jets
EAST RUTHERFORD, NJ - AUGUST 29: DeSean Jackson #10 of the Philadelphia Eagles sits on the bench during the preseason game against the New York Jets at MetLife Stadium on August 29, 2019 in East Rutherford, New Jersey. (Photo by Jeff Zelevansky/Getty Images)
EAST RUTHERFORD, NJ — The annual dreck-filled preseason finale between the Eagles and the New York Jets served as a poorly-attended backdrop to the real story coming over the next 48 hours, the cutdown to 53 players by Saturday.
Not much was going to change on Thursday where virtually all of Philadelphia's starters and perceived key contributors got the night off as is standard procedure around the NFL.
The Eagles fell to the New York Jets 6-0 in where most of the interesting news came during the pre-game.
Former Philadelphia vice president of player personnel Joe Douglas, the Jets' current GM, reminisced with Howie Roseman and Jeffrey Lurie during warm-ups while Eagles.com confirmed that DeSean Jackson's broken left ring finger is not expected to keep him out of the Week 1 game against Washington.
With nary an option available the Eagles' offensive and defensive captains were practice-squad veteran Greg Ward and undrafted rookie T.J. Edwards, two bubble players facing tough numbers games.
The star for Philadelphia was again defensive end Daeshon Hall, who finished one of the better summers in recent history, adding another strip-sack to his 30 days of dominance.
Rookie quarterback Clayton Thorson started and finished but struggled mightily as he has most of training camp, completing just 12-of-26 passes for 84 yards and an interception.
Fighting for a roster spot veteran running back Wendell Smallwood carried it seven times for 23 yards but one of the totes was for 18, meaning the other six were for just five yards and included a fumble.
The top receiver was Marken Michel, who caught two passes for 30 yards.
-Defensive tackle Aziz Shittu was carted off with a possible concussion. Hall was also checked for a concussion at one point but was able to return.
-With Jason Peters, Lane Johnson and Andre Dillard given the day off and Jordan Mailata dealing with a back injury, the starting left tackle was Matt Pryor and the recently-signed Brett Toth handled the other side.
-Edwards and Alex Singleton started at linebacker and saw a ton of traffic with Singleton having 12 tackles and Edwards chipping in with 10.
-The Philadelphia defense came up with its only two interceptions of the preseason tonight, one by Josh Hawkins and another by Chris Worley. Both players victimized Davis Webb.
More From WPG Talk Radio 95.5 FM