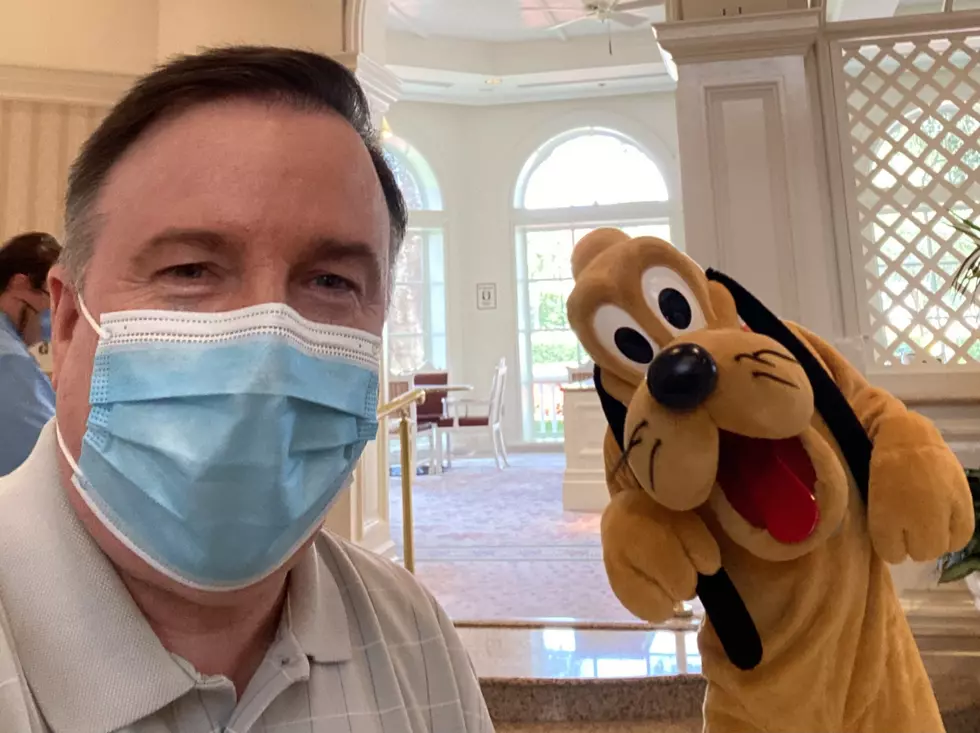 Life Lessons Learned By A New Jersey Boy During Bout With COVID-19
Harry Hurley selfie
I've had rare extra time on my hands this week, although I have stayed busy here on our WPG Talk Radio 95.5 digital platform.
First, as I've said throughout, COVID-19 is no joke. Fortunately, Omicron is less severe than the earlier Alpha Beta and Delta (and other previous) variants.
Through all life challenges, there are also silver linings. This experience has given me precious time to reflect on many important things in life.
When you don't feel well, you also look at the world differently. You feel somewhat vulnerable. Your senses become heightened. At least mine have.
You look around you and see things a little differently. I was coming off of one of the greatest highs of my professional career, hosting a Keynote Address at Talkers Magazine New York 2022 (one-on-one) with Fox News superstar, Brian Kilmeade for 20 minutes.
Thank you to Michael Harrison, Talkers Magazine Founder, Editor, and Publisher for this great honor.
Michael has also checked in with me every day to see how Margie and I are doing. That's what real friends do in this fragile game of life.
Talkers New York is the biggest and most successful convention in the United States for talk radio, television, digital, and the new talk media. It was incomparable.
Then, 3-4, days later, I tested positive for COVID-19, after eluding it for 806 days.
The first few days were pretty rough. Then, it started to turn around in my favor. We're very fortunate more than 2 years into COVID-19 to have effective vaccines and therapies to treat this beast of a virus.
I have also learned some priceless life lessons, too. When you go down like this for several days, you learn who your true friends really are versus those who you have only a transactional relationship with.
If you're fortunate enough to learn this lesson, never forget it. It can reset your priorities for the rest of your life.
I know that it will with mine.
This has been an invaluable experience to go through in many ways.
It has also made me love my wife Margie and our family even more and I didn't think that that was humanly possible.
Our children, Kristin, Lauren, Rob, Jon, and Andrew have been wonderful, along with my brothers and sister.
Lauren is a very talented infectious disease nurse manager. She has made herself available to us all hours of the day and night and has provided such great emotional support.
Oh, let me remind you, my wife Margie and I contracted COVID-19 within hours of one another.
Read More: Hurley: I Eluded COVID-19 for 806 Days, Until Today
There's no better person on Planet Earth to quarantine with then Margie. She's spectacular in every way.
A special thank you to our next-door neighbors, Dave and Michele Costello. They have brought us fully prepared meals and have been in touch with us on a daily basis.
We can't properly thank Dr. John McGee enough for his expert medical care. He is an amazing, caring, compassionate man and supremely talented Physician.
Dr. McGee has taken great care of Margie and me throughout this virus.
In case you are wondering, the plan is for me to return on-air live on Tuesday, June 21, 2022.
My sincere thanks and appreciation to Townsquare Media Atlantic City President Michael Ruble, Content Director Joe Kelly, and Program Director Chris Coleman for their unconditional support.
Celebrities That Had COVID
Atlantic City's Firsts Throughout History
More From WPG Talk Radio 95.5 FM