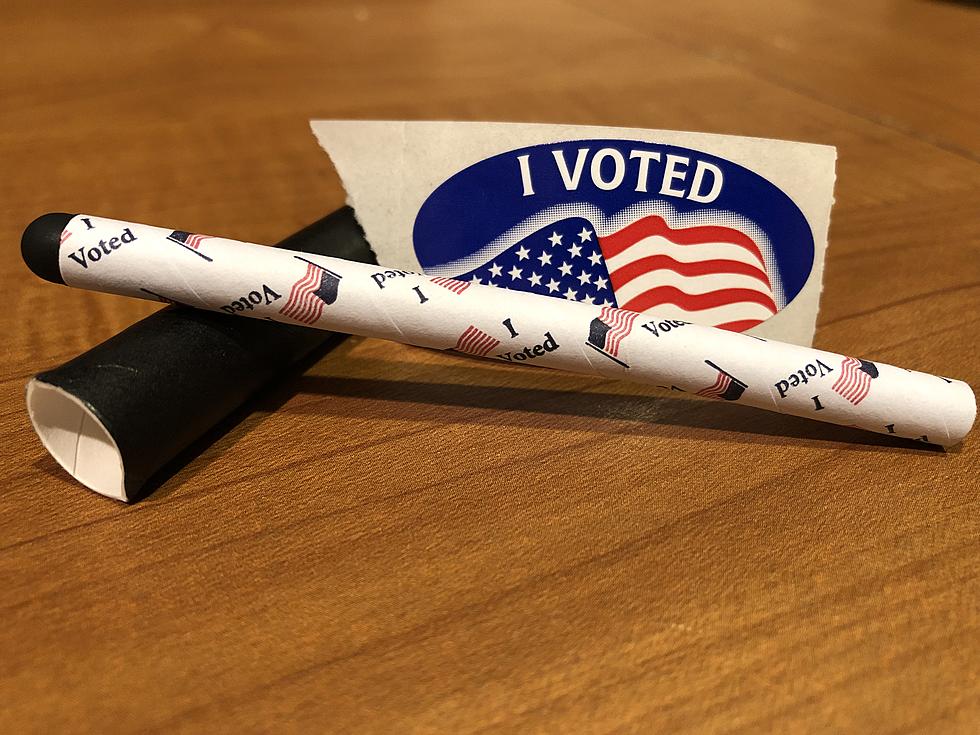 N.J. Elections: You Can Win Spending $ 153 & Lose Spending $ 7 Million
A disposable stylus for touchscreen voting at an early voting location. (Michael Symons/Townsquare Media NJ)
Decision 2021 had it all.
In short, it was no doubt a Republican Wave election, that is a bellwether for what may come one year from now in the crucial national mid-term elections.
But, it was also a time of suspension of disbelief rules in effect.
Take New Jersey's District 2 Senate race. Outgoing New Jersey Assemblyman Vince Mazzeo had $ 7 million at his disposal.
The verdict: Senator Vince Polistina demolished Mazzeo at the polls, despite being out spent by more than 7-1.
Now, join with me for a stroll together into Bizarro World.
In the New Jersey 3rd District Senate race, the second most powerful elected official in the state - State Senate President Steve Sweeney has lost his seat - to a completely unknown, non-union truck driver named Edward Durr.
Oh, by the way, Edward Durr spent exactly $ 153 to defeat Sweeney. A well placed, good friend of mine told me that $67 of this war chest was actually spent at Dunkin' Donuts.
Sweeney had his eyes fixed and his heart set on being the next Governor of New Jersey.
Sweeney has been New Jersey State Senate President since 2010.
Truth really is stranger than fiction. You can't make this stuff up if you tried to.
Sweeney's longtime running mates, Assemblymen John Burzichelli and Adam Taliaferro also both lost their seats in the New Jersey General Assembly.
This will mean that for the first time in forever, New Jersey's 1st, 2nd and 3rd Districts will have 3 Republican Senators and 6 Republican Assembly Members.
As of this writing, here are the numbers for Sweeney vs. Durr and the Assembly candidates in District 3:
SENATE:
Edward Durr = 32,497
Steve Sweeney = 30,268
ASSEMBLY:
Beth Sawyer = 32,646
Bethane McCarthy Patrick = 32,484
John Burzichelli = 29,754
Adam Taliaferro = 29,298
The above vote totals include all of the 3rd District's 159 precincts. The results remain unofficial, pending certification. It will still take several days to count the vote-by-mail ballots.
Sweeney's apparent loss has caused the cancelling of the Leadership Caucus that had been previously scheduled for today.
This is the meeting whereby the Democrats select their leadership team for the next two-year legislative session, set to begin in January, 2022.
The official swearing-in of Senator Polistina was supposed to take place today at 12:00 noon. It too, has been postponed.
Sweeney has served in the New Jersey Senate since 2002.
Democrats should hold on to the majority in both the Senate and Assembly. However, their advantage will be narrowed considerably.
There are a few other close races, including Senator Vin Gopal, who currently trails by 500 votes in a razor thin margin District 11 race.
The moral of today's story.
You can spend $ 7 million and lose. Hello Vince Mazzeo.
You can spend $ 253 and win. Starring Steve Sweeney and Introducing Edward Durr.
Both of these examples happened on Tuesday, November 2, 2021 in New Jersey, in Districts 2 and 3.
You had better believe that truth is stranger than fiction.
Let this serve notice to any and all content elected officials. The mood of the American electorate is very sour at the moment.
The voters have now shown the capacity to throw out any elected official at any time.
The American people are back in charge and gave their sights on taking back their government. Elected officials, be guided accordingly.
15 New Jersey Counties Ranked As The Best To Live In
Never Before Seen Golden Nugget Construction Photos
An Exclusive Look Back at the Golden Nugget, Atlantic City from 1980
More From WPG Talk Radio 95.5 FM