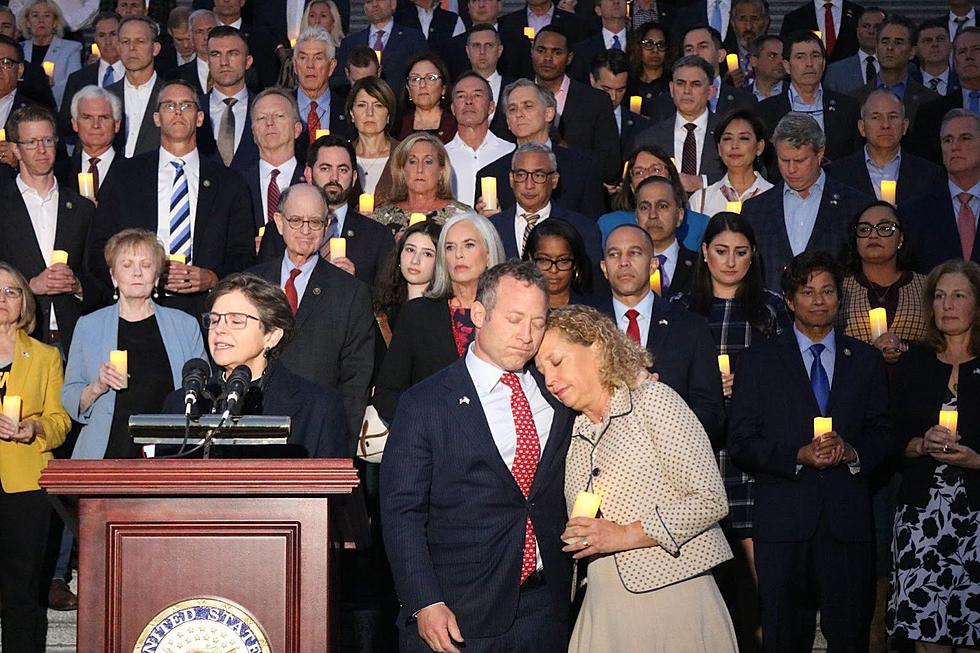 NJ Congressman Gets Attacked For Calling a Few Fellow Democrats 'Despicable'
Reps. Josh Gottheimer and Deborah Wasserman Schultz lead a vigil for Israel on the Capitol steps (Rep. Josh Gottheimer via X)
New Jersey Congressman Josh Gottheimer was verbally attacked on CNN by Indiana U.S. Rep. Andre Carson for his tweet describing the vote by 15 Democrats against a resolution supporting Israel and condemning Hamas as "despicable."
The resolution was largely symbolic and passed by a vote of 412-10-6. It was criticized by some Democrats, including Carson, for not mentioning the casualties in the Gaza strip during Israel's retaliation for the Oct. 7 that left 1,400 dead.
"House Res. 771 is horribly one-sided. By failing to acknowledge the growing loss of Palestinian lives or that all Palestinians are not Hamas, this resolution creates further division and spurs harmful rhetoric," Carson said on the House floor. "We must defend our Jewish brothers and sisters from Antisemitism. Muslims must also be defended from Islamophobia, and not have their patriotism questioned because they believe in justice for Palestinians."
Gotheimer fired back after the vote with an angry tweet.
"Last night, 15 of my Democratic colleagues voted AGAINST standing with our ally Israel and condemning Hamas terrorists who brutally murdered, raped, and kidnapped babies, children, men, women, and elderly, including Americans," Gottheimer wrote in his tweet. "They are despicable and do not speak for our party."
Gottheimer a 'tough guy?'
Carson, a Muslim, told CNN reporter Sam Fossum in comments aired Saturday that Gottheimer is a "coward" and a "punk" and accused him of acting emotionally.
"He should remember why the people sent him here," Carson said. "And if he wants to play some kind of tough guy or gangster, we can handle it like gentlemen, or we can get into something else."
In a response to CNN, Gottheimer offered to talk anytime about bringing home the hostages being held by Hamas.
"Right now, many people are hurting, and it's more important than ever for us to talk to each other. Moving forward, that is my commitment to all of my colleagues on both sides of the aisle," Gottheimer said in a tweet Saturday after Carson's comments aired.
Unnamed Democratic leadership told CNN that Gottheimer and Carson may get together this week.
CEO and National Director of the Anti-Defamation League Jonathan Greenblatt called Carson's comments "inexcusable" and "gregarious" to threaten a Jewish member of Congress.
"What's the point? Does he think it's productive to intimidate Gottheimer, Greenblatt wrote.
LOOK! Historic NJ site featured in "American Horror Stories" season 3 premiere
A very popular and historic Jersey Shore location was featured in the premiere episode of the FX hit series
Gallery Credit: Mike Brant
A note to NJ drivers that speed up the shoulder to avoid traffic
A special message for those driving in New Jersey who treat the shoulder as their own personal lane.
Gallery Credit: Mike Brant
More From WPG Talk Radio 95.5 FM