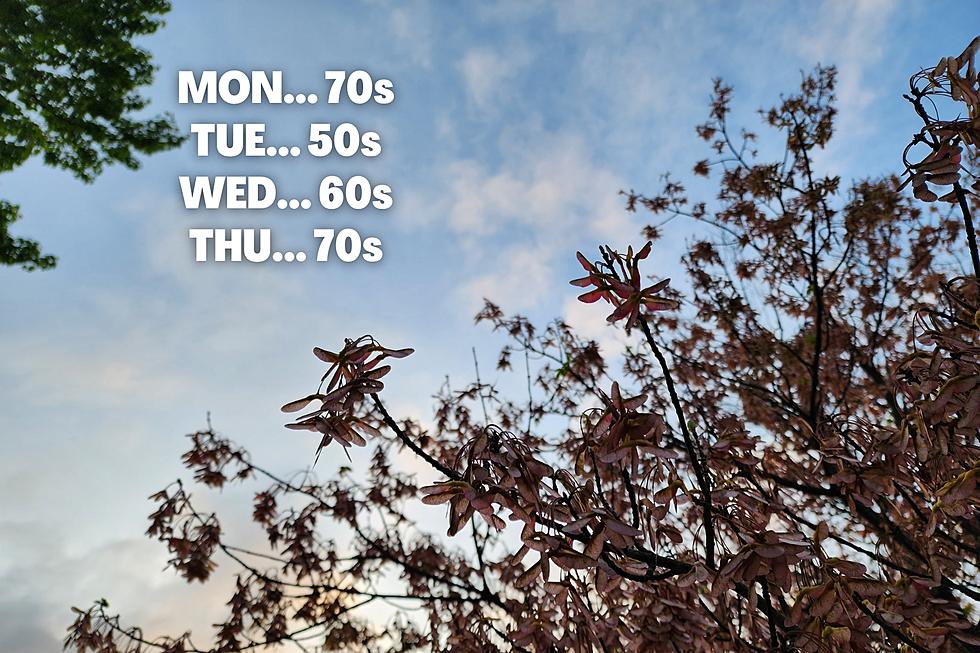 NJ Weather: One More Beautiful Day Then a Big Step Backward
(Dan Zarrow, Townsquare Media / Canva)
The Bottom Line
What a weekend, huh? Saturday was a phenomenal change of pace after a week of dismal weather. Sunday was beautiful, with a few evening showers. And we will squeeze out one more beautiful day Monday, with bright skies and 70s before changes arrive.
Tuesday will be a very different weather day than our recent streak of winners. The introduction of an on-shore breeze, thick clouds, miserably cool temperatures, and rain showers will make for a pretty "blah" day overall.
But then on Wednesday, we flip right back to sunshine and mild temps. The 70s and even 80s will return as the Mother's Day Weekend approaches.
Monday
Hopefully, you were able to spend some time outside this weekend. (And hopefully, the abundance of pollen in the air didn't destroy your sinuses.)
Monday will be another pleasant day, from start to finish. In fact, you can probably forego a jacket, with temperatures around 60 degrees to start the day. Afternoon highs will peak in the mid-70s or so — very similar to Sunday. If a sea breeze sets up, the immediate coast will be cooler, closer to the 60-degree mark.
We start the day with some clouds, remnants of overnight showers that fizzled out. Monday will end with some clouds too. But in the middle, plenty of sunshine. A light northwesterly breeze will top out around 15 mph. And our weather stays completely dry.
Monday night looks good too. Clouds will increase. And temperatures will drop to around 50 degrees by morning.
Tuesday
Our one shot at widespread rain in the forecast. Rainfall will not be heavy, severe weather is not expected, and it is not a total washout. However, even when you're not getting wet, it will be cloudy and cool and dreary and damp.
Several waves of showers are expected throughout the daytime hours Tuesday. (Just to give you a wide time window on potential raindrops, 5 a.m. to 10 p.m.) The steadiest push of rain of the day looks to be 1.) Tuesday morning, and 2.) in the southern half of the state.
Highs on Tuesday will be stuck in the mid-50s or so. A full 10 to 20 degrees cooler than Monday.
Tuesday night, most thermometers will dip into the chilly 40s. If skies are clear enough, NW NJ could see some 30s and a patchy frost. (Which is becoming more and more rare, as May marches on.)
Wednesday
Just like that, our burst of unsettled weather will be over. High pressure will work into New Jersey's atmosphere on Wednesday, leading to a return of lovely weather.
Wednesday will turn mostly sunny again, allowing high temperatures to surge to around 65 to 70 degrees. That is just a hair below normal for this time of year. Jersey Shore towns will end up closer to 60 degrees with a prominent sea breeze.
Thursday
The sunshine continues, as temperatures warm up again. We'll be back in the mid-70s — similar to Sunday and Monday. Sunshine, dry weather, light winds. All around a great day.
Friday & Beyond
Although skies will eventually turn from sun to clouds on Friday, the warming trend will continue. I think there's a shot of hitting 80 degrees across inland South Jersey and urban corridors Friday afternoon. The weather stays dry to close out the workweek.
Saturday could be the warmest day of the week, with highs in the upper 70s to lower 80s. Clouds will probably win the sky though. And a disturbance could clip southern New Jersey Saturday evening, leading to a batch of showers and thunderstorms.
The latest guidance shows temperatures scaling back into the 70s for Sunday, with abundant cloud cover and another chance of late-day showers.
Next week looks a bit more active, in terms of rainfall activity (even though our recent rainy stretch erased all drought, we still need to stay on target as summer approaches). Meanwhile, we will continue to see more days with highs in the 70s than anything else.
LOOK: Cities With the Worst Commute in New Jersey
Stacker
compiled a list of the cities with the worst commutes in New Jersey using data from the
Census Bureau
.
More From WPG Talk Radio 95.5 FM