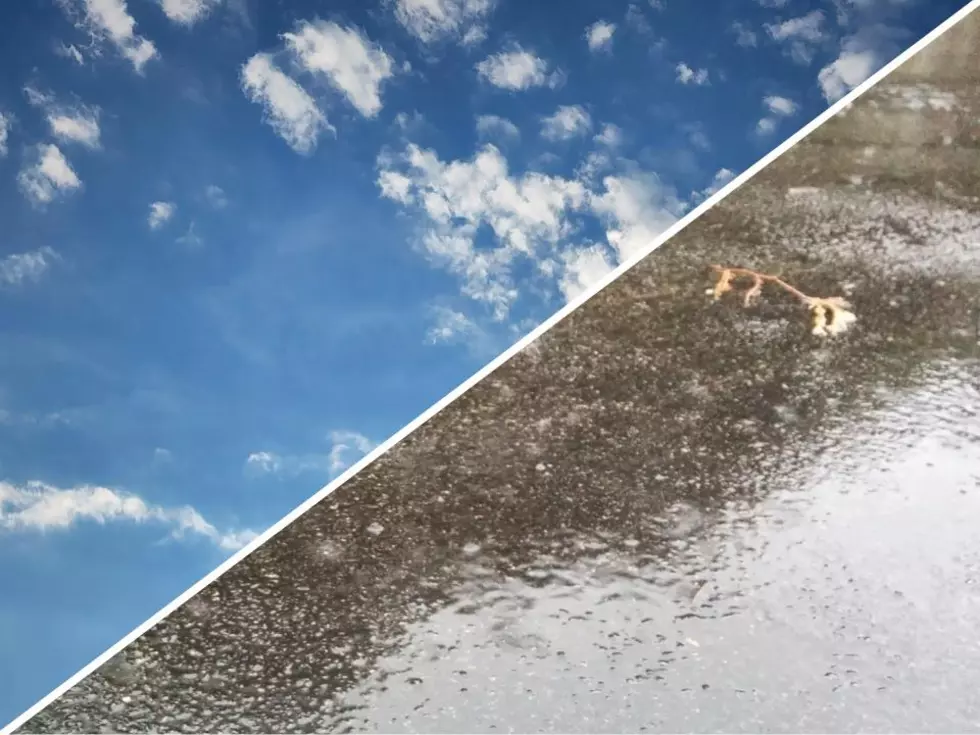 NJ Weekend Weather: From 80 and Sunshine to 50s and Rain
(Dan Zarrow, Townsquare Media)
The Bottom Line
A big transition is in New Jersey's forecast, heading into the last weekend of October.
Friday will turn out fine, with some pesky clouds around.
Saturday looks spectacular, sunny and warm.
But then Sunday's outlook has gone downhill even more, as rain, clouds, and cooler temperatures return to the Garden State.
Next week will turn a full 25 degrees cooler than this week, a huge difference as we descend from summerlike to autumnal weather. My advice: Get the layers ready to go under the Halloween costume for trick-or-treating.
Friday
I have to break out phrase I have used many times this week: It does not feel like "October" on this Friday morning.
Temperatures are in the 50s to start the day. Even some 60s along the southern coast. Comfortably cool, but definitely not cold.
There is one little wrinkle in Friday's forecast, as clouds linger throughout the morning. Radar is even picking up on a few sprinkles around the Garden State, which may evaporate before even reaching the ground. It's absolutely not an "umbrellas up" situation — just don't be surprised if you encounter a few raindrops around.
Starting around lunchtime — midday — the cloud cover will start to break apart, and we will gradually clear to sunshine through the afternoon.
It will still be warm on Friday. But I believe those early clouds will keep temperatures a few degrees cooler than Thursday's record-breaking 80s. We will set Friday's forecast highs in the mid 70s. Still 15 degrees above normal for this time of year.
Friday evening looks delightful, with mainly clear skies and dry weather. Temperatures will stay mild, only dipping to around the 60-degree mark.
Saturday
Saturday will be the grand finale of this stretch of near-record warmth.
Let me make a special appeal to all New Jerseyans. Try very hard to get out and do "something" tomorrow. For the first time in weeks, we have a spectacular Saturday forecast. And all the farms and haunted attractions and small businesses have really been struggling this fall, because of inclement weather. Patronize them, have some fun, enjoy the last weekend of October. And what could be the last burst of truly summerlike weather for the entire year.
High temperatures on Saturday will reach about 80 degrees. The only exceptions will be the immediate coast and the northwest hills. You will notice a touch of humidity in the air.
If it were in the middle of summer, this would be a dropdead gorgeous day. Here in late October, still pleasant, but ... weirdly warm.
We should see lots of sunshine throughout Saturday, before clouds start to increase around mid-afternoon. Weather stays completely dry through at least Saturday evening.
Sunday
Sunday will be a very different weather day, as a cold front approaches. As things turn wet again, it will mark New Jersey's 8th weekend in a row with measurable rain.
Sunday's forecast is a tricky one, but in general it's trending toward a not-very-nice day. Not necessarily a total washout. And it may not even rain everywhere — the farther south and west you are, the better your chance of squeezing out OK weather.
For North Jersey, scattered showers will probably arrive Sunday morning, drifting into the central third of the state through the afternoon. Rain should dial back a bit Sunday evening.
There's nothing crazy or dangerous here — rainfall may be steady at times, and there could be a late-day rumble of thunder.
Because of the rain and the clouds and approaching cold air mass, temperatures won't budge much all day Sunday. Afternoon highs will mainly reach the 50s. (60+ is a possibility in far southern New Jersey, while far northern New Jersey may get stuck in the 40s.)
What a difference a day makes, huh?
Monday
Monday is actually our cold front day.
That means the new week will begin with one more (statewide) push of light to moderate rain, through at least the first half of the day.
And then temperatures will start to tumble. While Monday's high temperature will technically reach the mid 50s or so, colder air will arrive on a brisk northwesterly wind by the afternoon. So thermometers will be falling late-day.
By Monday night, temps will be deep in the 40s. There's the classic October chill we know and love.
The Extended Forecast
Tuesday is Halloween. And I remain optimistic New Jersey will be in a pleasant slice of the atmosphere for trick-or-treating.
In fact, I will call the day mostly sunny. It will be chilly though, as highs struggle to reach the lower 50s. That is about 10 degrees below normal for this time of year.
The biggest question of all is how Wednesday-Thursday will play out. Some forecast guidance — namely the European and Canadian models — show a healthy storm system drenching New Jersey to kick off November. Social media is already bloviating about the possibility of snowflakes mixing in with raindrops in the higher elevations of NW NJ.
Possible, I suppose. But there are other models — the GFS and the UKMET, for example — that show an off-shore track for that system. That would mean NJ sees a stretch of calm, cool, sunny weather next week.
Luckily, this one is still 6-7 days away, so I can just punt it down the road a bit. (There is a reason I only provide a 5 Day forecast, rather than 7 or 10.) If there's inclement — or wintry — weather brewing, we will surely be talking about it loudly by the end of the weekend.
11 years later — Sandy makes landfall in New Jersey
The Colors of Fall in New Jersey
Leaf Peeping in the Garden State
Gallery Credit: Shawn Michaels
More From WPG Talk Radio 95.5 FM