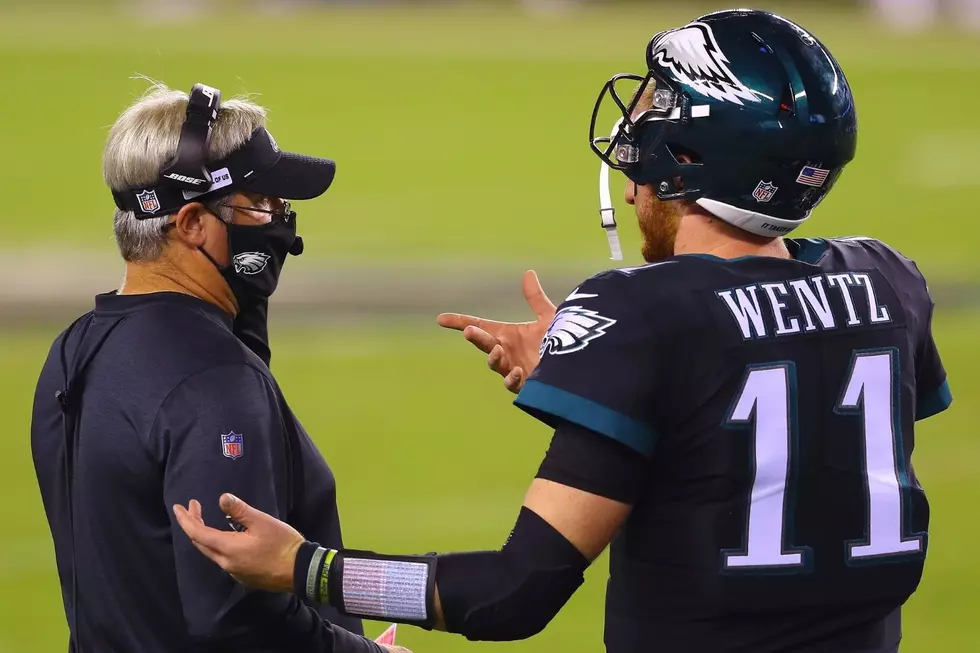 Report: Wentz to be a Healthy Scratch, Plans to Ask for Trade
(Photo by Mitchell Leff/Getty Images)
It appears the Eagles have made their choice.
On Sunday, there are reports that the team will deactivate Carson Wentz for tonight's season finale against Washington per Mike Garafolo of the NFL Network.
It seems to be the first step in a divorce between the two parties.
ESPN's Chris Mortensen also adds that Wentz will ask for a trade, due to his fractured relationship with Pederson -- meaning if Pederosn is back, its unlikely the two parties can co-exist.
Philadelphia Eagles quarterback Carson Wentz, who was benched in favor of rookie Jalen Hurts last month, still plans to ask for a trade in the offseason because his relationship with head coach Doug Pederson is fractured beyond repair, according to league sources.
Obviously the Eagles are in a tough position with Wentz because of his bloated contract, dead money and cap hits. Wentz is under contract with Philadelphia through the 2024 season and carries major penalties if he is released or traded.
Even if the team decided to move Wentz, the asking price is expected to be large per Mortensen.
the organization's asking price for Wentz will be significant for the quarterback they selected with the No. 2 overall pick in the 2016 draft.
The addition and now emergence of second-round pick Jalen Hurts has only added to the fracture.
Wentz of course emerged as a NFL MVP candidate during a break-out 2017 season, that season ended prematurely thanks to a major knee injury. Nick Foles stepped in and led the team to its only Super Bowl title.  Foles remained for a season, while Wentz was rehabbing to return, but Wentz was injured again handing the keys back to Foles. Foles lead the team to a playoff win over Chicago, before being knocked out by the Saints.
With Foles gone for the 2019 season, Wentz struggled early, but rallied late in the season, leading the team to its third straight playoff berth, seemingly steeping out of the Foles shadow.
However the team went and drafted Hurts leading to more confusion.  Wentz has struggled on-the-field all season and the team finally made the move to Hurts.
Now Wentz appears to wants out.
Enter your number to get our free mobile app
2012 Flashback - The Egg Harbor Township Pathmark Closes
More From WPG Talk Radio 95.5 FM